A Good Woman jousts ably with Oscar's wit and wisdom
First produced on stage in 1892, Lady Windermere's Fan was adapted to film in 1916 and then, by Ernst Lubitsch, in 1925. But trying to capture Oscar Wilde's scintillating wit on the silent screen seems as futile as transposing Vermeer to radio. "I have nothing to declare except my genius," proclaimed Wilde to customs inspectors when he traveled to New York. That genius is most evident in the dialogue of waggish plays that toss in plots and characters to justify their brilliant banter. Director Mike Barker and screenwriter Howard Himelstein give their version of Lady Windermere's Fan the nicely ambiguous title A Good Woman and manage to channel the impish spirit of Wilde untamed.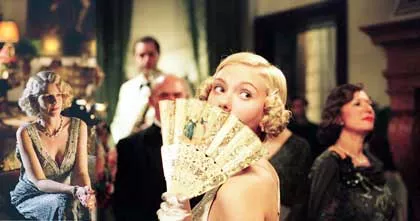 Helen Hunt, left, plays social-climbing aristrocrat Stella Erlynne, who may be having an affair with the husband of Meg Windermere, right, played by Scarlett Johansson, in A Good Woman.
A Good Woman moves the story to 1930 Amalfi. Southern Italy, like New York, where a brief opening scene is set, has been struck by economic catastrophe, but the filthy rich seem unaffected. The Depression serves as the Reality Principle in contemporary movies, a counterpart to the Pleasure Principle we cultivate by staring at a screen for two hours of hedonistic fantasy. Within movies as diverse as King Kong, Cinderella Man, and Mrs. Henderson Presents, entertainments distract the 1930s populace from desperate circumstances. Except for Mrs. Erlynne (Hunt), an untitled opportunist forced to get by on her looks and her cunning, the affluent aristocrats who populate A Good Woman need distraction from nothing but boredom. "People are either charming or tedious," declares Lord Darlington (Moore), and parties, opera, and gossip allow his privileged people to charm one another. Wilde's effervescent style averts tedium in the audience.
When Robert (Umbers) and Meg (Johansson) Windermere, a wealthy young American couple, rent a sumptuous seaside villa for "the season," Darlington is aroused. "I can resist anything but temptation," says the predatory bachelor, eager to separate Robert from his prim but pretty bride. When Robert is spied meeting privately with the notorious Mrs. Erlynne, Darlington thinks he has a way to lure Mrs. Windermere onto his yacht and into his bed. Though Meg is still deeply in love with her husband, if she can be convinced that Robert is cheating on her, would this "good woman" not retaliate by yielding to Darlington?
A Good Woman

Dir. Mike Barker; writ. Howard Himelstein, based on a play by Oscar Wilde; feat. Helen Hunt, Scarlett Johansson, Stephen Campbell Moore, Mark Umbers, Tom Wilkinson (PG)

Mrs. Erlynne, a gold digger whose heart seems made of venom, appears the very antithesis of a good woman — before an elegant fan that Robert Windermere buys his wife for her 21st birthday spreads out through the plot. Erlynne, Robert, Stella, and Darlington become the focus of society chatter. "Do you know what I find worse than being talked about?" asks Darlington. "Not being talked about." Yet it is Tom Wilkinson's Lord Augustus, nicknamed "Tuppy," who steals the show, and a man with his millions is no common thief. Twice-divorced, Tuppy is pitied by his cynical drinking peers. But his lucid refusal to give up on love earns a viewer's respect, as well as the hand of a good woman.
"There is no sin except stupidity," wrote Wilde, and A Good Woman is very smart indeed. Its droll repartee impugns the stupid lines in most other recent releases. But is this movie wise? Constructed out of shimmering surfaces and giddy idlers, A Good Woman, however, is more than the sum of its many flippant quips. Particularly toward the end, when a train of pathos veers off the raillery, this proto-screwball comedy throws a few pitches right across the plate. "We all straddle the abyss, Mrs. Windermere," says Stella. "If we don't look down, how do we know who we are?" •