Courtesy
Lauren Nicole, a 15-year-old fashion designer in San Antonio, will debut her first collection tonight.
Tonight at 8 p.m., Emme Nail Spa will host a free fashion show for their grand opening, featuring University of the Incarnate Word student designers, Svelte by Valerie Velazquez with Celestino Couture and the debut of 15-year-old designer Lauren Nicole.
Like Tavi Gevinson before her, the blogger who rose to power in the fashion world when she was a tween, San Antonio's blogger and designer
Lauren Nicole
is taking the same runway to prominence on a national scale.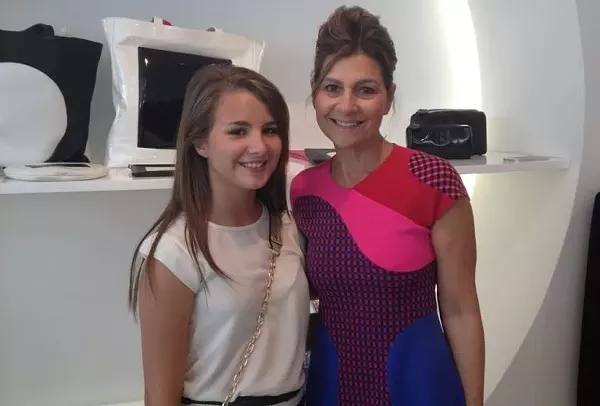 Coutesy
Lauren Nicole in New York City with designer Linda Perry.
"I have been interested in fashion since I was very little," Nicole said on why she, at such a tender age, is entering the style stratosphere. "I started sketching designs at about 8 or 9. I started my blog at the age of eleven to help document my growth in the fashion industry and it provided me some opportunities to connect with other like minded teens and attend a fashion camp in New York City."
In 2013, Nicole was accepted into a fashion camp in haute-spot NYC, where she "learned the behind the scenes of a runway show, brand management, and I learned how to sketch from a designer from Ralph Lauren. We also met with the Executive Vice President of Coach and discussed branding of our items." Who else can say that they've sketched and worked with the great architects of fashion?
With a Spring/Summer line inspired by Parisian culture and architecture called the Floraison des Fleurs (Blooming of Flowers) Boutique Collection, we can expect "very clean lines and romantic silhouettes."
As a word of advice to budding designers, Nicole said "Don't stop trying, in the fashion world there may be people that tell you, 'You can't do it. You can't draw. You can't sew. You can't design. You are too young or too old.' But I would tell them don't stop believing in you and keep doing what makes you happy."
Emme Nail Spa Grand Opening and Fashion
Free, 8pm, Emme Nail Spa, 17803 La Cantera Pkwy, (210) 562-3643