Page 2 of 2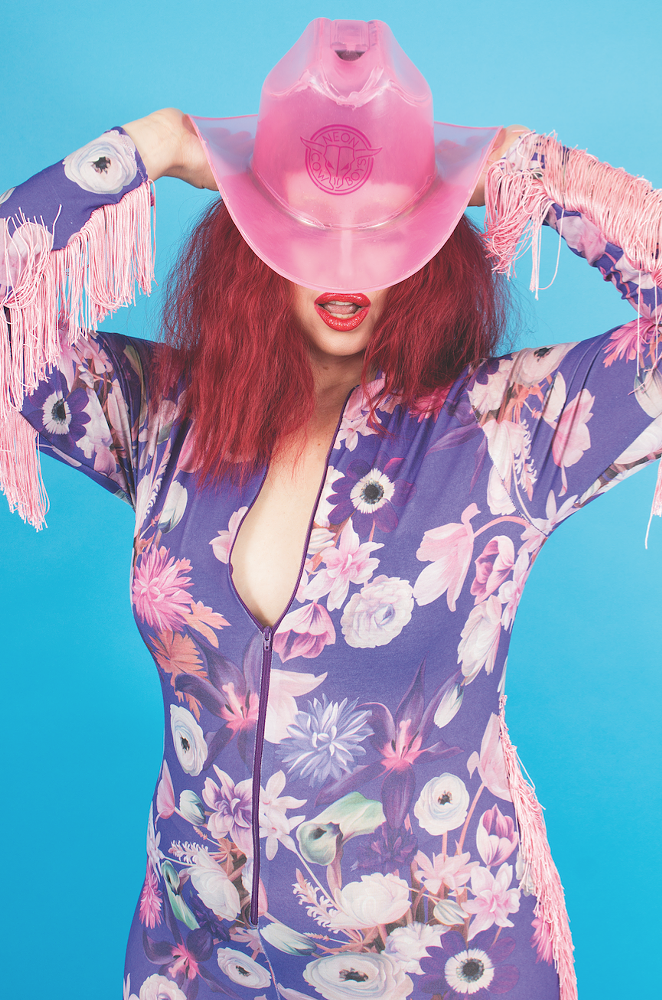 Photo by Julián P. Ledezma
Kitty Buick
Born and raised in the San Francisco area, Jessica Boscarello says she stopped going to high school due to the bullying she endured on a daily basis. She recalled one incident when a football player assaulted her in class. "I was weird and goth," she told the Current. "[I] was like, I'm never gonna date you, please don't talk to me, and he straight-up grabbed me by the hair and beat the shit out of me." Shortly after, the school threw an anti-bullying assembly. Then someone set her locker on fire. Ultimately, she dropped out and had to attend night school to get her diploma.
While Boscarello was in night school, she started selling vintage clothing during the day and got connected to the Art Deco Society of California, an organization that still throws events featuring vintage fashions, dancing, music, and classic cars. Through her involvement with ADSC, and constant exposure to costumes and garments from thrifting and selling vintage clothes, Boscallero began to shape what would be the beginnings of her drag character, Kitty Buick.
Leaving San Francisco in 2011, Boscarello eventually moved to Austin and, after going to a few queer events, was approached by Austin queer artist promoter Jeremy Von Stilb, to perform. She explained that Von Stilb called her and encouraged her to do a show despite never having been in a drag show before. "I did it, I did a great job, I got a ton of tips, and from then on I got bit by the bug."
From there, Boscarello became heavily involved in Austin's drag community, hooking up with the famous drag troupe Poo Poo Platter, whose members are well known for outrageous props, costumes and performances.
Kitty Buick is considered by the greater drag world a "lady drag," "faux drag" or "bio drag" since she is a cisgender female, and says that "there was a little bit of hazing" and some queens threw a little extra shade at her when she first started out because she isn't biologically male. Boscarello explained that she feels "very detached from the trendiness" of those labels and isn't performing to represent women in these drag spaces. She simply enjoys the creative and artistic aspects of drag.
"I also didn't want to wait in line or pay to get in [to a club]," she joked. "I do my own makeup, my own costumes; I do my own mixes — I go above and beyond every single time. I'm kind of working with a few less points than everyone else so I try to bring 110, 120 and, sometimes, 130 percent."
Eventually, Boscarello relocated to San Antonio and began throwing her monthly show Wax Werk Presents at Wax Club Lounge on San Pedro. To avoid stepping on any toes, Boscarello called Brian Hernandez (Miss Taint) and explained that she wasn't "coming for [his] game," but rather trying to "make our kind of drag more visible." Hernandez was warm and welcoming to the idea and both Boscarello and Hernandez agreed to help build up the "weirdo drag" community by performing at each other's events.
When asked what kind of advice she would give to baby drag queens just getting started in their craft, Boscarello urges newcomers to learn how to sew and to do whatever they can to save money since the cost of costumes, wigs, nails, and other miscellaneous items that go into the art of drag, can really add up.
Photo by Julián P. Ledezma
Paradox Rei
Of all the drag artists featured here, Paradox Rei might be the most avant-garde performer of the bunch. From doing cosplay impersonations of the Mad Hatter or demonic anime characters, to inventing her own drag personas, Hayley Thuline chooses to explore the world of drag through emulating characters that are male, female, and sometimes neither.
"I prefer drag as an experience," Thuline told the Current, explaining that while the politically correct term for her as a performer is "drag king" (since she is a cisgender female), her character Paradox is neither male nor female.
Born and raised in Illinois, Thuline moved to Texas in the summer of 2014 after her grandmother, who was battling Stage IV lung cancer, encouraged her to move to San Antonio. "My grandmother wanted me to explore my full potential and be in a bigger city. It was one of those final wishes," Thuline said.
Through watching videos of drag king performers like Spikey Van Dykey and King Phantom, Thuline felt inspired to explore the world of drag and female illusionists and began performing at the Silver Dollar Saloon on the Main Strip.
"When I first identified as a drag person, it was interesting that some people couldn't take it seriously," Thuline told us. She also mentioned that she didn't feel at home in the drag community until meeting fellow alt-drag performers Ella Gunt and Miss Taint, who made her feel "like family."
Though disheartened at first by what she described as unwelcoming vibes from the greater drag community here in San Antonio, Thuline has found a home in the small but growing alternative drag scene, where she now feels comfortable pushing the envelope of drag with her creative characters.
"I have a few family members that wonder how [my grandmother] would have reacted since I have been doing drag for the last year-and-a-half," Thuline said. "I know that with my creativity and commitment that I place in my art, she would be proud of me to the moon and back."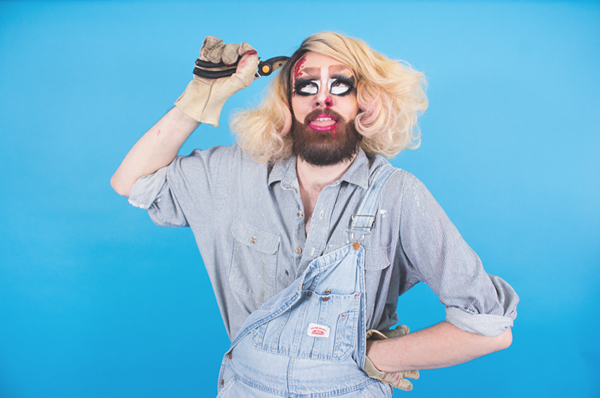 Photo by Julian P. Ledezma
Ella Gunt
At first glance, it'd be easy to think that Ella Gunt seems a little unpolished with over exaggerated eyebrows, and the deliberately mismatched patterns of the somewhat shabby costume preferences. However, there's a focus and intention behind the aesthetic that makes this type of drag truly unique.
"I want things to be over-the-top and huge," Ella Gunt told the Current. "I can't pay attention to things otherwise." The performer, who has chosen not to give their birth name and identifies with the pronouns "they" and "them," named Drag Race queens Trixie Mattel and Kim Chi as big influences on them choosing to explore drag through camp-ish and comedic themes.
Born and raised in San Antonio, Ella Gunt grew up in a pretty religious household and came out through a Facebook post that simply read, "Happy New Year, I'm gay." Their parent's weren't exactly supportive. "It was a mistake coming out to my parents," Ella Gunt half-joked, explaining that because of their openness, they got "bumped around through therapy" and nearly sent to gay-conversion camp.
But Ella Gunt endured — and instead of self-destructing (which is easy to do when you're told that being gay is an illness), the performer began exploring their queer identity through drag, specifically camp styles, as a way to deconstruct and analyze society's standards and what a beautiful woman "should look like." Some people would ask, "Why do you have a beard when you're supposed to be emulating a woman?" To which Ella Gunt would respond, "Well, it's a fact that some women have beards."
After going out in drag a few times, Ella Gunt says they befriended Miss Taint (Brian Hernandez), and earlier this year began performing in the regional alternative-drag circuit, and competing in Austin's Poo Poo Platter drag competitions.
Now connected to a growing community of alternative drag performers in San Antonio, Ella Gunt continues to subvert traditional standards of female beauty by deconstructing gender norms and challenging the patriarchy through drag performances.