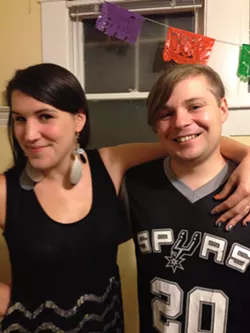 Libby Wardlaw and fiance Chris Maddin
For the Finals, I'm crashing house parties and interviewing Spurs fans in their native environments. I couldn't have found better guinea pigs for this experiment than Libby Wardlaw and Chris Maddin. Wardlaw is a talented singer, radio host, Trinity grad and wearer of excellent dresses. Her fiance Maddin you may recall from local SA bands like Blowing Trees and, most recently, his solo project FILMSTRIPS. He's also, according to Wardlaw, "the biggest Spurs fan I have ever met." Indeed, you may also recall one of Maddin's musical  projects, the Tiago Splitters.
They were gracious enough to have me over along with friends and family to watch the sweltering, nail-biter of a Game 1 against the Heat. I interviewed them afterward.
How long have you been Spurs fans?
Maddin: Ever since I moved to San Antonio from Chicago in 1990.
Wardlaw: I went to Spurs basketball camp when Avery Johnson was there.
Maddin: I've been borderline obsessed since 2010, when we started to build a great offense on top of our defense. The Big 3 and Pop are like the Beatles, being able to stay together.
Wardlaw: That didn't even happen with the Beatles!
What's so compelling to you about this team?
Maddin: We lead in assists, that's team basketball, rather than superstar fast breaks. Also, Libby is really fun to watch the games with.
Why's that?
Wardlaw: I just try to keep up with him. When we're at Spurs games, I actually have to wear an earplug in [the ear closest to Maddin]. He's that loud.
Maddin: That's the worst part of going a Spurs game, because I can't sing for a week afterward.
Anything to add?
Wardlaw: I think you can't have the same team basketball in a bigger market. They want the stars. Pop could have gone to one of those big markets, but he chose to stay here.
Maddin: Our city has grown so much because of the Spurs and these championship games. So many millions of dollars have been filtered into SA because of that team. It all starts with Tim Duncan getting that lottery pick, and then meeting Pop and Ginobili and Parker coming on. To me, they're just the best band ever.
Wardlaw: Who do you think Pop is?
Maddin: Ringo. Ginobili is like George Harrison, the eclectic one. Parker is Paul, the cute one. And Duncan is John Lennon, the one everyone remembers the Beatles for. If Duncan doesn't retire, he's going to go down as the best player of all time.