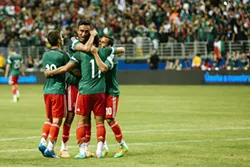 Pulido (11) celebrates his third goal with his teammates (photo by Josh Huskin for the Current)
A wonderful goal by Oribe Peralta and a hat-trick by Man of the Match Alan Pulido was all Mexico needed to beat a surprisingly weak South Korean team Wednesday at the Alamodome in front of a record-setting 54,313 vociferous and mostly Mexican crowd. It was the biggest soccer crowd ever in San Antonio. [Slideshow: Mexico 4 - 0 Korea Republic]
The turnout was more than impressive, considering both teams presented a majority of non-starters. It was Mexico's first preparation game after miraculously qualifying to Brazil's FIFA World Cup, which will be held in June.
After 35 minutes of slight Mexican control, Oribe Peralta opened the score with a wonderful volley in the 37th minute. Sandwiched between two Korean defenders, the striker made a 180-degree turn and left goalie Kim Seung-Gyu with no chance. With the score 1-0, Mexico smelled blood and went for the kill, which they got through Pulido's first goal thanks to a major mistake in the Korean defense.
For the second half, South Korea went on the attack but was unable to finish their sporadic chances. Mexico took a break until almost the end of the match, knowing the Korean defense would leave open spaces for lethal counterattacks, and that's exactly what happened: a marvelous Maradonian run by Isaac Brizuela in the 85th minute left Pulido in front of the goal and, four minutes later, Pulido scored his third goal of the match and fourth for Mexico after a series of rebounds inside the penalty area.
The last five minutes of the game showed Mexico playing their best soccer in more than two years. The "Tri" completely annihilated a Korean team that days earlier had beaten Ecuador, one of South America's top four teams.
"I'm glad I was right in my election of young players," Mexican coach Miguel Herrera said after the match. "Brizuela and Pulido had a great performance and we were able to control a very fast Korean team."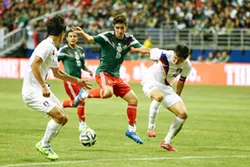 Isaac Brizuela seems to have secured a place in Brazil 2014 (photo by Josh Huskin for the Current)