Ferg_e - A Mom On A Mission
A few weeks ago I wrote about the 35th year of  Operation Homecooking - allowing San Antonio area families the opportunity to share their Thanksgiving Day with basic trainees and servicemembers stationed at LACKLAND AIR FORCE BASE, Texas (AFNS). My family participated this year and it was AMAZING! I was instructed to pick our trainees up between 8 and 9 am on base and it was a mad house. They estimated that about 3,500 troops were going to be eligible so you can imagine the logistics around getting them paired with families, in cars and off base for the day. I got in line and was immediately paired with Chris and Adam. Who happen to be awesome!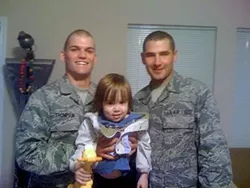 They were both very excited about spending the day with our family and were so appreciative of our opening our home to them. As we drove home I prepped them for the KRAZY that is the Chavez house on a holiday (or any day for that matter) - the eclectic personalities, the wild children, the stray friends, our habit of burning the dinner rolls and random smoke alarm issues - they didn't seem concerned and I thanked my lucky stars that we seemed to have been paired with personalities that were up for the challenge.
They hadn't been off base since October so they were super easy to please. Driving with the windows down was a big hit and a stop at Starbucks for coffee earned so many "thank you's" and "this day is the best" that I made a mental note to start thinking about and appreciating the little things more.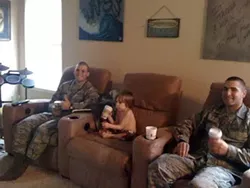 At the advice of a friend who has been hosting servicemember's for Thanksgiving for many years, as soon as we got to the house they each got some phone time and some privacy to call home and connect with their loved ones. I can only imagine how difficult it is to be away from loved ones during the Holidays and hope that we were able to make that just a tad bit easier.
Then we relaxed watching Zombieland (one of my personal favorites) while they did some facebooking (as a facebook junkie myself - I understand the need for frequent status updates). Chris is a drummer so he took a minute to teach the boys a thing or two. Although I think Bradyn was too busy dancing to absorb any of the technique.
My favorite part of the day was when we all sat down to eat and my entire family was able to look them in the eye and tell them how much they are appreciated and that we understand the sacrifice they are making.
Thank you Chris and Adam for spending your day with our family! And all you other servicemembers and your families, the ones we didn't get to spend the day with... Thank you. Thank you for your service and thank you for your sacrifice.
If your looking for a way to support our troops and our veterans - here are a few ideas:
1 - San Antonio residents check the Operation Homecooking Website early November 2011 to sign up to host a servicemember
2 -Support a Military Family through Operation Homefront.  Watch their website for 'current needs'. 
3 - Know a military family with a deployed member? Take them a treat on Veterans Day as a thank you and ask what you can do to make things easier.
4 - Help a deployed single-service member by taking care of their pet while they are gone; get involved with a Pet Foster Care program.
5 - Vote. Don't let them sacrifice for naught. Be a good citizen and do your part to protect the freedoms our service-people have fought and died for.
There are many more ways you can show your support, be creative.
If you want to see more of Adam and Chris check out this video.
Who am I? My name is Ferg_e and I am a mom on a mission. My mission is to make this world a better place for my son Bradyn to grow up in. In this segment for the San Antonio Current I will blog twice per month about local and national initiatives aimed at making the world a better place for all of us. If you want to see more of me, hop on over to my blog where I write about social causes, epilepsy awareness and our personal journey from chaos to calm in the middle of epilepsy, divorce and life.