Benjie's Munch
opened its first shop this Monday and but they're not the only truck to make the leap into a permanent location. Here's a few more entrepreneurs that are holding it down.
The Art of Donut //
Opened by Miguel Aja and Andrea Aguirre, the trailer was San Antonio's first craft donut shop. This summer, the couple opened their first location inside the former Fairview Coffee with a lineup of savory breakfast sandwiches and sweet donuts.
3428 N. St. Mary's St.
BDaddy's BBQ //
San Antonio loves barbecue and B.R. Anderson knew that when he opened BDaddy's in 2012. Fast-forward to late 2015 and a permanent move to Helotes where Anderson and co. crank out brisket even Texas Monthly's BBQ Snob is a fan of.
14436 Old Bandera Road, Helotes, (210) 275-9995.
Bite Street //
It doesn't get more swanky than La Cantera, where Bite Street Bistro ditched its wheels for a café amidst shoppers. The shop opened November 2016, just three years after the truck.
15900 La Cantera Pkwy., (210) 626-8102.
Chela's Tacos //
After wowing critics and eaters with their mobile fare of interior Mexican tacos as early as 2011, Chela's opened up shop in Alamo Heights in 2015. The cheesy costra is still as yummy as ever.
5231 Broadway, Suite 117, (210) 753-1040.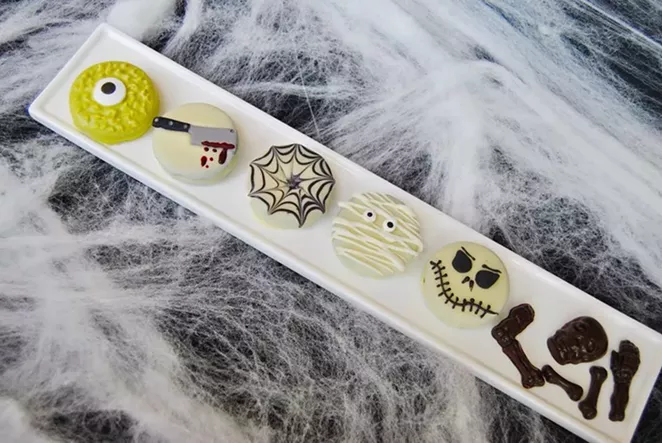 https://www.facebook.com/chocollazo/
Chocollazo //
Chocolate lovers have plenty of reason to visit Mary Collazo. The food truck launched with husband Frank in 2013 has grown to include a healthy only presence, at Lackland Air Force Base and at the Boardwalk on Broadway since 2016.
4013 Broadway, (210) 776-3963.
Conger's Smoke Shack //
With nods from local critics, Texas Monthly and national publications since opening as a trailer in 2011, Smoke Shack gained enough fans to grow into a location off Broadway in 2014. It also added Pig Pen to its smoky empire in late 2015.
3714 Broadway, (210) 957-1430.
Puerto Rican Grub Express //
After opening in July of 2015, the Puerto Rican truck is giving brick-and-mortar a shot later this fall off Rittiman Road.
4413 Rittiman Road, (210) 973-1124.
Sweet Christi's //
Chef Emo Soliz left his gig as pitmaster for Two Bros. BBQ to pursue his own dream in 2014. He went on to open King's Hwy Brew & Q in late 2015 and has earned more national attention since.
1012 N. Flores St., (210) 971-9024.

Where Yat Food Truck //
Though the truck rolled off into the sunset earlier this year after opening in late 2011, it helped launched The Cookhouse, NOLA Brunch & Beignets and Bud's Rotisserie for chef Pieter Sypesteyn and wife Susan.
Multiple locations.
Z's Wood Fired Pizza //
After a 2013 launch in San Antonio, Z's parked its wheels and opened a location in Boerne with craft pizza, beer on tap and laidback atmosphere.
118 Old San Antonio Road, (830) 331-1212.