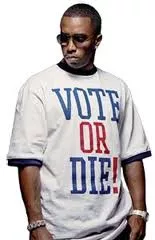 With some coming elections across the country, voting is slowly starting to creep back in the news. As a comedian I am a big fan of hypocrisy and there is no better hypocrisy than the American Voter.
Oh American Voter  Where was that fire you had during the 'Obama Run'? All that Hope and Vinegar you so bandied about with your 'if you don't vote you can't complain' slogans and empty patriotism?
Do you feel justified? Or are you starting to see just how useless your vote really was and continues to be. Did you finally figure out the difference between Democracy and a Republic? Are ya startin' to see just how dumb it is to 'bring democracy to the middle east' when we don't even have that shit here?
Am I starting to sound like an asshole?
Yes and no.
I'm just fed up with the Fed.
The following below is just something I'm going to copy and paste every two years. Only it will only be viewed relevant (slightly) when it's around a presidential run.
However, I'd like it to percolate every time you feel like you're voting for 'change'.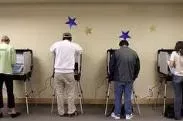 (Voting? Urinal? Any difference?)
When you vote for a presidential or gubernatorial candidate you are not just voting for him. You are voting for an entire cabinet of people whom you know nothing about.
An entire cabinet of people given positions after the President has been elected... so in truth, you are voting for a guy to pick the people he thinks should be in charge of your everyday life.
People from Secretary of State to Secretary of Agriculture, Transportation, Homeland Security, Education, Defense, Energy, Environment the list goes on. Most of these people have been trading positions no matter who was in charge.
You have relatively NO control over this and frankly most of you 'rock the vote' savants of ignorance don't care.
You are no different than Christians who only go to church on Christmas and proclaim your devout faith.
Hypocrites
But unlike those hypocrites you wait every FOUR years to wave your patriotic duty.
That's not being a patriot that's being full of SHIT and condemning anyone who doesn't 'lemming march' along with you as being 'un-American' well
that just makes you an ASSHOLE.
("Isn't it Ironic" – Alanis Morissette, Singer, Canadian,
Person unaware of the definition of 'ironic')
America is a Wal-Mart and we vote for who we want to greet us at the door and make us FEEL like we're making smart purchases so we can ignore the fact that nobody inside is getting paid that well, the health insurance plan sucks, and the guy doing the heavy lifting  doesn't know English.
Most everything there is made of crap. We name brand everything 'Puritan' and 'Faded Glory' to help feel like buying Chinese shit is somehow patriotic.
The food is chemical and non nutritious, and what food that is nutritious costs too much.
There's a creepy guy hangin' out in women's negligee and for some reason they felt it was appropriate to put the Miller Light display next to the baby toys.
There's a sea of self checkout lanes, but they're all closed so you have to go through lane 2 with the old slow cashier and if you want cigarettes you have to wait for someone to show up at lane 15 at the other end.
They have security tags on everything, security cameras watching everyone, and a security guard driving a little cart outside . BUT THE STORE IS IN NO WAY RESPONSIBLE FOR ANY THEFT OR DAMAGE TO YOUR VEHICLE and if you attempt to shoplift from the store YOU WILL BE PROSECUTED TO THE FURTHEST EXTENT OF THE LAW!
Everywhere you shop inside is a reminder that you should be happy and grateful. Little yellow happy faces espousing 'ROLLBACK' .yet somehow you feel like you're getting 'BAREBACKED'.
And as you leave the store feeling tired from all the cheap fluorescent lights and general nausea of roaming, carrying SIX plastic bags when all you wanted was toothpaste you're thanked and encouraged to come back
By the very guy you voted to greet you in the first place.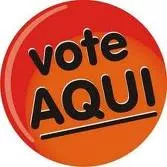 (I don't know who this Aqui guy is but he's got a powerful lobby)