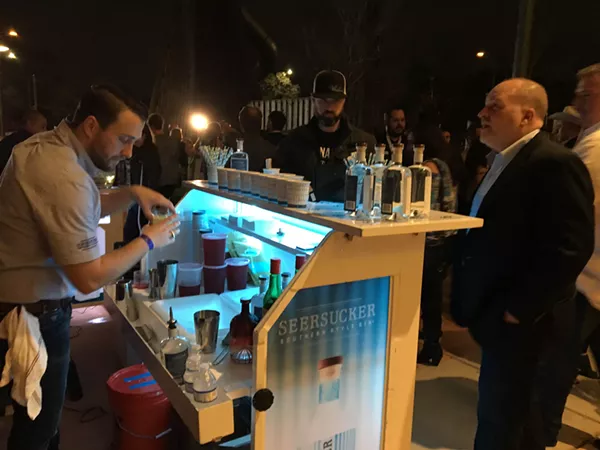 I've been going to the San Antonio Cocktail Conference since its beginning as an upstart conference going glass to glass with established institutions such as New Orleans' Tales of the Cocktail. (True, we had the late legendary cocktailian Sasha Petraske on our side.) Six years later, we can claim to be among the best — no gratuitous Texas swagger required. But one of this year's revelations was not about product or program — it was about place.
And that place was the DoSeum, the setting for the opening night's festivities. Its layout provided for movement in an organic way that The Majestic (bless its eclectic heart) never could: up and down, inside and out, around corners and down passageways… The sense of discovery that was meant to inspire creativity and learning in kids works just as well on adults with a cocktail firmly (mostly) in hand.
It was in this environment that I first tasted Seersucker Gin by the local makers of Cinco Vodka, and it's a Southern sweetheart, shining in that night's Everything Nice with Solerno, cranberry shrub, lime and maraschino liqueur. Another winner (the names get really cute, y'all) was Ancho Reyes' Juan to Juan with that ancho liqueur paired with Montelobos Mezcal, lemon, simple syrup and Angostura bitters. It didn't hurt the drink to add a shot of the company's newest offering, Ancho Verde, made not with dried but fresh poblanos. Green, only slightly sweet and pleasantly spicy, it will hit the local market sometime in March. It took a drink with Teeling Irish whiskey, muscadine juice, chamomile honey syrup and what appeared to be way too many more ingredients to make legendarily bitter Fernet Branca shine, but shine it did.
Food standouts included a pork chalupita with pickled radish from Weather Up in Austin, Cookhouse turned out an expectedly good grillades and grits with pickled papaya, and Tim the Girl's vegetable salad with labneh and preserved lemon provided a refreshing interlude. But the surprise was a very appealing corned beef tongue prepared by the students of the Art Institute's Culinary school and served with white anchovies, "burnt" carrot and a chimichurri sauce inspired by their Argentine chef instructor.
Back on the drinks front, the Black Manhattan (trend alert) appeared more than once with the base spirit (bourbon or rye) changing but the amaro (Averna) remaining constant. Similar (and individually made) was Hudson Whiskey's Friends With Benefits, composed of their Manhattan Rye with Cinzano Bianco, Aperol, simple syrup and orange bitters — one of Waldorf on the Prairie's best drinks. Another, deceptively lethal, winner was Grandma's Boy, a two-ingredient knockout composed of Clyde May's Special Reserve 110 proof "Alabama Style" Whiskey 4:1 with Grand Marnier. I learned to love Limoncello di Capri (not normally a fave) when mixed with Amaro Montenegro and Italian blood orange soda (a much lighter antidote to the May's mashup). And I had my first French single malt, Benne, and it was good.
Standout foods at the St. Anthony Event included Gwendolyn's New England fish chowder, pork with candied jalapeño on a chalupa from Humo Creative Catering, and, from Boudro's/Zinc, a dulce de leche custard with kumquat confit and pistachio streusel, courtesy of chef Robbie Nowlin — who, contrary to declarations, was not shitfaced by 9:30. (Maybe later — I didn't check back.) Upstairs in a kind of after-party, the Mesh and Bone group presented four exotic products bolstered by Kinsman rakia cocktails courtesy of the local boys at Dorcol. Among the standouts there was M&B's sotol from Chihuahua, and the French Champagne-esque cidre — far less sweet than most we get here. It may take some time to cozy up to Shochu, a vodka-like spirit made from barley that's extremely popular in Japan, and the truly unlike-no-other Arakku made from the sap of a coconut flower in Sri Lanka. But just when we do get cozy, the M&B guys will have introduced more new spirits from far-flung locations. Watch their space.
One observation from the tasting rooms: we may not need yet another new tequila label whether it's out of Mexico or Mexico by way of an American entrepreneur/celebrity. (But if you haven't tasted Suerte, whose local Brand Ambassador is now bartender Stephan Mendez, do give it a try.) Same goes for entry-level mezcales with only OK flavor profiles — I'm looking at you Kimo Sabe. Leyenda, on the other hand, should be looked for in any of its regional expressions. I didn't love it, but nevertheless do check out singani, Bolivia's answer to pisco.
And be on the lookout for new gins, the other revelation of the event. The standout, for me, was from that gin-tonic-loving country, Spain. Alkkemist looks like too much was spent on presentation, but this grain-base spirit with rose petals, thyme and mint delivers. Also worth looking for: Big Gin from Seattle, full of coriander and cardamom; Bimini from Maine (still looking for a local distributor), with unique malted grain and chamomile components; and, not to be forgotten, our own, almost-local Treaty Oak from Austin.
Seminars are a little harder to evaluate, but SACC does go out of its way to indicate whether any topic/session is appropriate for geeks, interested amateurs or the person-off-the-street. My favorite session, Liquid Alchemy, was presented by a married couple, fallen-away school teachers, who until fairly recently knew nothing about spirits, not to mention bitters, the main topic of presentation. They first started with a non-alcoholic bar, Vena's Fizz House in Portland, Maine, designed to make seltzer water fascinating to the mostly-masses. This evolved, in teacherly self-taught fashion, into a healthy obsession with bitters, infusions and more; they eventually added liquor to the menu; and they now do online sales. We tasted bitters solo dropped onto the back of a hand; we tasted bitters as a major component in drinks — starting with a healthy dose then adding even more on top; and we talked bitters in food. The presentation, with both participating, was enthusiastic in only the best way, the conversation among participants contributed usefully, and I suspect we all came away with an appreciation for the "add more bitters!" mantra — and awaiting The Bitterest Man in the World Steve Corman's bitters book due out in the fall. Keep track at www.venasfizzhouse.com. More of these, please!