Still no solution to Leon Valley contamination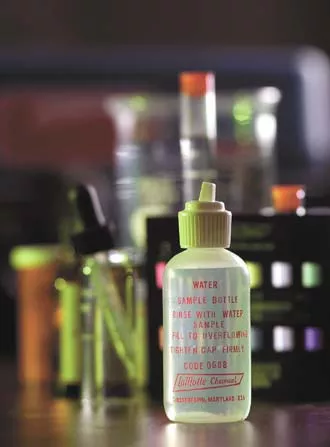 The Texas Commission on Environmental Quality will sample more wells in Leon Valley this week. Since March, five private wells have tested well above the federal drinking water standard for PCE, a chemical that can cause kidney and liver damage and possibly cancer.
(Photo by Mark Greenberg)
More than eight months after a private water well in Leon Valley tested at high levels for a hazard-ous chemical, the source and extent of the contamination remains unknown.
As a result, the Texas Commission on Environmental Quality has expanded its sampling area to one-and-a-half miles from a well owned by Raul Saenz, who lives on Poss Road. TCEQ site investigator Roy Dean said the sampling would be conducted this week. Earlier tests were conducted within a 1/2-mile and one-mile radius.
In April, water in Saenz' well, which he and his mother use for drinking and bathing, tested at 25 parts per billion for perchloroethylene, a man-made chemical often used in dry cleaning solvents and degreasers. Subsequent tests showed that four additional private wells in Leon Valley also tested well above the EPA threshold, ranging from 22.5 to 73.8 ppb. While D&R Tree Service on Grissom Road uses its water for irrigation, according to TCEQ documents, at least one resident on El Verde Road said she used the water for bathing and watering her yard, although she also used to drink it.
Carbon filters have been placed on all the contaminated wells. The Environmental Protection Agency has set the maximum contaminant level for PCE in drinking water at 5 ppb; however, the target to protect human health is zero ppb. The EPA has listed PCE as a possible cancer-causing chemical; long-term exposure can result in kidney and liver damage. The chemical also can volatilize in water, meaning that it can turn into vapor, making it hazardous to bathe or irrigate large areas in PCE-contaminated water. If the tainted water is close enough to the surface, it can also seep through the foundation or slab of homes, affecting indoor air quality.
Joe Bell of the TCEQ's permitting and remediation division, who investigated the site earlier this year, said the groundwater is far below the surface and should not affect air inside homes.
Originally, state officials speculated that the site of a former dry cleaner in the Savings Square Shopping Center at 6715 Bandera Road could have been the source of the contamination. Saving Square owners are participating in a state Voluntary Cleanup Program to remove PCE-tainted soil left by Rainbow Cleaners $1.25, which is now closed. The original test on the Saenz well was conducted by an environmental consultant working on behalf of the shopping center, which is located about 500 feet from the Saenz residences.
In the summer, the TCEQ tested 11 private wells in a neighborhood northeast of the shopping center and several public supply wells; none had levels of PCE at or above the EPA threshold.
"The contamination is more widespread than expected," said Dean. "We're not sure which way the contamination is moving. Leon Valley lies along the Balcones Fault and the water goes every which way."
Since contamination has shown up farther from the shopping center and it is uncertain how groundwater moves through the aquifer, there is not enough evidence to force Savings Square to conduct additional tests, said Bell. The TCEQ has assumed responsibility for investigating the contamination, at least until the potentially responsible person or business can be found.
That might be impossible, as there have been several dry cleaners, gas stations, automotive shops, and even a World War II-era airfield in Leon Valley. A well near the old Culver Airfield tested at nearly 74 ppb. TCEQ documents said that near the old hangar are remnants of old businesses, including one that used X-rays, and another with a concrete trough for catching residue or fluid.
Dean said the TCEQ would continue to monitor contamination in tainted wells and try to determine the extent of the plume, as the contaminated area is called. The results of this week's sampling are scheduled to be released to the public in January. •
By Lisa Sorg
For related stories, see "Deep thoughts," May 27-June 2, 2004 and "Leon Valley contamination still a mystery," June 3-9, 2004.