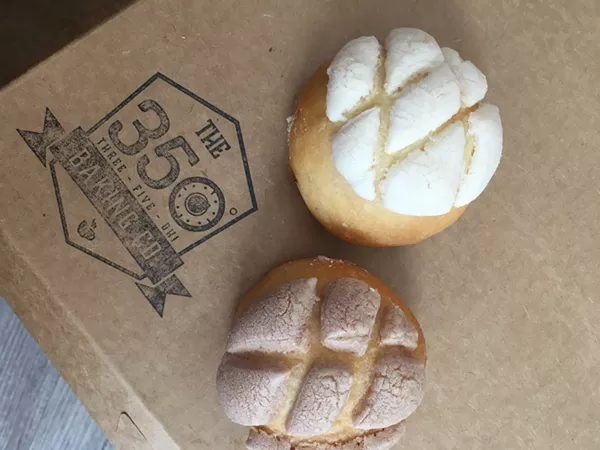 After moving to their current location at the bottom of the 1010 Lofts facing South Flores in March 2016, Southtown based bakery Whip Stitch Custom Cakes owners Denise Garza-Dominguez and John Dominguez decided to take advantage of the new larger location to expand their business beyond event cakes.
The bread and butter of the business remains the centerpiece cakes, but if you're just looking to grab a sandwich and Jarritos after browsing the records a couple doors down at Southtown Vinyl, they've got you covered in what is now
Whip Stitch Custom Cakes and the 350 Baking C
o.
Housed under the same roof as Whip Stitch, The 350 Baking Co. (pronounced three - five - oh!) bakes Tuesday-Saturday for their walk-in case featuring a variety of pastries — from French goods like buttercream drizzled almond croissants, apple and strawberry puff pastries, to American-style doughnuts including glazed topped with generous strips of bacon, brownies, specialty cinnamon rolls, biscuits, muffins, cookies, meringues and the pan dulce favorite: conchas. The selection is always changing and might include a cake or pie by the slice on some days. The small, but bright and inviting space, includes a few cafe style tables and bar style seating facing South Flores.
The bakery sources their coffee from local roaster Merit Coffee Co. available brewed or as espresso specialty drinks. Other drink options include cold bottled Coke products, Jarritos Mexican soda, juice and the Austin-based Moonshine Tea.
In addition to sweet options, the 350 Baking Co. also serves lunch daily from 11 a.m. to 2 p.m. As of now their sandwich box lunches include four options — "The Pig" ham and cheese, "The Bird" turkey and Swiss, "The Club" turkey, ham and bacon, and "The Salad" chicken salad. The box lunch comes with the sandwich, chips, and cookie.
Though 350 usually closes in the afternoon, they are beginning to tap into the local art scene by hosting after hour events for First Friday and Second Saturday. The events are an obvious fit for the bakery straddling the boundary of King William near several popular Second Saturday locations on South Flores. Other special events like their occasional "Snacky Hour" are usually posted via their social media accounts on Facebook and Instagram @3five0hbakingco.
350 Baking Co. is open 7:30 a.m. to 3 p.m. Tuesday-Wednesday, 7:30 a.m. to 4 p.m. Thursday-Saturday and 7:30 to 4 p.m.
1010 S. Flores St., Suite 116, (210) 592-1404.