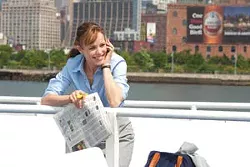 Critic's Pick
Morning Glory
Director:
Roger Michell
Screenwriter:
Roger Michell
Cast:
Harrison Ford, Diane Keaton, Rachel McAdams
Release Date:
2010-11-10
Rated:
NONE
Genre:
Film
Having a journalist review Morning Glory is a little like having a train conductor review Unstoppable in that we're who the film is about and not for. I'll try not to be too much of a downer.
Though I thoroughly disagree with the main point of this film and its central character, at the same time I can't deny that it's still a very clever, enjoyable movie. At the very least, the writers deserve snaps for depicting the central crisis facing the entire journalism industry (other than the whole "profit" thing) as a knee-slapping punchline on which to hang the script.
Becky Fuller (Rachel McAdams), a workaholic morning TV show producer in New Jersey, gets canned when her station cuts back and chooses to replace her with (shudder) a dual journalism/business major, only a slight exaggeration of this industry's continual contractions and systemic flushing of talented individuals in favor of hacks. Fuller, whose main goal in life is to produce the Today Show, eventually lands at a horrible morning show in NYC, anchored by bitter ex-beauty queen Colleen Peck, played with delicious bitchiness by Diane Keaton.
When Fuller unexpectedly needs to fill the co-anchor chair, she opts for Harrison Ford's Mike Pomeroy. Just one problem: the Mike Wallace-esque former evening news anchor is a journalist with a capital J, and he has nothing but disdain for morning television's hokey fluff pieces. "The news is a sacred temple!" he growls at Fuller when she strongarms him into co-hosting, which inspires one of several snappy conversations about hard news versus entertainment with Fuller concluding with a smile, "Your side lost."
It's a bit confusing that Fuller works so damned hard at a job she acknowledges actively avoids gravitas, but this too mirrors many of today's media outlets, which are understaffed and underfunded whether producing political commentary or home decorating tips. To McAdams' great credit, even her ideological nemeses could root for her harried, eternally-optimistic heroine. But despite the writers' obvious preference that the audience pull for Pomeroy to come around to Fuller's successful plan to up ratings with daredevil stunts and on-air insults, I supported every one of Pomeroy's crabby convictions. Even non-journalists may have a similar reaction, thanks to Ford's spot-on portrayal of the droll, drunk Pomeroy, trading caustic barbs with Keaton one minute and waxing rhapsodic about "placing a cool washcloth on Mother Theresa's forehead during a cholera epidemic" the next.
Yes, despite what I view as an ultimately depressing commentary on journalism today, the film was smart and deeply funny. I just wished it satirized the industry's harsh reality instead of celebrating it.