Marlene Cano, left, and Vanessa García participate in CAMP, which provides academic, social, and financial support for students from migrant families. Cano is majoring in biology and chemistry; García, in math and philosophy.(Photos by Joshua Leighton)


CAMP helps college students from migrant families navigate academics, social issues, and cultural identity

Editor's Note: This is the final installation in a summer series about migrant education. The first two stories are "Can't break me down," June 24-30, 2004 and "Reading, writing, and redemption," August 12-18, 2004.

When Marlene Cano was a young girl in El Paso, her mother was so intent on teaching her multiplication tables that if she answered one wrong, her mother would good-naturedly tug a small hair from the nape of her neck.

In Vanessa García's family, education was also paramount. "My mother always said, 'Pay attention. It's the only way you're going to get out.'"

Today, Cano and García, both children of migrant workers, are high-achieving students at Our Lady of the Lake University. Their workloads are daunting: A junior, García is pursuing a bachelor's degree in math with a minor in philosophy; she plans to become a math professor. Marlene, a fifth-year senior, is double majoring in chemistry and biology with minors in psychology and math. She wants to be a doctor and to research neurological diseases such as Alzheimer's and Huntington's Disease.

Both can credit the College Assistance Migrant Program, also known as CAMP, for providing them the opportunity to achieve their dreams.

In 2000, OLLU received a $1.2 million grant from the U.S. Department of Education for CAMP, which serves college-bound migrant students. The first class, which included Marlene, had just six students; 20 have enrolled for this academic year.

Because migrant families earn low wages and often travel great distances to find work, children from migrant backgrounds tend to have fewer educational opportunities. Due to language barriers, migrant students are often placed in grade levels below their capabilities; in the '60s, children such as Marlene, who spoke no English when she entered elementary school, likely would have been labeled as developmentally disabled and placed in special education.

What is CAMP?

At Our Lady of the Lake, the College Assistance Migrant Program (CAMP) provides financial aid, academic, and social support services for incoming freshman from migrant families. The program is funded through the U.S. Department of Education.

CAMP participants receive:

* help to complete necessary forms for admission, financial aid, and on-campus housing

* preparation for parents and students in the transition to students' freshman year

* an orientation for students and parents

* testing and help in course placement

* access to specially designed classes to improve math, English, reading, and study skills

* academic and personal counseling

* a $5,037 tuition grant to supplement financial aid from state or federal aid sources

* a monthly $80 stipend during the school year

* a two-time $100 reimbursement for round-trip travel to OLLU

* a pre-determined book voucher to help cover the cost of books and supplies

* social events for CAMP participants

* mentoring program

* assistance with scholarships for subsequent college years

* unlimited academic tutoring

For more information, call 434-6711, Ext. 2730




Like Cano and García, many CAMP enrollees are among the first generations in their families to attend college, presenting cultural and social issues: Leaving behind a life of migrant work also means leaving people behind.

"We look at serving those who have been traditionally under-prepared for college," says Joey Ramos, CAMP assistant director. "We bring in the students and give them everything they need to succeed for the first year."

Foremost, CAMP students need money. After receiving the maximum number of loans available to her, Cano was in OLLU's accounting office when she discovered she still didn't have enough money to pay the amount required up front. Without paying, she couldn't enroll at OLLU, where tuition is about $15,000 a year. "I was scared that I may not be able to enroll," Cano says. Over the summer, she had been working as a shift leader at Jack in the Box to save money. "I remember trying to think back about how much I saved and from where else I could gather some money. Would it be enough?

But it wasn't. We kind of thought that was it. If we couldn't pay right then and there, then I'd have to go home and find something else to do."

While she was waiting to apply for more loans, a woman from CAMP called her name. "She told me, 'You don't have to worry about anything; you don't have to pay anything. We'll explain later.' I enrolled and everything was fine."

García was familiar with CAMP because she had been enrolled in a migrant program in high school. Her older sister, who graduated from college and is a teacher, escorted García to 11 college visits before she chose OLLU. "This is the only school I completed the application for because I liked it so much," says García, who moved from Riverbank, California to La Joya, Texas when she was 15.

Cano's parents were born in Mexico and later immigrated to the U.S. Her father, who eventually earned his GED, speaks some English; her mother, who left school in the fifth grade in Juárez, is trying to learn English and computers through a program in the family's housing project. To support the family, Cano's father worked in the fields in New Mexico and later became a truck driver while the family stayed in El Paso, living in federally subsidized housing in one of the border city's worst neighborhoods. "There were drive-bys and gangs," recalls Cano, who moved with her family to another neighborhood when she was 13. "We would do our homework on the floor because you would hear gunshots. I had an older brother and the gangs would come to my house `to recruit him` and my mother had to fight them off. The good thing is, they actually listened to her."

Cano attended first grade in Mexico, where she made excellent grades. When her family returned to the U.S. and tried to enroll her in second grade in El Paso, the school administration wanted to hold her back because she spoke no English. "My dad went through all these boards and went to everybody he could to get me into second grade. So they let me in, but the whole second grade I was being tested to see if I picked it up. By the time I got to third grade, I could speak English."

At 5, García tested proficiently in both languages and was placed on a gifted and talented track in an elementary school in Riverbank, California. In high school, she took Advanced Placement classes to prepare her for college.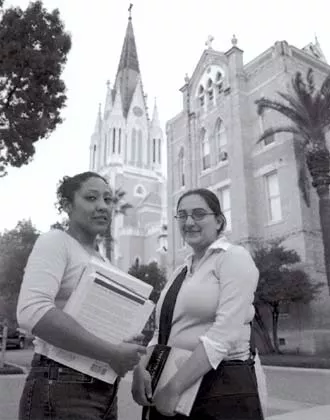 Marlene Cano, an El Paso native, and Vanessa García, who is originally from Riverbank, California, plan to go to graduate school and pursue doctorate degrees.


Her mother speaks English and, after many years of picking strawberries and cherries in California, earned a GED and an associate's degree in interior design. Her father, who completed the sixth grade in Mexico, is a mechanic at a cannery. He speaks English, but not proficiently. "He gets a lot of discrimination because of his thick accent," García says. "At some restaurants they didn't want to take his order."

Although academically successful, socially García had a difficult time finding a balance between her Anglo friends and her Mexican family. "I went through a lot of social problems in school," she says. "I had an identity thing. I primarily had white friends but at home I had a Mexican me. My friends could have fun outside of school, but my dad was very strict about staying with the family and doing things with the family."

Her life was upended at 15 when her parents divorced and she moved 1,500 miles to La Joya, Texas. "It was really hard for me. I grew up around a family and the family unit was going to stay that way forever. You don't expect your parents' relationship to break apart."

In CAMP, social issues must be addressed as intently as academics. College is often the first time migrant students have spent much time away from their families; it can cause cultural and family rifts that can pull students in several directions.

Cano is the only remaining student of the original six in her CAMP class, and the only one to graduate from OLLU. One student in García's CAMP class went home every weekend. "And one weekend," García says, "she never came back."

"There are a lot of external factors that end up affecting their academic careers," explains Ramos. "Homesickness, inability to adjust from a smaller town to San Antonio, family, boyfriend or girlfriend issues. Some students can't handle this and choose to leave."

In the program's third year, a counselor began worked specifically with CAMP students to help them stay in school, especially during the first year. Since then, Ramos says, no CAMP students have left as freshman.

From Riverbank, which had a mix of Anglo and Hispanic families, García moved to La Joya, which is nearly all Hispanic. After years of having primarily white friends, she had lost some of her Spanish, despite her father's attempts to immerse her in the language at home. The erosion of ability to speak her native language embodies a greater struggle that García, and many first- or second-generation students, must grapple with.

"It was really hard for me to assimilate into a culture that technically was mine but didn't feel like mine after all," García says of her transition from California to Texas. "To assimilate or not to assimilate is something a lot of people go through. It feels like losing. I'm not as close to Mexico like other people because I'm Mexican American. But since I'm partly Mexican I'm not really American. So what am I?"

Although Cano has always had an independent spirit, her successes have also given her a sense of loss. She plans to go to both medical school and graduate school in a combined M.D./Ph.D program, but it is difficult to make her mother understand what that means: that her ambitions will take her farther from her family, that graduate school will leave even less time for visits or phone calls, and that some people from Cano's community might see her success as "turning white."

"My mom keeps asking when I'm coming back," Cano says. "She knows I want to be a doctor, but she doesn't know what it takes. 'What is research, medical school, graduate school, Huntington's Disease?' It is difficult to truly communicate to her everything that I am interested in and what my future plans entail. Because of this, I find myself not making her the first person I call when I'm having trouble deciding what to write in a personal statement on my graduate school application or finding money for my applications fees. This is a loss because family are the first, and sometimes the only people to be there for you in times of need."

As Cano and García wind down the first stages of their college careers, OLLU's federal CAMP grant expires this year. OLLU is reapplying for federal funding; although its five-year track record will likely boost the school's chances of receiving another grant, competition from other schools and funding cutbacks could jeopardize it. If re-funded, OLLU plans to continue its outreach to high schools with college-bound migrant students and to offer as many as 30 scholarships through CAMP. That's 30 more students with the opportunity to achieve, to be among their families' success stories.

"You're so far from home. Sometimes you miss your family, and you have to decide if `going to college` is worth it for you," says García. "It's a personal journey that people go through. It's one I went through." •

By Lisa Sorg