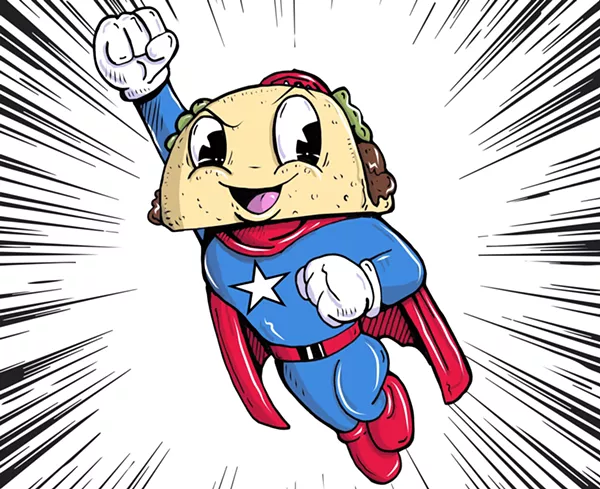 Courtesy of Eddy "Taco Boy" Rios
Launched in 2014 by married duo Karen Rios (the "multi-genre creator" behind Nouveau Nostalgic) and Eddy Rios (a comic book enthusiast who creates "magic stuff on paper" under the moniker Taco Boy Designs), the always-eclectic, multimedia event series Creative Creatures has taken over numerous venues (Limelight, Faust, The Korova and Brick among them) with lineups blending visual artists with performers, indie bands, DJs, fashionistas and plenty in between.
Often drawing inspiration from a specific theme (
superstición Mexicana
,
The Twilight Zone
,
Tales from the Crypt
), these recurring showcases are designed "to fuse San Antonio's art and music community in a fluid way." Sure to delight fans who've supported the duo's endeavors over the years, the recently announced grand opening of a Creative Creatures outpost at Blue Star promises to bring their fusionist spirit to a compact space in Building B. Most recently inhabited by Black Moon Gallery, the spot's latest configuration combines a retail shop and gallery space. "It is a 50/50 split," Karen explained. "Two white walls will house our monthly gallery exhibits, both group and solo shows, and the two opposite grey walls will house our art retail space."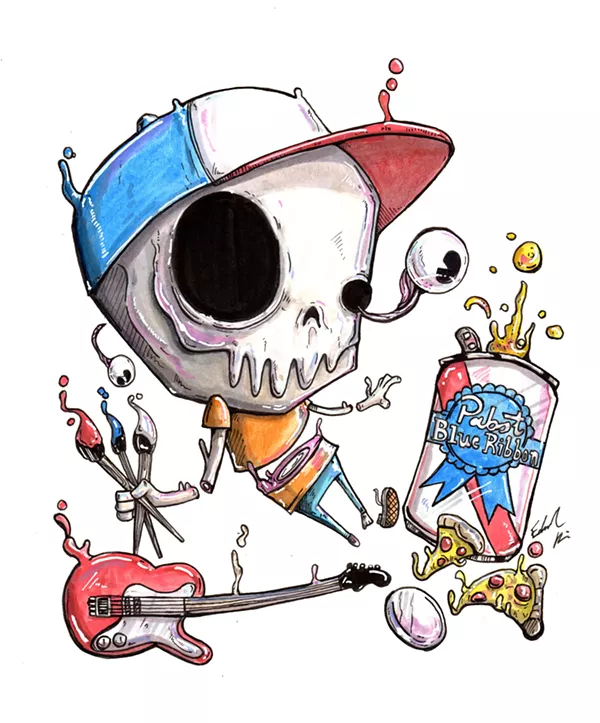 In addition to showcasing works by the husband-and-wife duo (watercolor, ink and acrylic illustrations and paintings by Eddy, and photography, mixed-media works and collage by Karen), Creative Creatures' inauguration as a brick-and-mortar destination gathers stickers, pins, prints, accessories and lots more from an assortment of local artists and vendors (Black Moon Print, Hello Reg, Tattooed Boy, Golden Rose Tattoo, The Wednesdays Art, Bexar Knuckles Apparel, Ink By Moonlight, Gaylunchable and Junk Ship to name a few). First Friday gallery crawlers are invited to "network with fellow creatives, sway to some stellar tunage and enjoy complimentary treats and drinks while they last."

On the horizon:
the group show "In The Style of Wes Anderson: Act II" (
free, 6-11pm Fri, Jan. 5, Creative Creatures, 1420 S. Alamo St., Suite 106B
) and Creative Creatures fourth anniversary all-ages event with live music by Volcán and Booty Feet (
$5, 7pm-midnight Sat, Jan. 13, Brick, 108 Blue Star
).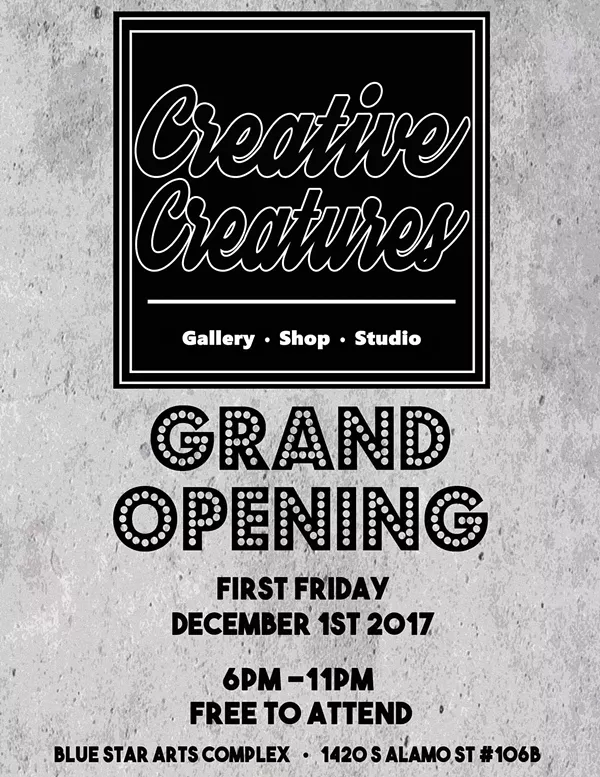 Creative Creatures Grand Opening
Free, 6-11pm Fri, Dec. 1, Creative Creatures, 1420 S. Alamo St., Suite 106B, facebook.com/creativecreaturessatx.