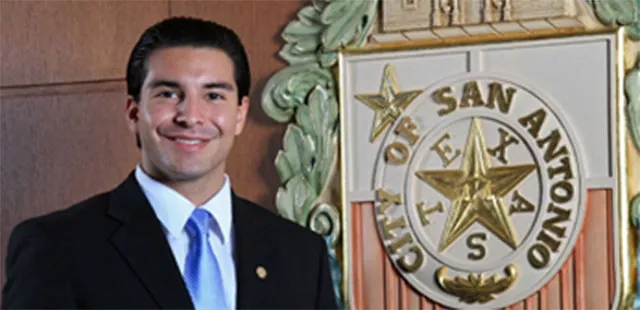 Council member David Medina
City and school elections, Fiesta's official afterparty (we kid), technically begin April 29 when early voting opens. The early voting closes May 7, but you can also swing by your local polls on Election Day, May 11. Visit sanantonio.gov/clerk/elections to find your appropriate voting location and get other importantinformation. With a few notable exceptions, detailed below, this election cycle is blander than most. There's only one open seat, in District 8, and many current council members running for re-election, including Mayor Julián Castro, have Teflon reputations despite several ethical lapses that have plagued COSA lately. Nevertheless, with the exception of District 1, each race is contested. Click here to view most candidates' responses to our thorough city and mayoral candidate questionnaire.
District 5
Apparently, Council member David Medina is inevitable. That was the message when the local police union, somewhat begrudgingly, endorsed him for a third term. Mayor Julián Castro, typically seen as a crusader for LGBT rights, similarly raised eyebrows when he endorsed Medina last month, calling him "a transformative leader for the City of San Antonio." Other controversies aside (which we'll get to in a minute), the devoutly religious Medina has never courted the LGBT community. In 2011, when Council passed domestic partner benefits for same-sex couples, Medina voted against the measure.
How the guy's still considered electable confuses us here at the Current. In December, the E-N reported on Medina's "rate of absenteeism unparalleled by any of his colleagues," reinforcing D5 activists' longstanding grumbling that they have an MIA councilman.
Then there's the embarrassing tale of the traffic stop gone haywire. In November, when officers pulled over Medina's sister, she refused to present a driver's license, and Medina's father got called out to the scene. David Medina Sr. got so angry that a fight broke out, during which he wielded an infant as a "human shield," according to the police report. Cops ultimately tasered and arrested Medina's father.
According to the E-N's Gilbert Garcia, the councilman showed up at the scene, and "eyeballed every cop in sight, and even called one of the male officers a 'little bitch.'" Things got even more bat-shit when Medina followed his father to Baptist Hospital downtown, where the elder Medina was brought for injuries sustained during the roadside scuffle. Medina refused to stay out of the hospital room, and at one point, according to Garcia, officers had to physically remove him.
Classy.
We'd love to give you Medina's side of things. He didn't return our questionnaire, routinely fails to return calls, and, when West Side activists organized a forum for D5 hopefuls at the Guadalupe Theater, Medina was the sole no-show.
Naturally, there's a crowded field of candidates hoping to steal Medina's seat, including local businessman Richard Cardenas and Shirley Gonzales, whose campaign is being run by former Bexar County Democratic Party chair Choco Meza.
Another key challenger is Ricardo Briones, an activist-minded attorney who represented several Dreamers (students supporting the Dream Act) who got arrested when they barricaded themselves in former senator Kay Bailey Hutchison's office in late 2010. While supporters tout Briones' leadership as a San Anto Cultural Arts board member until this year, detractors — most notably former D5 Council member Patti Radle — recall his tenure at San Anto as shaky. Radle blames Briones for mishandling the theft of some $14,000 by a staffer in 2010. Wanting to keep the incident quiet at a tough time in the nonprofit's history (San Anto co-founder Manuel Castillo had recently died of cancer), Briones called on the Law Office of McKnight and Bravenec, his employer, which opted to handle the theft as a civil matter to avoid police and any bad press. Briones shouldn't have used his own law firm, Radle insists; "Part of my disagreement with Ricardo is I don't know if he understands conflict of interest," she told the Current in February. Second, Radle argues, San Anto's over $80,000 in funding from the city that year required transparency, no matter how embarrassing. "San Anto was getting public money," Radle said. "That demands transparency."
Of the theft incident, Briones said, "We came to a civil agreement and, basically, we were just trying to get that money back … It was a simple solution and I think it made the most sense," He insisted that "I understand the need for transparency, but we were being transparent. We were talking to our funders, everyone was aware of what the situation was."
District 3
There's no true incumbent in District 3, although Council member Leticia Ozuna currently holds the seat. When outgoing D3 Councilwoman Jenifer Ramos left the post for her unsuccessful Commissioners Court run last year, Council appointed Ozuna, a cyber-security specialist, out of a swath of candidates hoping to fill the remainder of Ramos' term. Council passed on Rebecca Viagran and Gabriel Velasquez, both of whom are challenging Ozuna this election.
Since her appointment, Ozuna has done much to make a name for herself — some of it unmistakably positive, some of it controversial. Just in time for the campaign season, Ozuna launched her San Antonio Area Broadband Network, a no-brainer expansion of the local public communications network.
Smartly marketed by Ozuna as a way to bridge the digital divide, SAABN essentially leverages unlit fiber-optic cable that has sat unused beneath us for a decade, providing access to school districts, hospitals, libraries, and universities.
But, soon after Ozuna joined Council, she got caught in the middle of a down-zoning dustup at Pecan Valley Golf Course that pitted developers against residents of the nearby neighborhood. Bexar County Commissioner Tommy Adkisson made political hay of the ordeal, inflaming tensions at community hearings. He went on to endorse Rebecca Viagran, a South Side native. Other big name endorsements in the race include Nelson Wolff and Leticia Van de Putte for Ozuna, and Roland Gutierrez and Jennifer Ramos for Viagran.
Gabriel Velasquez clearly hopes to be the spoiler in this race. A South Side activist, who co-organizes the city's annual César Chávez march, Velasquez is known for his somewhat contentious relationships with others in the activist community. And there's no love lost for Ozuna, who booted Velasquez from the City's Cultural Arts Board less than two months after she joined council. He's been gunning for her ever since.
District 8
This seat went up for grabs when Councilman Reed Williams announced last year he'd retire from Council. Ron Nirenberg, associate general manager of Trinity's KRTU radio station, has gained some solid endorsements, including former mayor Howard Peak, former D8 member Bonnie Conner and former State Board of Education member Michael Soto. The vocal Mike Kueber, who ran for Congress in 2010, is also running for the seat.
The real comedy has come from watching E-N columnist Brian Chasnoff relentlessly hound Rolando Briones, a former member of the city's Planning and Zoning commissions who runs his own civil engineering firm and is also a D8 hopeful.
Thanks to Chasnoff, here's what we know about Briones, whose campaign is being run by local consultant Christian Anderson: After SAWS fired Briones, determining he'd violated company policy by accepting gifts from SAWS contractors, Briones turned around and sued the utility in federal court, arguing SAWS had no such rules or limits on gifts from contractors. Then, it looks like Briones lied in an interview with San Antonio Man magazine (which subsequently ran a fawning profile on the candidate), claiming SAWS fired him because he refused to eat a raw egg during a team-building exercise.
Briones' firm got slapped for operating without a license in Louisiana and, (here's the kicker), he skimped on overtime pay at his firm. A U.S. Department of Labor investigation of Briones' firm turned up eight employees due $4,270.50 in unpaid overtime between 2005 and 2007.