Pianos, tube tops, and booty pants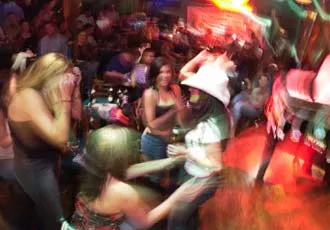 Clubgoers enjoy a recent Friday night at Howl at the Moon.
(Photos by Mark Greenberg)
I was standing outside in the rain on a Saturday night, waiting in a long line to enter Howl at the Moon, a sing-along piano bar along on the River Walk.
It wasn't my pick. As a relative newcomer to town, I'd never even heard of the place. But a co-worker invited me to join a group of girls there for a bachelorette party. I thought it sounded like a fine idea, until I found myself waiting in line for 10 minutes in the rain. A woman exiting the building must have read my wary mind because she looked at me and the others in line and announced, "It's worth the wait!"
As I approached the door guy checking IDs, it seemed as if the options were increasing: A large group of girls in line ahead of me had a friend way in the back of the line and they thought she shouldn't have to wait to get in. "Can she get in with us if she shows you her boobs?" asked the one with the cell-phone attachment.
The door guy lit up like a bottle rocket. "Sure! I love to see boobs!" "They're really big, too," she added. While he became wrapped up in this hopeful scenario, I realized he was waving me toward him. He glanced at my ID, still eyeing the back of the line for the much-hyped big boobs, and sent me on my way to the register where I was told to pay $7. I wondered if big boobs got someone in for free, or just more quickly.
I begrudgingly paid the cover and hiked up the stairs leading to a stage with two pianos facing each other, played by two gung-ho men twisting the lyrics of an Elton John song into something out of a Howard Stern bit. The space in front of the stage was filled with tanned girls in tube tops and booty pants trying to dance seductively to song lyrics that only inspire laughter or disgust. Many of these girls wore veils and obscene hats, clueing me in to the fact that this must be a popular spot for bachelorette parties.
Crowds of hollering people surrounded the stage in a semi-circle, spreading all the way to a back patio. I had no idea where my bachelorette party was or how I'd be able to push through the hordes to find it. I looked around and panicked, having a flashback to college days of drunken frat parties. Claustrophobia set in and I wondered if I should start picking my way through the crowd to find my group or just eat the cover and bail. But before I had a chance to decide, Nicky, the co-worker who'd invited me, waved frantically from a table near the stage. I was trapped. Well, I could stay through one drink, right?
Have you ever been to a place that was so horrible it became inspiring? While sitting amongst the madness of Howl at the Moon, chugging my tequila like the rest of them, a transition came over me and I began to see why parties might want to go to a place like this. These are the reasons I came up with: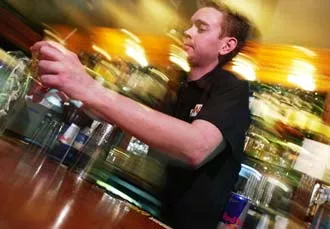 Bartender Tom Tawney serves up drinks during a recent Friday night at Howl at the Moon.


1. The Spice Girls hang out here. And this isn't a place you go for conversation anyway.
2. Your mom gets drunk and humps the piano - then falls down.
3. They have the Cure's Robert Smith on keys. They gave him a happy pill and he's quite good!
4. Fake tits. Plenty to go around.
5. If you're willing to join the voyeurs onstage (the ones from San Angelo in the shit-kickers and cowboy hats), you might get a chance to touch some of the aforementioned fake tits during the hands-on rendition of "Head, shoulders, knees, and toes."
6. If you feel the need for some good-natured degradation and are too shy to get up there and participate, just wait for the between-songs interlude where the crowd yells in unison: "You Bitch! You Slut! You Whore!"
7. You can suck on a penis balloon. And why not?
8. There's no such thing as bad publicity.
As the audience became more rowdy and the dancers more sloppy, I realized all my doubts had vanished: I was, in fact, in hell, but it was quite a show. •