Old dudes, but still edgy
Throw the four discs of Rockin' Bones into the CD carousel the next time you throw a party, and it won't take long to realize this isn't the background-friendly roots rock you may have thought you bought. The switchblade-and-skull packaging of Rhino's 1950s rockabilly collection announces that the sounds will be rowdy, but do you really expect to hear a woman's orgasm on "Little Girl," by a duo called John & Jackie? Did you know that Elvis' "One Night With You" was originally a more lustful lament ("One night of sin/is what I'm now paying for" goes the version here, versus "one night with you/is what I'm now praying for.") Hell — in the hands of Danny Dell, even an innocent ditty like "Froggy Went A'Courting," can come off raunchy. Leave your sanitized Happy Days ideals behind, but bring your dancing shoes.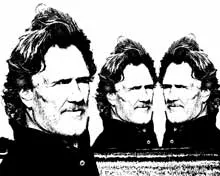 Kris Kristofferson: a mountain of musical ideas.
If people tend to expect something tamer from "oldies," many are often also surprised when the words of a gray-haired singer contain challenging language or sentiments. Let them check out Johnny Dowd, who was pushing 50 when he released his first album and is now fully grizzled, making his Cruel Words (Bongo Beat) pretty surprising. There are plenty of old men who are at odds with the world, of course, but few have recording contracts, and fewer still make such interesting music: In stripped-down rock arrangements with occasional weird synth elements, Dowd gives voice to injured veterans who can't stomach fake talk about war, unwed mothers, workers crushed by capitalism, and a fair number of drunks.
(Dowd's backup singer on Words and fellow critic of capitalism, Jon Langford, is fairly gray-haired himself, though he's been on the scene long enough that his anti-establisment leanings are no surprise. He has a new disc, Gold Brick, out on ROIR.)
Senior citizens who want to sing protest music and actually sell it are supposed to polish it up — burnish their songwriter cred and hire an A-list backing band, instead of rocking out with youngsters like Dowd. First tip: Hire Don Was to produce your album, as Kris Kristofferson does on This Old Road (New West). It's a tasteful, unsurprisingly introspective set, with the songwriter putting his spin on well-worn inspirational themes in "The Burden of Freedom," providing God with anti-war dialogue on "In the News," and never making any of it sound very urgent.
Kristofferson pays tribute to some heroes in "Wild American," which finds an echo on the new double album Unglorious Hallelujah (Back Porch), by Chip Taylor: Like that song "What Would Townes Say About That" mixes political inspirations with artistic ones (both men tip their hat to Steve Earle). But where Kristofferson is conspicuous in name-dropping, Taylor lets you piece his tributes together for yourself. Does it sound like Taylor's batch of songs is the more involving one? Yeah — and there are twice as many of 'em.
(Guy Clark, one of Taylor's tributees, is about to return from a long absence with Workbench Songs, on Dualtone, a relaxed collection of tunes extolling the virtues of Old Crow & 7-Up, analog living, and — naturally — other songwriters.)
Finally, two new discs from old-timers who're resisting the temptation to over-polish: On I Stand Alone (Anti), Ramblin' Jack Elliott often sticks to the "just me and my guitar" format that befits an "underground folk" legend. When he does let a band back him, it's an odd one: Flea, DJ Bonebrake, and sometime Wilco member Nels Cline on dobro. Refreshingly, he gets more unmoored instead of less on those tracks — on the traditional "Call Me A Dog," for instance, the microphone sometimes has difficulty keeping up with his happy growl.
Modern bluesman Charlie Mussel-white, on the other hand, digs deep into the swamp to find his edge on Delta Hardware (Realworld). Following the lead of the Fat Possum crew on tunes like "One of These Mornings," he lets fuzzy guitar and fidgety drums prop up a singing voice that's often halfway gone. That's the way it's supposed to be: When your main gig is harmonica, you're not expected to be a crooner, and Mussel-white's instrument is eloquent — talking about death, poverty, and other stuff liable to make the youngsters uncomfortable.