I can see her roots
Jolie Holland waited a couple of years to follow up her lovely Escondida, but Springtime Can Kill You (Anti) is well worth the wait. The former Be Good Tanyas member still delights in twisting, swallowing, and all but gargling her evidently self-created version of a Southern accent; it's an affectation some probably find off-putting, but it sits well with her flavor of roots music. Like a distant, even more hermetic cousin to the Revival-era Gillian Welch, Holland is more catholic in her influences, pulling from the expected country, blues, and gospel, but also from ancient pop forms that practically nobody has bothered rediscovering; impressively, she works it all until it not only belongs together, but sounds cut adrift from any specific time and genre other than her own.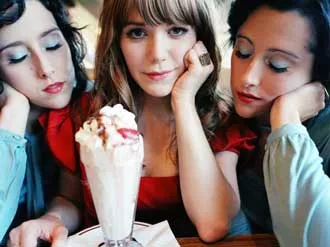 Jenny Lewis and the Watson Twins: Moonlighting in retro country/soul.
A less heavily antiqued take on Southern roots music came a couple months back from Jenny Lewis and the Watson Twins, whose Rabbit Fur Coat (Team Love) horned in on territory that Neko Case seems to be leaving behind. Lewis (sometime singer for Rilo Kiley) isn't the belter that Case is, and her label isn't working the sex-bomb angle as hard as some have pushed it with the New Pornographer (picture Lewis instead as a Grand Ole Opry guest in the early '70s). But from the twangy instrumentations and bluegrass harmonies to, of all things, a Traveling Wilburys cover, Lewis has made a fine moonlighting gig out of retro country/soul.
For a deeper, Muscle Shoals soul, give an ear to His Hands (Honest Jons/Astralwerks) by veteran Candi Staton. After being rediscovered via a British compilation of her 1969-1973 highlights, Staton returns to the studio in excellent vocal shape for an album full of tracks that again teach us how much soul owes to country and vice versa: She covers Merle Haggard and Charlie Rich to beautiful effect, then goes on to the title song, a creepy contemporary number by Palace Brothers' Will Oldham.
His Hands is one of the few soul-related comebacks these days that doesn't have Joe Henry's fingerprints on it. For that, watch out for next month's The River in Reverse, a Henry-produced set teaming the collaboration-hungry Elvis Costello with a real giant of New Orleans music, Allen Toussaint. The pair co-write a few songs and perform a bunch of Toussaint's, all with a dream team band melding Costello's Imposters with the Crescent City Horns.
From the hand-tinted black and white photo on the cover of Lila Downs' La Cantina (Narada), posing the singer like an entertainer from half a century ago, listeners may expect a head-on history lesson. Not so. While the disc boasts its share of traditional musicians and arrangements, careful listeners will notice modern elements winding in and out — and by the second half of track two, where a corrido suddenly twists into a techno trip, there's no question of spotting the 21st century here. Downs and company (including Texan guests Flaco Jimenez, Max Baca, and Michael Ramos) always pull back quickly from such excursions, blending them nicely with stuff that would be acceptable in all but the most traditional venues.
Staying close to home, anybody who'll be in Austin (at the Continental Club, to be specific) on the 26th can catch the first gig in a mini-tour of dates previewing The Meat Purveyors' July Bloodshot release, Someday Soon Things Will Be Much Worse! (No dates are set yet for SA.) Nobody's ever mistaken the sarcastic, occasionally foul-mouthed Purveyors for a straight revivalist act, but they have a way of supporting their sometimes nasty outlook with juiced-up bluegrassy arrangements, whether fueled by Pete Stiles' mandolin or by electric guitars.
Any skeptic who thinks this kind of sass doesn't belong to a lady singing country might jog his memory with the disc's cover of the Loretta Lynn classic "Fist City."