Cover me
Maybe the strangest idea I've heard in months (that didn't somehow involve the government) is DEV2.O, a project for which Disney's fledgling record label has recruited a group of kids to reincarnate Devo, performing the group's greatest hits, complete with flower-pot hats. I guess it's appropriate in a way: Devo always seemed to want to alter the human race, and they were game for all sorts of goofy stunts. In fact, they serve here as Dev2.0's backing band. And it's pretty fun, albeit completely inessential.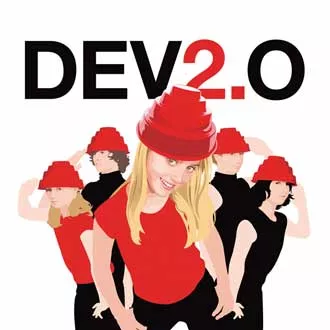 DEV2.0: Bringing the sound of de-evolution to a new generation.
Less wacky, but also unexpected, is Blue Alert (Columbia), on which a singer named Anjani sings tunes written for her by her boyfriend, Leonard Cohen. These are new songs, tailored for a singer with a bigger range than Cohen's, and the production is safely pretty enough for a Borders or Starbucks near you. But it's hard to begrudge Mr. C for a media blitz (also including a book of poetry and a documentary), as he's trying to rebuild a nest egg after his business manager allegedly bilked him out of millions of dollars.
Another tribute produced by the tributee is due late in June on Proper: The Dan Penn-produced What's Wrong With Right is a delicious blend of soul and honky tonk, where the Hacienda Brothers sprinkle some Penn/Spooner Oldham tunes in with their own.
The discs above are far from the only new albums of covers. There were the recent Willie Nelson and Van Morrison discs, and then there's the well-publicized We Shall Overcome (Columbia), on which Bruce Springsteen dives into the songbook of Pete Seeger. That's a raucous hootenanny of a good time (although old fans may prefer the Boss's new live reissue, Hammersmith Odeon, London '75 and given Springsteen's career trajectory it's hard to believe he only recently discovered the old folk songwriter. For listeners who are novices themselves, Smithsonian Folkways has just reissued Seeger's American Favorite Ballads alongside the sympathetic various-artists comp Classic Labor Songs.
Lastly, on the single-artist cover scene is Dr. John's Mercernary (Blue Note), devoted to the compositions of Johnny Mercer, whose lyrics graced melodies by Harold Arlen, Hoagy Carmichael, and Henry Mancini. Nobody will be shocked by Mercernary's sound — it has that familiar, polished-funk vibe Dr. John has been plying since he left the sticky voodoo behind decades ago — but they might be surprised to know that the same man who penned "Moon River" also wrote the delicious down-on-love jive of "Blues in the Night."
Long before Linda Ronstadt and co. realized the culture police wouldn't prosecute them for singing standards, pop bard Harry Nilsson scouted the territory with 1973's A Little Touch of Schmilsson in the Night. He did better than most of those who came after, lending his nimble voice to decorous arrangements, but of the three titles recently reissued by RCA/Legacy, I prefer the others: the greatest-hits Everybody's Talkin' and Son of Schmilsson, a genre-hopping album he made at the peak of his cult stardom.
Dave Alvin has covered age-old traditional songs and, to great effect, even songs by his old band the Blasters. He continues on that road with West of the West (Yep Roc), covering Merle Haggard, Jerry Garcia, and a number of other songwriters who share Alvin's love for his home state. Some singers devote chunks of their careers to one songwriter, but Alvin is quickly becoming the voice of California.
Finally, two from left field:
I never would have imagined pairing the stark voice of Bonnie "Prince" Billy with the "post rock" experiments of Tortoise, but that's what happens on The Brave and the Bold (Overcoat). The odd couple's record covers everyone from Elton John to Milton Nascimento, and it doesn't always mesh as well as you'd like. When it does, though, as on a hauntingly stark "Thunder Road," it's something only this pair could create. There are no covers on The Rose Has Teeth in the Mouth of a Beast (Matador), but the whole disc is about the creations of others. Oddball electronica outfit Matmos has dedicated each of these 10 songs "for" figures as diverse as William S. Burroughs and the King of Bavaria, and appears to have even commissioned paintings and performance art to celebrate them. Happily, although a knowledge of each tributee's biography explains some of the music's quirks, it isn't necessary to enjoy these weird sonic contraptions, some of which are played on "instruments" like books, a sewing machine, and manure.
On second thought, maybe kids singing Devo isn't as weird as I thought.