Gangsta rap's latest phenomenon writes what he knows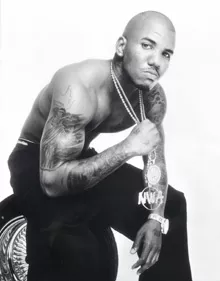 The Game: Dr. Dre's latest platinum-selling gangsta disciple.


T
he empire-building music genre known as gangsta rap essentially can be traced to a diminutive young brother from Compton most people knew simply as Eazy.
Along with his sonic architect, Dr. Dre, Eric "Eazy-E" Wright pioneered the west coast's postmodern take on the blues, creating jobs for scores of people before he left this planet in 1995. After meeting Eazy at a Compton video shoot as a child, Jayceon Taylor grew up idolizing him and even had Eazy's face tattooed on his right forearm. These days, Taylor is better known as The Game, and his Dre-produced debut album, The Documentary, sold 587, 000 copies the week it dropped.
Thanks to infectious singles such as "How We Do" and "Hate It Or Love It," the disc has stayed near the top of the charts. Like 50 Cent and Eminem before him, The Game benefits heavily from his association with Dre, the King Midas of hip-hop. In The Game, Dre has found another pre-fabricated commercial rapper who comes complete with bullet scars and a back story loaded with Crips/Bloods mythology. During a recent interview, Dre acknowledged his primary focus on marketability: "What I look for first is the imaging," he said. "I'm watching how he walked through the door, and of course, you have to have the talent. The way he sounded, the delivery he had on the microphone, the lyrics, all of it turned me on."
As far as flows go, The Game sounds like a rapper who admittedly has been rhyming for only about two years. Although blessed with a more convincing voice than mush-mouthed colleague 50 Cent, The Game rarely ventures beyond the topics of guns, girls, jewels, and cars. Throughout his debut, particularly on "No More Fun and Games" and "The Documentary," his lyrics are relegated to self-referencing slogans that echo familiar hip-hop song titles and phrases from days gone by.
Ta-Nehisi Coates, former Village Voice writer and one of the foremost thinkers when it comes to gangsta rap, offered his own observations on the genre. "`W.E.B.` DuBois had this great quote that I've been thinking about a lot lately, when he's talking about African Americans. What he said about black people is 'How does it feel to be a problem?'
"There are two things at work. The first is that the American culture overall is more profane than it was 50 years ago. The second thing, going back to that DuBois quote, is that white people and African Americans collectively have a hard time imagining black people as anything but a problem. There's several ways that you can go at that, and the way gangsta rap goes at it is by presenting African-American males as a violent problem. There was a time when that rang a lot truer than it does today. The period when gangsta rap came out was a truly terrifying period if you look at the murder rates, crack cocaine, and some of the crazy stuff that was going on."
Snoop Dogg
with The Game
8pm
Sat, May 14
$20.50-50.50
Verizon Wireless Amphitheater
16765 Lookout Road, Selma
224-9600 (Ticketmaster)

Coates expands on the issue by referencing The Game's former homeboy, and current adversary, 50 Cent. "50 isn't a problem in and of himself," he says. "It's that that sort of perspective has come to dominate hip-hop, which interestingly was not the case when the music first came out or when gangsta rap first originated. It existed, but it existed alongside all sorts of other styles of music and all sorts of styles of hip-hop. Basically, this has become the predominant style of hip-hop and that is the problem. It's not that gangsta rap exists, it's that it's the major thing that exists, and it offers a pretty demeaning distortion of African-American male life."
With The Documentary, The Game has been dubbed as the savior of West Coast hip-hop and has drawn the same type of negative attention - legal and otherwise - as "saviors" before him. In his mid-twenties, and with aspirations to become the next Tupac, only time will reveal whether he's able to rise above the violence and drama that often accompanies gun talk, and make it to the ripe old age of 30.
"I like The Game," admits Coates. "I come at this as a fan of the music. I'm sure that's how he came up and I'm sure he's talking about what he knows. I'm sure all these cats are talking about what they know. I don't necessarily buy the cliche critique that these guys are like people from the suburb that are just talking about stuff they don't know. I think in most cases it's what they know.
"My only critique is I'm pretty sure they know more than that. I'm sure they learned other stuff beside that and, yet, that's what you hear." •
By M. Solis