Seattle quartet offers a rude, revved-up response to emo
The Briefs are in Detroit tonight, playing a show at the Cass Corridor dive venue, Alvin's. Guitarist Daniel J. Travanti ain't complaining, though. "Believe me, it looks better than a lot of places we've played," he says.
The 1977-style punk rocker who grew up listening to the Sex Pistols, the Damned, and Black Flag was one of the original Briefs who formed the band in 1999 (bassist Lance Bass has since been replaced by Steve Kicks). Loud, fast, and fun, these Seattle natives set out to play classic punk like they were cracked-out on Starbucks double-shot espresso lattes.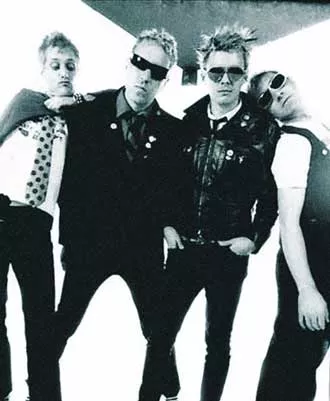 The Briefs got their name by playing fast, three-song sets at parties.
"I think the fact that we ended up all together is a reaction against the whole black-haired, shoe-gazer thing that was going on in Seattle," Travanti says over his cell phone. "We kind of wanted to be goofballs with bleach-blond hair and have nothing to do with that scene whatsoever."
At first blush, ultra-sensitive indie popsters such as Death Cab for Cutie might seem to be what the Briefs find wrong with Seattle's music scene, but it's actually emo that turns out to be their kryptonite. "Personally, I can't bear it," Travanti says. "I think it's kind of a horrible music and the fact that it's everywhere and so predominant, it drives me crazy."
As a result, the Briefs donned stage costumes — skinny ties, plastic sunglasses, bottle-blond coifs — that were a direct protest against the sort of woeful droning that was slowly redefining the Seattle punk scene they loved so much. There would be no black hair, no onstage wailing, no attempts to make teenage kids relate to them through angst-ridden lyrics. There would only be punk, the way it used to be done before 1984, when Travanti says bands like Dag Nasty began to leave him disillusioned with the genre.
"It was more of a lark than anything," Travanti says of the Briefs' formation. "Four of us got together on a whim to do a punk-rock band and try to emulate what we really love from the early '80s. We played parties and would perform three songs, which is kind of how we got our name."
By 2001, they'd released their debut album, Hit After Hit, a ballsy title for a collection of infectious, frenetic tunes. Its shortest song, "Dolly Parton," clocked in at 31 seconds and its longest ,"Rotten Love," at a mere 3:33. It was all about the musical hijinks with the foursome, as demonstrated by their anthemic rally cry against Bob Seger on "Silver Bullet." Their creative subject matter has continued on four subsequent albums, including Off the Charts' "22nd Century Man" (2004), Sex Objects' "Orange Alert" (2004, yes they release multiple albums in the same years), and this year's Steal Yer Heart, an album of anti-love songs featuring heartwarming ditties such as "Genital Torturer" and "My Girl (Wants to Be a Zombie)." Despite all the albums and a non-stop touring regimen, though, it's still week to week for the Briefs.
"It's great to have people who show up and sing along, move, and actually care," Travanti says. "But by no means are we coming home and counting loads of money or buying nice cars. We're pretty poor, I'll just say that flatly."
The Briefs
with
Clit 45, Total 13

7:30pm
Thu, Nov 24
$10

Sanctuary
1818 N. Main
732-0313
So then what is it about life as a punk rocker that appeals to him so much? For this question, Travanti asks drummer Chris Brief for his thoughts and in the background you can hear Brief shout his reply. Travanti laughs and then conveys the message: "So you can walk down the streets in Indiana and have a truckload of guys pull up and call you a faggot."
See, as far as it has come, punk is still a long way from being mainstream in Middle America.
"We're doing this for fun," Travanti says in reference to a lifestyle that, even when it provides a day off, leaves you loads of laundry to eat up that time. "Obviously, we're not doing it for the money. And I think we get some sort of sick pleasure from touring around in a van and getting the chance to stand on a stage for 45 minutes, play our hearts out, jump around like idiots."
One has to wonder, though, if the Briefs can keep up this pace for much longer. Are they close to burning out? "Yeah, if you catch me on the wrong day, I'm completely sick of it," admits Travanti. "We go through our ups and downs. There'll be shows where we come into town and it's cold and shitty weather and there are only 30 kids there. That can be a drag. But then we can be in Madrid at a sold-out show and that reaffirms everything for me."
You can almost hear Travanti shrug on the other end of the line, or maybe he's just realized how cold it is in Detroit. "It's either this," he says, "or we turn into janitors." •
By Cole Haddon