Sangre, sueños, and songs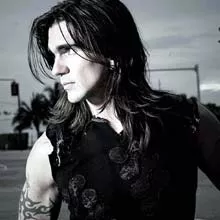 Juanes


Juanes, like Shakira, hails from Colombia. And, like the platinum-blond superstar, this singularly-named male heartthrob has hit the top of the charts across Latin America, sold out auditoriums, snagged several Grammys and received a Pepsi endorsement to boot. Unlike Shakira, however, he has no intention of recording in English anytime soon. Not that he needs to -
Mi Sangre
, his latest album, has connected with audiences worldwide, regardless of potential language barriers.
Maybe it's because Juanes belongs to that rare breed of pop musicians: those who bring substance to their style. His radio-friendly singles convey the need for love, whether it's love for an individual, love for his war-torn country, or love for humanity. And he performs them in a way that remains fresh and original, with a sound that combines traditional Colombian rhythms of vallenato and cumbia with a driving rock edge that accentuates his passionate and sometimes political lyrics.
Juanes
9pm
Fri, Apr 22
$35-60
Municipal Auditorium
100 Auditorium Circle
207-8511

"La Camisa Negra," his latest single, has an infectious hook laced through a cumbia beat, reminiscent of his own "A dios le pido," from 2002's
Un Dia Normal
. It's about a love gone sour, and he sings it with such decisive finality you can't help but believe it's over. Contrast that with "Nada Valgo sin Tu Amor," in which the devoted husband and father affirms how much he values his compañera: "Por que nada valgo/ por que nada tengo/ si no tengo lo mejor/ tu amor y compania en mi corazon." Increasingly, however, as in the uptempo "Sueños," he addresses the serious topics of life and death in a time of war. Like a rock 'n' roll Ruben Blades, or a Latino John Lennon, Juanes has dreams of a better world, one that exists - for now at least - only in song.