Calling Gloria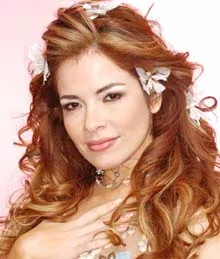 The second coming


If you knew Gloria Trevi only by reputation in the '90s, you'd be tempted to believe that she was a revolutionary figure. Endlessly touted as the "Mexican Madonna," she was mythologized as a gamine who stumbled into fame and flouted her country's culture of machismo with an aggressive sexuality. Her admirers described her as an intuitive feminist.
In person, however, Trevi came off as the cheesiest kind of pop star. She opened her concerts with the horrific Laura Branigan hit "Gloria," screeched in an obnoxiously affected voice that sounded like a sitcom version of a punk rocker, and bounced around the stage in short skirts and ripped fishnet stockings. Her defining concert moment - when she pulled a guy from the crowd and forced him to strip to his boxers - suggested that she'd studied the principles of game-show degradation more than the theories of Betty Friedan.
Gloria Trevi
8pm
Wed, May 11
$45-70
Freeman Coliseum
3201 E. Houston
224-9600 (TicketMaster)

These days, the 37-year-old Trevi is attempting to resuscitate a career shattered by scandal. In 2000, she and her manager/husband Sergio Andrade were arrested in Brazil and charged with abducting and raping teenage girls under the guise of offering them musical training. Andrade impregnated five girls involved in this alleged sex ring, and twice did the same with Trevi, most recently during her stint in a Brazilian prison. You can find his picture next to the word "sleazoid" in the latest edition of the Merriam-Webster dictionary.
Incredibly, after being extradited to Mexico and beating the criminal rap against her, Trevi refuses to do the sensible thing and hide her head in shame. She's again selling herself as a rebel, the outlaw that the establishment doesn't want you to see (and really, who could blame them?). She's doing all this while six months pregnant, by her new boyfriend. But she's playing to predominantly empty arenas, and the entire affair has the depressing odor of desperation about it. Then again, Trevi's career always did.