Foster parent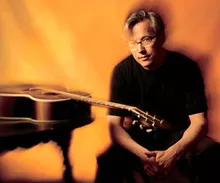 Radney Foster


Twenty years ago, Radney Foster got a gig as a staff songwriter for a Nashville publishing company. All these years later, even with a prolific recording career that includes solo work and a stint with the duo Foster & Lloyd, Foster essentially remains a songwriter. His tunes have been covered by the Dixie Chicks, Keith Urban, Roger Creager, and Pat Green (whose latest album includes two Foster compositions).
With Foster & Lloyd in the late '80s, this Del Rio native was alt-country before that music niche had a name, combining power-pop with harmony singing in the tradition of the Everly Brothers. From the beginning, he's managed to work within the Nashville system even while maintaining a distinctive, mildly left-of-center voice. Like many of his Texas-bred country compatriots, he lends a vaguely progressive sensibility to a form of music generally equated with political conservatism. Take "Everyday Angel," a single from his 2002 album Another Way To Go, which references Martin Luther King and the Civil Rights Movement. It's hardly earth-shattering stuff, but then again, it's not a subject you associate with Toby "The Angry American" Keith.
Radney Foster
with
Jay Clement
8pm
Wed, May 18
(Free)
The County Line
10101 W I-10
641-1998

Foster's latest album,
And Then There's Me: The Back Porch Sessions
(available only on his website:
radneyfoster.com
) finds him in acoustic mode, revisiting old favorites such as "Godspeed (Sweet Dreams)," a Foster song brought to greatest prominence by the Dixie Chicks, and debuting new songs such as "Never Gonna Fly." In keeping with the album's casual vibe, he'll perform solo at the County Line, as part of the restaurant's ongoing series of free music shows. Parents in the crowd are advised to request "Little Babies Like To Suck On Their Toes."