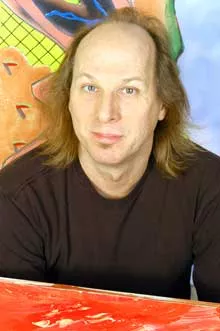 Adrian Belew
Twang bar king
Everyone has their favorite musical what-if questions: What if Buddy Holly had taken the bus that January night instead of the plane?; What if Brian Epstein hadnt downed those sleeping pills?; What if Eddie and the Cruisers had finished Season In Hell?
Near the top of my list is this one: What if Frank Zappa hadnt wandered into a Nashville bar in the mid-70s and spied Adrian Belew shredding with a nondescript cover band? By that point, Belew was on the downside of his twenties and his career wasnt going anywhere in a hurry. Although it seems implausible, one of the most innovative electric guitarists of all time might have spent his life laboring in obscurity if not for the fateful meeting.
Part of the explanation for this is that Belew is comfortable playing the sideman role; hes brilliantly performed with Zappa, David Bowie, Talking Heads, and Laurie Anderson, in every case transforming (for the better) the sound of the artist. Less appreciated are Belews talents as a frontman, both on his own adventurous solo albums and with the late-model King Crimson. A skilled studio one-man-band, Belew has indulged his flair for tuneful pop with the surprise 1989 hit Oh Daddy and albums such as 1992s Inner Revolution, not to mention his association with the Bears.
Current Choice

Eric Johnson Electric Band
with
Adrian Belew

9pm
Fri, Aug 26
$22 (advance); $25 (day of show)

Sunset Station (Lonestar Pavilion)
1174 E. Commerce
222-9481

Belews latest project is an ambitious solo trilogy exploring different facets of his musical identity. The second release, appropriately titled Side Two, ventures into ambient textures and electronic beats with largely successful results. And, as demonstrated on tracks such as Dead Dog On Asphalt and Face To Face, he remains the Twang Bar King, able to spit out Eastern modalities and simulated backwards solos like nobody else on the planet. •