Strayhorn of plenty
As a kid, Larry Strayhorn had little sense that his uncle, Billy Strayhorn, was one of the singular figures in the history of American music. "He was a wonderful uncle, but that was about it," says Strayhorn, a Pittsburgh native who moved to San Antonio in January of this year. "When he came to town, I was fascinated with his Florsheim shoes and his $300 suits. I knew he was good and he'd written a few songs, but I really didn't really know much about him when he was alive. "
Current Choice

Ron Wilkins 4-Tet:
A Tribute to Billy Strayhorn

9pm
Thu, Oct 13

Luna Fine Music Club
6740 San Pedro
804-2433

The younger Strayhorn's interest grew when he attended the same Pittsburgh high school as his uncle, and began hearing about his uncle's astonishing musical exploits. (For starters, Billy composed a musical while still in his teens and toured Pennsylvania with it.) These days, Larry serves as president of Billy Strayhorn Songs, Inc., overseeing a catalog that includes approximately 200 unreleased songs. He's also become the de facto guardian of his uncle's legacy.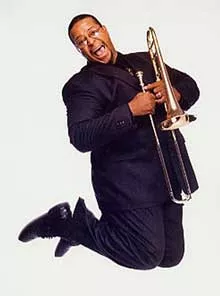 Ron Wilkins
Local trombone virtuoso Ron Wilkins has developed a growing interest in Billy Strayhorn's work over the last several years, and says he was "blown away" when he met Larry in September after a performance at Swig. "Billy Strayhorn is one of the most underappreciated American musicians of the 20th century," Wilkins says. "He was a seminal figure, not only as a composer but as a performer."
If Strayhorn is underappreciated, it's because he spent the bulk of his career in the mammoth shadow of Duke Ellington, who hired the 23-year-old Strayhorn in 1939 to collaborate with him and write charts for the Ellington Orchestra. Strayhorn composed standards such as "Take The A Train" and "Lush Life," but untangling the scope of his work has proven tricky because Ellington often attached his name to Strayhorn's tunes. "I've learned to distinguish between the voicings of Ellington and those of Strayhorn," Wilkins says. "And when I hear the Ellington Orchestra, I find myself hearing more of Strayhorn."
With a Strayhorn documentary expected to air on PBS next year, accompanied by an ambitious Blue Note soundtrack album, Strayhorn's contributions look to be due for re-evaluation. For his part, Wilkins plans to dedicate his October 13 show at Luna to the music of Strayhorn. Wilkins' 4-tet will be joined by Footsteps vocalist Joan Carroll, and Larry will add a sense of historical perspective by speaking about the uncle he's grown to revere. •