Pong serves up futuristic paranoia with its retro electro-rock
There's a recurring joke amongst the Rolling Stones that even after nearly 30 years in the band - more than twice as long as his predecessors combined - Ron Wood is still referred to as "the new guy."
In a sense, the Austin rock band Pong is in the same boat as Wood. Three of Pong's five members previously played in the avant-punk band Ed Hall, and even though Pong has been gigging for the last seven years, some music aficionados still consider Pong the new band that formed from the ashes of Ed Hall.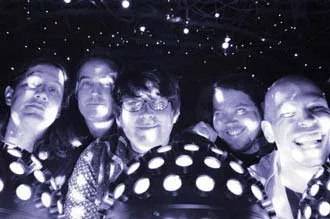 Pong: Maintaining a ratio of nine rehearsals for each new song.
As guitarist Gary Chester acknowledges, it's not that Ed Hall cast such an imposing commercial shadow. In a 10-year career that spanned the True Believers and Spoon eras, the group was always more of a well-regarded cult attraction than a popular phenomenon. But with live shows that incorporated body paint and art-film projections, an eccentric catalog on now-defunct Trance Syndicate (the label founded by Butthole Surfers drummer King Coffey), and an appearance in Richard Linklater's seminal Slacker, they became for many the epitome of improvisational, noise-obsessed punk in Austin.
For Pong, Chester and his former Ed Hall bandmates - drummer Lyman Hardy and bassist Larry Strub - wanted a bigger band with a more orchestrated approach and a more accessible sound. They recruited Shane Shelton to play his rinky-dink Radio Shack Realistic synthesizer and Jason Craig to add an extra layer of guitar. With campy retro-futristic snatches of vocodor, Hardy's dance-conscious beats, hooky guitar riffs, and surly vocals that oddly recall Smash Mouth frontman Steve Harwell, Pong makes for a more digestible pill than Ed Hall.
"People who saw Ed Hall say, 'You used to play all these notes and now you're more minimal,'" Chester says. "Well, yeah, 'cause there's five people. Now, we're more like a mini-orchestra. We have to play our parts, and we can't just solo out all the time."
Chester received a stiff reminder of the differences between his past and present, when he and his mates agreed to play an Ed Hall reunion show a couple of years back. Before hitting the stage, the group spent an estimated 60 hours simply re-learning its old material. "We were huffing and puffing when we were playing," Chester recalls. "The tempos were twice as fast `as Pong's` and there were about three times as many notes, and we had to sing and play the whole time."
Because of family and work commitments, Pong has yet to establish many solid beachheads outside of Austin, even after seven years together. In fact, the group's June 11 gig at Taco Land will represent its first-ever performance in San Antonio. The show will allow the band to showcase its second CD, Bubble City, released in February. Because the group's home-recorded 2001 debut, Killer Lifestyle, was pieced together at a grindingly slow pace, the plan for Bubble City was to go into a professional studio (Porchlight) and knock the tracks out quickly. It didn't work out that way.
"We did our rough tracks in a few weeks and then ran out of money," Chester says. "Then we did overdubs for years. As we played gigs, we would do more overdubs and fix things. Finally, towards the end, we went back into the studio with a credit card. We pretty much funded it by playing gigs for two years."
After completing the album, the group sent it to California mastering wizard Joe Gastwirt, who'd previously polished records by the Talking Heads and Beach Boys, among others. "When we got it back, it was this really amazing audio," Chester says. "We could actually tell the difference. And that was the final stage, so we were like, 'Man we could have just done something on the four-track and sent it to him.'"
Bubble City shines brightest when it strikes a balance between '80s techno-pop and modern guitar rock, as on "Cherokee" (quite possibly the only pop song ever to give a shout-out to H.E.B.) and "Click O.K."
A vague sense of looming repression and Orwell-esque mind control pervades the album, from the law-enforcement menace of "Interpol" to the manipulations of "Conform to the Norm."
Pong
with
Snowbyrd

9:30pm
Sat, June 11

Taco Land
103 W. Grayson
223-8406
As with Ed Hall, Pong creates music by improvising in rehearsal, and slowly picking out worthwhile ideas, a process that Chester calls "mining" for music. To keep things from becoming predictable, the band members will also test out other methods of spontaneous creation, such as "table recording," which finds them passing the microphone around on a table and allowing each member to take a turn at recording a track.
"We rehearse all our improvisations and decide which ones we like," Chester says. "It's a very slow process. We came up with this formula that with nine practices, we can make one song. But if we get interrupted by gigs, that sets up back."
After Ed Hall's breakup in 1996, a weary Strub moved to Thailand to teach English, while Chester and Hardy played in various Austin bands. Shortly after Ed Hall's final gig, in Dresden, Germany, Chester and Hardy headed for Paris, where they found themselves playing air guitar and drums in a video by French roots-rocker, Dick Rivers. For a moment, at least, they could dream of a life as American expats in France.
But they soon returned to Austin, and Chester finds himself constantly amazed at how the key players on the Texas music front remain the same. "I'm booking the shows, and I call up the clubs, and it's the same people who've been there for 10 to 15 years," he says. "I'll mention I played in Ed Hall, and they say, 'I booked your band years ago.'" •