Rodney Crowell continues his career transformation with 'The Outsider'
Rodney Crowell presents one of the most stark transformations in country music history: After an extremely successful career as a songwriter of mainstream commercial hits, he hit a dry spell, took some time off, and came back with 2001's heartfelt and intentionally unpolished The Houston Kid. His new release, The Outsider, follows Fate's Right Hand, making three consecutive strong, socially conscious records that manage both sing-along hooks and thought-provoking lyrics. On the eve of his appearance here at Gruene Hall, he spoke to us about the transformation.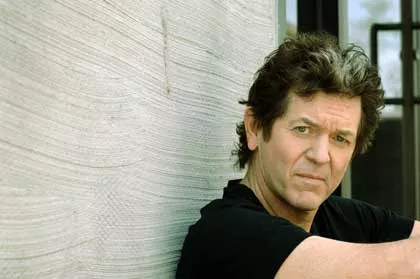 Rodney Crowell: rejecting the radio-driven sensibility after it rejected him.
How different is your fan base now from the days before The Houston Kid?
Well, it had dwindled to little or nothing in my "quiet time." So when I started back up, I didn't expect there to be an audience. I was pretty realistic about it, thinking, "Well, I went away from this game for five or six years and am setting out on a whole new path." Some of the old audience - that was attached to what I did when I was, say, radio-driven - they showed up, took a look, some of them said "cool," and some said "I don't want nothin' to do with this." You know? "This is no fun - what is he askin' me to do?" `Laughs` But the audience I was looking for was that word-of-mouth music fan, and as they've drifted in, it's really started to get fun.
Can you give me an insight into that transition? It seems like you made a pretty conscious decision to reject that "radio-driven" mindset.
No, in fairness to everybody, it rejected me first. I made a couple of attempts to reconcile that, but it was half-hearted. It's real easy to pick on the music industry or the radio, but the truth is, we artists make our places and create our reality. I think I did a smart thing just unplugging it and letting it unravel, because it gave me a few years to re-think and re-feel. When I made The Houston Kid, I made the commitment to myself that I was going to leave a succession of records that were really fueled by my own sensibility - that my daughters could be proud of.
"It's real easy to pick on the music industry or the radio, but the truth is, we artists make our places and create our reality."

- Rodney Crowell
You used the phrase "What's he askin' me to do?" One of the songs on your new record, "Don't Get Me Started," could be heard as coming from that fan's point of view - as saying "yeah, I may share your politics, or not, but that's not what I want to get into when I go out for a good time." It's obvious that the song is you speaking, but do you see it as something that could be flip-flopped?
Sure, of course it could be. I'm not Pollyanna about this. I saw `that negative reaction` first-hand. I wrote that song in Scotland. When we came back to Houston, I taught it to the band and, when we played it the first night ,I felt like Moses. I mean, I could see the room divide itself. But you know what, that's no reason to not do it.
My rule is "show, don't tell." The way I want to deal with this material, I have to find a way to show the story. If I'm successful, then you the listener will have your own emotional response to it. "Don't Get Me Started" is a rant against white-collar crime and a really greedy political foreign policy. But I made it so that the narrator was a drunk in a bar, with a certain amount of self-awareness. The guy says, "man, I'm a drag when I've had a few drinks." So he comes with a kind of human voice that keeps it from being about slamming you over the head, and makes it more like a movie where you can make your own judgments about these characters. 'Cause you know what, in the end I could be wrong.
Rodney Crowell
with
Will Kimbrough
and
Jedd Hughes

9pm
Sat, Sep 10
$17.50

Gruene Hall
1281 Gruene Rd.,
New Braunfels
830-629-5077

The flipside of that, where you're speaking from the other side's voice in "The Obscenity Prayer," `in which the narrator slams, among other things, lefties and the Dixie Chicks` the guy is asking for a lot of things that most of us want, too. He gets a sympathetic side just as the other guy gets a rough one.
Yeah, he has his moments. He says "give the world a cancer cure," but "I don't like you bleedin' hearts." I went into that one with my eyes open, because I fully expected people to take me seriously. So much so that I sent the Dixie Chicks a note, saying, "people are going to actually think I'm slammin' you guys."
And it's happened: A woman came up to me in New York City, of all places, and she goes, "Yeah! The Dixie Chicks can kiss my ass! I'm gonna go buy your record as soon as it's out!" And I said "whoa, wait a minute - I was being sarcastic, and using irony there. Let's talk about this; I really thought it was a low point when they were villified." She goes `defiantly`, "Well I'm gonna buy it anyway!" `Laughs` I thought, "Whoa, she didn't even care." •
By John DeFore