Conference explores hip-hop's strained relationship with feminism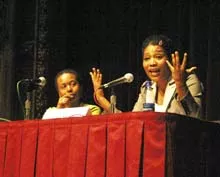 Cathy Cohen, author, professor and director of the Center for Race, Politics, and Culture at the University of Chicago, listens as self-proclaimed hip-hop feminist Joan Morgan breaks it down at the Feminism and Hip-Hop plenary in Chicago, Friday, April 8.
(Photo by Kate D)
F
requently maligned for its high-profile examples of sexism, hip-hop culture has always maintained a tenuous link with feminism. In April, scholars, journalists, and activists from across the country gathered in Chicago to ponder that uneasy connection.
Organized by the Center for the Study of Race, Politics and Culture at the University of Chicago, the Feminism and Hip-Hop Conference invoked the spirit of Audre Lorde to deconstruct the crisis of conscience affecting the hip-hop nation. Pimp worship has become an overriding theme among many male emcees, transforming men of color into sexual slave masters in their own communities.
At one of the conference's most electric panels, Joan Morgan, author of When Chickenheads Come Home to Roost: A Hip-Hop Feminist Breaks It Down, shared her insights. "Hip-hop as I loved it is pretty much dead to me," Morgan said. "The music that we grew up on was a lot better than the stuff today. Sexism has poisoned an art form I care so much about."
Morgan was immediately followed by Tricia Rose, author of the seminal text Black Noise: Rap Music and Black Culture in Contemporary America, who chastised hip-hop's current hustler patriarchy, where one is either a player or getting played. "Hip-hop has internalized capitalism and internalized exploitation," she said. "Coolness has been attached to this treatment of women." Rose conceded that it can be difficult to openly level such critiques, knowing that they will be used as ammunition by enemies of the culture.
One of the conference's highlights featured Jeff Chang, author of the recently published Can't Stop Won't Stop: A History of the Hip-Hop Generation. "Hip-hop and hip-hop journalism is in really a bad way right now," he said. "Hip-hop has become a way that you sell goods. It used to be about making a name for yourself: writing your name on the wall, giving yourself a DJ name and then rocking a party. Now it's about becoming a brand name. It's about selling goods from vodka to shoes to cars to whatever. I think that in that respect, hip-hop journalism has followed that route.
"Back in the day, and I hate to sound real nostalgic and all that kind of stuff, because I disagree with Joan on the whole, 'my rap was better than your rap,' but there has been a change. Nowadays, it's a lot more about the celebrity status and that type of thing."
Chang has been writing about hip-hop for 14 years and was a founding member of California's legendary SoleSides crew. At almost 550 pages, Can't Stop Won't Stop is a staggering achievement in both scope and scholarship, tracing the culture's path from its beginnings in the Bronx to the plights affecting hip-hop in 2001. For Chang, the book was a six-year endeavor that he approached day-by-day.
Can't stop won't stop:
A history of the hip-hop generation
Jeff Chang
(St. Martin's Press)

"I had never done anything like that before so for me part of the discipline was knowing that I would be overwhelmed if I actually sat down to take a breather from it," he explained. "I knew I was always at the very edge of my limits. I was pushing myself to the very limits of my abilities every single day that I was doing it. But, if I didn't go ahead and do it everyday then I would've had a chance to sit back and trip about it and that would've been really debilitating.
I didn't want to get paralyzed by that."
Can't Stop Won't Stop - which includes a look at feminism in hip-hop - has been praised by critics across the country for its inclusiveness and depth. Surprisingly, the biggest criticism has come from those questioning Chang's heritage. "There's always folks that are going to ask, 'What's a Chinese/Hawaiian guy doing writing about hip-hop?' The very interesting thing is that most of that kind of criticism has come from folks that are not from the hip-hop generation or don't identify with hip-hop. So it's not that I don't take it seriously, but it tells me that hip-hop has transformed the way that folks think of things already in some respects and that hasn't necessarily reached all the way to other places."
The desire to see hip-hop reach those places informed every moment of the conference. Morgan and Rose waxed poetic on hip-hop's influence on female desire and its current limited range of experience and expression. Morgan told audience members to resist commercial rap's manipulation of the funk and insisted that constant inquiry and analysis is the best way to keep feminism in hip-hop. As she reminded those in attendance, "The underground is not going to save us because it's under ground." •
By M. Solis