Robb's Metalworks brings the noise for its third annual multi-band showcase
As Robb Chavez maneuvers his Ford SUV around town on a Friday morning, his prized bobblehead of Metallica guitarist Kirk Hammett rocks the dashboard. The vehicle's back window features a sticker promoting Chavez' long-running public-access television show, Robb's Metalworks. In the back seat, Chavez' 7-year-old son Cruz pumps up his headphones, listening to Scary Manilow, his favorite local band.
Heavy metal permeates every aspect of life for Chavez. Recently, it even popped up in his professional capacity as a software rep for College Board. After making a presentation in Oklahoma, a suit-and-tie-clad Chavez was approached by a young man who breathlessly asked him if he hosted Robb's Metalworks.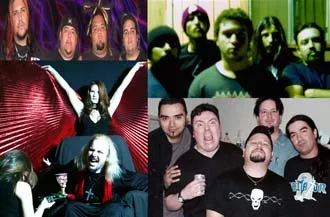 The RMW Showcase seeks to unite one nation under a pulverizing riff.
For all his devotion to metal, however, Chavez, 34, has spent much of the last year re-evaluating his connection to the music and pondering the future of his show. After organizing a 2004 Houston metal festival that he openly describes as a "farce," he took a six-month sabbatical from his show, dumped his staff, and put together a new programming game plan.
"I wasn't tired of doing it, I just thought there needed to be some changes with Robb's Metalworks," Chavez explains. "I needed to get a new staff in order to reinvigorate our work out on the streets. I also wanted to evaluate how we were presenting and distributing our show. I had gotten complaints throughout the history of our show that the half-hour format sucked because it was too short."
During sit-down negotiations with Time Warner Cable, he settled on an approach that would transform RMW from a 30-minute weekly show to a two-hour show that aired every other month with each episode repeated three times. "We're providing a little less content, but overall a better show," Chavez says. "And it's not so much work. I used to go to the studio every week, and now I do it every other month."
Robb's Metalworks Showcase:
Solitude Aeturnus, Eternity Black, The Ruined Few, D-Railed, By Any Means Necessary

6pm-2am
Sat, July 16
$10 (all ages)

Sam's Burger Joint
330 E. Grayson
223-2830

These days, Chavez is gearing up for the third annual
Robb's Metalworks
Showcase
, a live extension of his program's unspoken ethos that headbangers of the world should be able to put aside their petty differences and unite behind their shared love of volume, distortion, dog-whistle screams, and thunderous tom fills.
"The premise is to provide an annual event that's a gathering of our metal community no matter what genre of metal you support," he says. "I'm one of those people that appreciates all kinds: I listen to black metal and thrash metal, and we've supported power-metal bands and various other kinds on the show. So in the first year, I wanted to advocate for that. Last year, people really started feeling that vibe."
A big component of Chavez' showcase strategy is to offer a headliner with legendary status in underground metal circles, preferably a band that plays infrequently. He achieved that goal last year with Watchtower, a seminal but inactive Austin technical-thrash band that performed at the RMW showcase as a one-off favor to Chavez. This year, he is filling that slot with Solitude Aeturnus, an Arlington doom-metal warhorse that debuted on Roadrunner Records in 1991 with the much-loved album Into The Depths of Sorrow. Solitude has endured recent lineup changes and not gigged in four years, according to Chavez.
"I thought we needed to look at someone in Texas who was revered as much as Watchtower was," Chavez says. "The only band that I kept thinking of was Solitude Aeturnus. They were really hailed as the kings of doom metal, as real innovators. They helped to invent this kind of slow, very heavy, thick, melodic metal."
Chavez also wanted to tap into the formidable Houston market that came out in big numbers for last year's showcase (though H-town's metal community proved to be much more territorial when Chavez took a showcase to their city). He looked to Eternity Black, a new band led by guitarist Larry Barragan, a veteran of the Houston scene.
"For many years, the word was that he was a family man now and was out of the music business," Chavez says. "A few months ago, he sent me an e-mail and told me he was back and had a new band called Eternity Black. They were the main reason that I postponed the showcase from May to July. They couldn't do it in May because their guitarist Robert Treviño and his wife were expecting a baby."
Chavez also wanted to represent San Antonio and provide a promising young opening act. After mulling all his local options, he picked the solid, hard-working D-Railed and the ascendant Ruined Few. The showcase's opening band, the Austin-based By Any Means Necessary, stirs Chavez to gush like Jon Landau writing about Bruce Springsteen in 1974: "I think they're going to be the future of metal in Texas. I was blown away by them. I was mesmerized. I couldn't believe how powerful and intense they were."
If this year's showcase pulls in some metalheads from out of state, it might be because Chavez recently made his website an extension of his TV show, allowing visitors to stream the show online. "We're getting packages now from bands in Australia, from Canada," he says. "People are also buying a lot more video of the show. I kept my entire 265 half-hour episodes available, so I have customers from around the country who want copies of the show. One guy wanted an early show, from 1999, and I was kind of embarrassed about it. When I sent it to him, I said, 'Excuse the Spinal Tap.' But he loved it." •