Digable Planets – Medicine music from the underground thing
"The underground is straight from the street, you and your fans are right there," exclaims cosmic emcee Craig Irving, aka Cee Knowledge. "With the underground, you get most of your love from doing these shows. With major labels, it's more about marketing strategies, what's going on in the economy. The underground don't give a fuck about what the economy's doing, because in the underground everybody's broke so it doesn't really matter."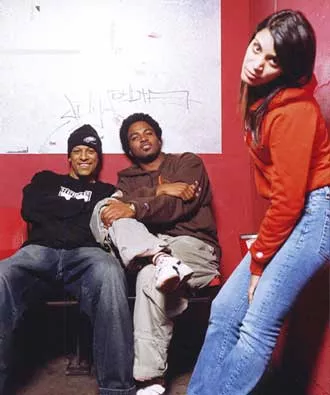 Digable Planets: Their groundbreaking 1993 debut straddled the fence between mainstream acceptance and underground aesthetics.
As one third of the pioneering hip-hop group Digable Planets, Irving has walked the line between mainstream adulation and independent struggles. Released in September '93, Digable's Reachin' (A New Refutation of Time and Space) introduced pro-black bohemian jazz-rap to middle America, placing them in the aesthetic company of such established acts as A Tribe Called Quest, Gangstarr, and the often overlooked Dream Warriors from Canada. On the strength of the crossover single "Rebirth of Slick (Cool Like Dat)," the album eventually hit platinum and the members of the group, Butterfly, Ladybug, and Irving as Doodlebug, soon found themselves touring the globe with a Grammy in tow. Their sophomore effort, the classic Blowout Comb, dropped a year later and was a critical, if not commercial, success.
After the group disbanded in 1996, citing creative differences, Irving embarked on a solo career, ultimately performing as Cee Knowledge and the Cosmic Funk Orchestra. Through a DIY work ethic focused primarily on hip-hop's thriving underground, Irving has found moderate success and, more important, creative control. "The advantage is doing it yourself if you have the resources to do it," he explains. "It's always good because artistically there's nobody to tell you no. That's one of the biggest advantages, and another is if you put the work in, the financial benefits are a lot more than if you're signed to a major label. You just have to figure out where your heart is at and what you want to do. I never even considered doing it the other way."
The Darkday Tour

Qwel, Stick Figures, Jusdis & Daggz, DJ Scuba Gooding & DJ Crop Diggie

Fri, Oct 28, 10pm

The White Rabbit
2410 N. St. Mary's
737-2221
$5
All ages

Digable Planets reunited in fall 2004, and is working on its new album between touring dates. This time around, the trio is geared more towards the underground, part of a recent trend for peripheral major label artists seeking to reconnect with hip-hop audiences. Where corporate rap is consistently mired in cookie-cutter rhymes and hooks, the underground offers an abundance of challenging music performed by engaging, often complex, personalities. The independent landscape is dotted with a new generation of dynamic producers and emcees clustered within camps and labels that include Minnesota's Rhymesayers, the upstart Justus League, and California-by-way-of-Chicago Kurt Vonnegut devotees Galapagos 4.
Founded in 1999 by Illinois hip-hop enthusiast Jeff Kuglish, Galapagos 4 has steadily built a roster of talented artists, including Typical Cats, Stick Figures, Outerlimitz, Mestizo, and the stalwart emcee known simply as Qwel. With brazenly sincere and introspective albums like If It Ain't Been In A Pawn Shop, Then it Can't Play The Blues, The Rubber Duckie Experiment, and The Harvest, Qwel has established himself as the Kilgore Trout of indie-hip-hop. He credits the openness of the underground for his evolution as a writer.
Digable Planets
with
The Procussions, Crown City Rockers, Louie Dollars & DJ Donnie D

Mon, Oct 31, 7pm

The White Rabbit
$20
All ages

"I feel like I have the freedom to do whatever I want to do with my music. As far as the majors go, you can make that money but it's a different sport. There's not the freedom. They want the club songs, the club singles, the tits-and-ass songs, and then you've got all these other people who are worried about the business investing in you. On the underground, you can just wake up, smoke a blunt, figure it out, and be inspired. That's what it comes down to."
Qwel's latest album, Dark Day, is a collaboration with Jackson Jones that explores the modern technological Tower of Babel. The LP opens with "The Ladder Builder," an eerie Edgar Allan Poe-inspired conversation between a ladder builder on the Tower of Babel and Nimrod; heavy stuff indeed, which is why the disc also comes with a 20-page lyric booklet. Overall, Dark Days succeeds based on the scope of its concepts and their tight execution. Sonically, the album has been described as "David Bowie and Beethoven collaborating on an SP1200 in an analog studio with the bombardier from the Enola Gay on drums."
Asked if Dark Days could have been released on a major label, Qwel replies, "Maybe, because it's over heads, not in a pretentious way, but it's weirdo shit. Underground is a tricky word. There's an underground underground, then there's also this huge 'underground thing' going on right now. It's definitely not party shit and I think it's really helpful for people. It's kind of like medicine music." •
By M. Solis