https://www.facebook.com/matttheelectricianmusic/
Matt the Electrician
Wednesday, January 25
Born to a union carpenter and a seamstress, Matt Sever moved from the west coast to Austin in the mid-1990s searching for better opportunities for his music career. An electrician by day and folk artist by night, Sever, still in his work attire, would actually introduce himself as "Matt the Electrician" as a way to explain his appearance to the crowd. The name apparently stuck. Combining banjo picking, acoustic guitar strums and minimal percussion, Sever finds a way to blend his charming lyricism into the mix to produce really interesting folk songs that keep the listener eager to hear more.
7:30pm, $10-$30, Sam's Burger Joint, 330 E. Grayson St.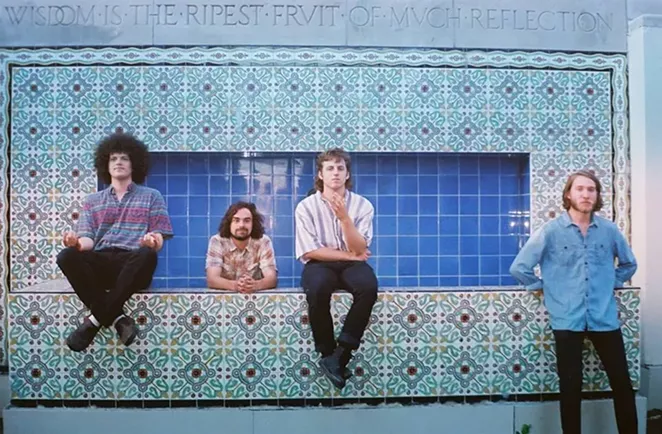 https://www.facebook.com/newmadridband/
New Madrid
Wednesday, January 25

If a band is listed as "Danceable indie rock" anywhere in a headline or description, I'm usually quick to dismiss forget the band ever existed. Despite New Madrid being an indie rock band incorporating elements of, well, dancey-ness, they are multi-genre influenced four piece who shouldn't be confined by any one description. Hailing from Athens, Georgia, the boys harness the psychedelic sensibilities of post-rock to create gigantic movements as reverb-laden vocals echo through the mountainous soundscapes. 9pm, $5, 502 Bar, 502 Embassy Oaks #138


https://www.facebook.com/MockingbirdExpress
Mockingbird Express
Sun Machine, Flower Jesus, Mockingbird Express

Thursday, January 26

The psychedelic surf sounds from the 60s have come full circle, so call your acid dealer cuz you're in a for a ride, maaaaaaan. Just up I-35 resides the band Sun Machine, another Austin group that has dropped in on the tsunami wave of psyche-rock that has in recent years started to flood the sprawling plains South Texas. They play alongside Sun Machine are Flower Jesus Quintet and Mockingbird Express, two of San Antonio's finest hallucinogenics-inspired rock outfits. 9pm, $3, Hi-Tones, 621 E. Dewey Pl.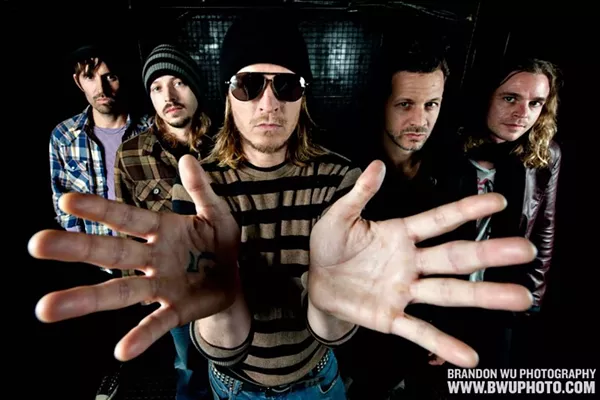 Puddle of Mudd

Thursday, January 26
Ever wonder where some of your favorite 90s bands got their names from? For instance, Limp Bizkit? I have a few guesses myself... In the early years 90s, rockers Puddle of Mudd used to practice in a space that was next to a Missouri River levee, and according to singer Wes Scantlin, the band would have to walk over literal puddles of mud to get inside of their practice space (Woomp there it is). With the help of fellow 90's brethren, Fred Durst, the Kansas City four piece set out to conquer a nation, one grunge inspired nu-metal hit at a time. 7pm, $21-$25, Alamo City Music Hall, 1305 E. Houston St.
https://www.facebook.com/ThankYouScientist/
Thank You Scientist
Thank You Scientist, Consider the Source

Thursday, January 26

Combining the elements of math rock, nu-emo and...ska?, Thank You Scientist manages to pull off what could otherwise easily become a trainwreck. Djent-y drum hits carry swelling saxophones as singer Salvatore Marrano delivers a poppy melody, bringing about a fucking weird but interesting blend of experimental art rock. At one point, the band channels old Incubus before immediately slamming into a math rock break. It's confusing and exciting and I'm not sure if I like it but it's sure as hell not boring. 7pm, $15, Paper Tiger, 2410 N. St. Mary's St.
https://www.facebook.com/gregoryportermusic/
Gregory Porter
Friday, January 27

Consider this one of San Antonio's concerts you should not miss this year. The amazing gospel singer, with a voice that could melt the iciest hearts, is backed by some damn good gospel and jazz instrumentation, his lyrics floating perfectly through the songs. Porter's performances are a perfect example of what legendary singing should look like (from someone awarded a Grammy for best jazz vocal album, no less). Don't miss this chance to catch someone who is truly one of the best vocalists of our time. 8pm, $35, Carver Community Cultural Center, 226 N. Hackberry


https://www.facebook.com/deepstatega
Deep State

Friday, January 27
Yet another rad band from Athens, Georgia has emerged. Started by singer/guitarist Taylor Chmura with desire to form "an aggressive/cathartic/punk band that was undeniably catchy," Deep State has done...well, just that. This is what rock and roll should sound like — loud, in your face, and unpredictable. w/ Sweet Charbonneau, The Fur Trappers,
9pm, $5, Limelight, 2718 N. St. Mary's St.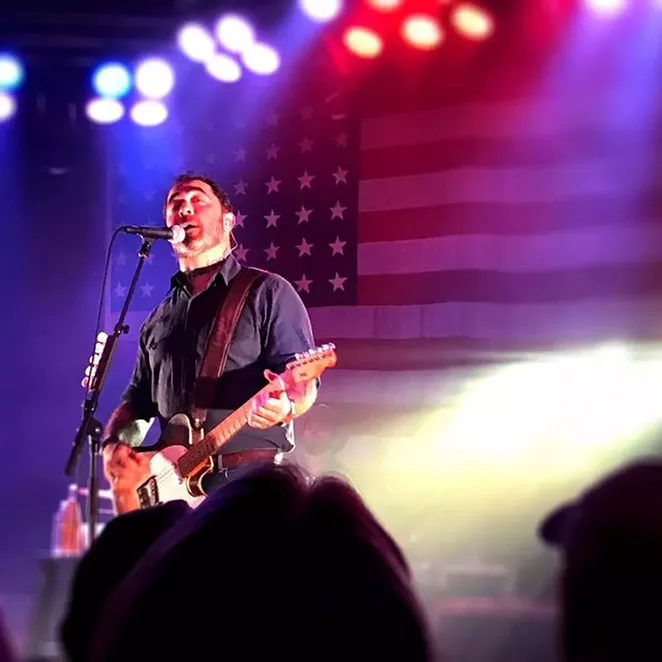 https://www.facebook.com/AaronLewisMusic/
Aaron Lewis

Friday, January 27
Aaron Lewis has come a long way from his adolescent angst-igniting anthems from the late 90s. If you graduated high school between 1998 and 2005, you or someone you know probably had a Staind CD (and you or someone you know might've probably wrote some terrible poetry because of those songs). But with the release of 2011's Town Line, Lewis transitioned from sad nu-metal singer to sad country singer. On tour in support of his latest country effort, Sinner, which actually includes a feature from outlaw country god Willie Nelson, Aaron Lewis reminds us all how fucking old we are and that changing shit up is apparently possible for anyone. 7pm, $17-$27, Cowboys Dancehall, 3030 NE Loop 410 @ I35
https://www.facebook.com/mikedoughty/
Mike Doughty of Soul Coughing

Saturday, January 28
Before the days of torrents, Spotify and even Napster, soundtracks were actually one of the best ways to buy a decent mix of current tunes. That's how I (and probably a lot of us) found out about that band Soul Coughing, who's reggae rap-rockish tune "The Bug" appeared on 1997's Batman and Robin soundtrack. On tour in support of his latest solo record, The Heart Watches While The Brain Burns, Mike Doughty combines 90s rock roots with a surprisingly interesting mix of quirky, spacey sounds that sound almost Beck-inspired. With Wheatus, 7pm, $17, Paper Tiger, 2410 N. St Mary's St.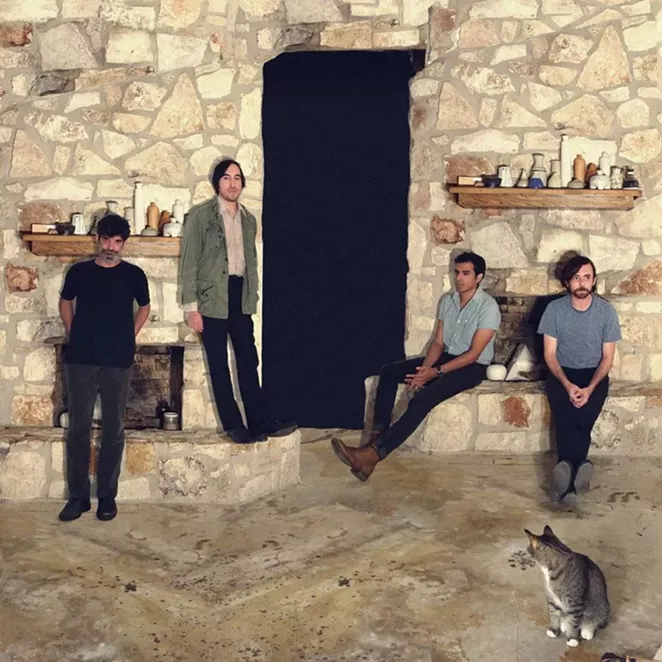 Hidden Ritual, Lake of Fire, Light Works

Saturday, January 28
If you threw a rock at a crowd of people in Texas you'd hit someone in a psyche-rock band. I'm not encouraging people to throw rocks at anyone, but it's interesting to watch this colorful explosion expand and stretch over south texas with the emergence of rock and roll bands that channel the trippy dynamic of the 196o's. Austin's Hidden Ritual and Lake of Fire fall into aforementioned genre, and with the shimmering, atmospheric pulsing of fellow Austin brethren, Lightworks, this next K23 show is definitely the perfect Saturday DIY show. $7, 7pm, K23 Gallery, 704 Fredericksburg Rd.