A week on the scene
Ill movimientos
Latino eclectics Bombasta and Sexto Sol are uniting for a highly unusual double-bill at Sam's Burger Joint on Saturday, October 8. Eschewing the conventional approach of having an opening band followed by a headliner, the two bands will share the stage for the entire night, with rotating lineups from song to song. It should be fascinating to catch the melding of Bombasta's horn-driven, cosmic funk/hip-hop/reggae/cumbia hybrid with Sexto Sol's understated, '70s-inspired grooves and jazzy changes. Sexto Sol is currently promoting its sophomore release, ¡Gozalo!, while Bombasta is finishing a debut album titled Ill Movimiento, and slated for a 2006 release. ...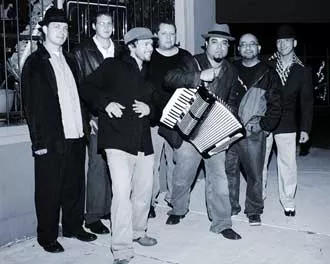 Bombasta
Devotees of Latin-jazz should also visit Sunset Station on Friday, October 7 for the "Sax in the City South Weekend" show featuring woodwind master Justo Almario supported by local favorites Henry Brun & the Latin Playerz. The Grammy-nominated Almario is a native Colombian who established his reputation as a sax player for the legendary Mongo Santamaria. Joining Brun's Latin Playerz will be vocalist Judi DeLeon and percussionist Victor Rendon. Showtime is 8:30 p.m. ...
Finally, local pop heroes Buttercup will offer the latest installment of their much-loved gRacKle MuNdy series on Monday, October 10 at the Wiggle Room. The show runs from 8-11 p.m., with an opening set by the Austin band King Tears. Depending on how lucky you feel that night, admission is either $4 or whatever results from the spinning wheel.
Compiled by Gilbert Garcia