In its fifth year, the International Accordion Festival travels to Central Europe
The recent German hit film Schultz Gets the Blues centers on a polka-playing accordionist who becomes depressed about his monotonous life. At his lowest point, Schultz hears a Louisiana zydeco tune over the radio, feels a surge of inspiration, and decides he must learn to play this exotic form of music.
It's a fictional scenario that could easily play itself out at San Antonio's International Accordion Festival, where cultures interact more freely than at the United Nations and rhythmic differences evaporate in the early autumn South Texas air.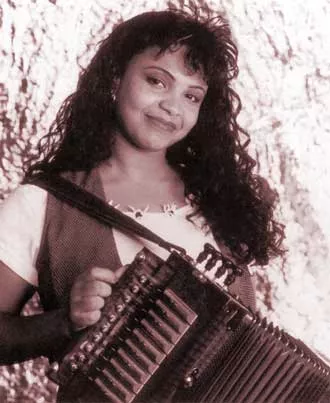 Rosie Ledet
How do you know when you're at the Accordion Festival? If you're wandering around La Villita in mid-October and you stumble upon a workshop where musicologists are dissecting the historical ramifications of cumbia, you've probably come to the right place. If you spy musicians from the Czech-Republic, Poland, Louisiana, and the Rio Grande Valley mingling in a beer garden, your odds are even better.
The glory of the International Accordion Festival is that it not only treats the squeezebox with a seriousness it deserves but rarely receives, but it revels in the idea of bringing the instrument's far-flung exponents to the same locale. Each year the festival takes a barely perceptible slant, spotlighting a particular accordion-driven genre. This year, according to festival co-organizer Pat Jasper, the festival will bring the polka hard and fast.
"There's definitely a focus this year on a range of polka traditions," Jasper says. "We have Texas-Polish, Texas-Czech, the group from the Czech Republic, and we're bringing in Don Lipovac, who's absolutely a legendary performer of Slovenian and Croation music, which is real polka-identified as well. Of course, polka is a rhythm that has infected musical styles worldwide. Even `cowboy vaudevillian` Sourdough Slim plays a few polkas in his repertoire."
To explore the polka theme, Jasper traveled to the Czech Republic this year to scout a group called the Lower Chodsko Trio. The group plays a traditional genre known as malá selská muzika, a form that usually combines bagpipes with clarinet and fiddle. In place of fiddle, however, the Lower Chodsko Trio features an accordion.
"What you're going to see in them is really village-based music," Jasper says. "Because most of the music that comes from the Czech Republic or certain parts of Central Europe is bigger ensembles, brass bands, more government-sponsored endeavors. This trio plays music that you would hear in a pub or a social gathering. When you do research in Texas-Czech and Texas-Polish music, that's what you're hearing as well - not bands that record or get played on the radio, but bands that serve a really specific cultural community."
La Vent du Nord
Now in its fifth year, the Accordion Festival initially followed the model established in the 1980s by Juan Tejeda with the Guadalupe Cultural Arts Center's Tejano-Conjunto Festival.
"That project was so impressive to me that it played a big role in my own development of a project I did when I was the director of Texas Folk Life Resources, called the Accordion Kings," Jasper says. "It looked not just at Tejano-Conjunto but the big accordion traditions that have a real life in communities in Texas. That was conjunto, Cajun, zydeco, and the Euro-ethnic polka tradition. In a sense, the International Accordion Festival is the broader, bigger gesture. It really looks at the role of accordion music worldwide."
The festival has always celebrated the musical bonds between Texas and Louisiana, but this year the inter-state connection took on unexpected, tragic dimensions with Hurricane Katrina forcing thousands of New Orleans residents to relocate to Texas. Although the festival was already nearing the end of its planning stages when Katrina hit, Jasper decided to add a Louisiana Tribute to the schedule of workshops. It will be held at 5 p.m. on both Saturday, October 15 and Sunday, October 16, at the Juarez Stage. "We can't do the Accordion Festival without acknowledging that connection between San Antonio and other places in Texas, as well as the accordion music of our immediate neighbors in places like Louisiana. It just seemed like a really important opportunity to salute that music."
Sourdough Slim
Among the Louisiana performers showcased at this year's festival are Rosie Ledet & the Zydeco Playboys, the Iguanas, and Chris Belleau, a Cajun multi-instrumentalist who will duet with San Antonio legend Augie Meyers twice (3 and 9 p.m.) on Sunday, October 16.
In addition to this year's polka and Louisiana themes, the festival will also acknowledge Latino mavericks such as Los Garcia Brothers, a zoot-suit clad Tejano quartet from Eagle Pass, and Los Skarnales, a post-modern Houston hybrid that mixes ska, rockabilly, and Latin rhythms for a generation infatuated with rock en espanol and accustomed to hearing reggaetón on the radio.
"They're probably our most contemporary, youth-oriented band," Jasper says of Los Skarnales. "It's a very wild, exuberant sound." •