New Dick Cavett collection captures rock's Woodstock-era growing pains
In an era when when our prime-time pleasures include Tommy Lee sleeping through a college chemistry class and INXS auditioning no-name singers, it's hard to remember when rock music was a scarce commodity on television.
In the late '60s, you could catch the major pop acts of the day on the Ed Sullivan Show, sandwiched between mimes and impressionists, and on rare occasions a rock band would turn up on the Tonight Show. But there were no TV forums to let us know how these performers felt, what they were thinking about, and how they saw the world. That changed when ABC debuted The Dick Cavett Show in 1969.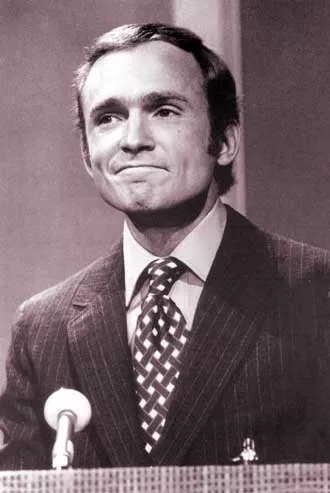 Dick Cavett: A self-conscious nerd who gave
rockers a home.
Cavett endured a tortured existence at ABC, debuting with a 1968 daytime show that lasted less than a year, followed by a prime-time show that ran three times a week and lasted less than four months, before finally settling into a hopeless late-night death trap as Johnny Carson's prime competitor. But in spite - or more likely because - of his desultory ratings, Cavett courted controversy by providing the counter-culture a home, daring to sit down with the major rock stars of his time and speak to them on their own terms.
In a way, Cavett was a precursor to Conan O'Brien: an incessantly clever Ivy League graduate whose self-conscious need to poke fun at his own nerdiness was near-habitual. Cavett, like O'Brien, also showed a weak spot for showbiz history, which in Cavett's case meant a close friendship with Groucho Marx and in O'Brien's case means running guest appearances by Mr. T.
O'Brien, however, is an unabashed product of American junk culture, while Cavett fancied himself more of an intellectual, which alternately made his talk show more substantive (debating over-population with John Lennon) and more pretentious (allowing himself, on the occasion of his autobiography's publication, to be interviewed by authors Anthony Burgess, Barbara Howar, and Jerzy Kosinski).
Cavett famously jumped into the rock world with a post-Woodstock show that included the Jefferson Airplane, Joni Mitchell, and drop-in guests Steven Stills and David Crosby. It's the first show featured on a frequently fascinating new three-disc DVD collection called The Dick Cavett Show: Rock Icons. Although his Woodstock-show guests treated Cavett like a cultural ally, in retrospect it's clear that he was slightly out of his element with this crowd. He asks lame questions about the quality of the sound system at Woodstock and his jokes about Jimi Hendrix were certainly anachronistic enough to make Milton Berle blush.
As his knowledge of the music grew, Cavett became more comfortable interviewing rock stars. His best connection was with Janis Joplin, who guested with Cavett four times, including once on his daytime show. While Cavett's present-day introductions suggest a friendship with Joplin that sounds suspiciously overstated - and recall Rick Moranis' biting SCTV depiction of Cavett as a relentless celebrity name-dropper - his interviews did capture some of the complexity behind her full-tilt-boogie persona.
Joplin's most intriguing appearance with Cavett came on June 25, 1970, when she was followed by Raquel Welch, Douglas Fairbanks Jr., and Chet Huntley. Joplin's complete lack of artifice makes the charm-school mannerisms of Welch seem particularly phony. Along the way she mildly disses Welch's then-new film, Myra Breckenridge, disagrees with the sex symbol about the media's coverage of Dennis Hopper, and reveals herself to be a worshiper of F. Scott Fitzgerald.
Joplin is nearly as engaging in her final Cavett appearance, on August 3, 1970, when she nearly cracks the grande-dame shell of Gloria Swanson. At one point, Swanson, an amateur sculptor, says about Cavett, "I want to do his head, do you know what that means?" Joplin responds with a bawdy laugh. The nervous look of disorientation from Swanson is the face of the generation gap itself.
Such odd juxtapositions provided Cavett's show with its best interview moments. In a July 13, 1970, appearance, Sly Stone follows a scintillating version of "Thank You (Falletinme Be Mice Elf Again)" with a bizarre interview in which he appears to be heavily impaired by the ingestion of various chemicals. He rouses from his stupor, however, during Cavett's interview with Oklahoma Senator Fred Harris and his wife, a member of the Cherokee tribe. Stone interjects barely intelligible questions about Native-American rights, which the couple answer with great seriousness. One imagines Stone nodding out by the time they finished their final sentence.
Other highlights include Stevie Wonder talking about his lack of facility as a lyric writer, George Harrison trashing American television, and Paul Simon debuting an unfinished "Still Crazy After All These Years." The set's omissions are glaring too: Cavett's 1969 interview with Jimi Hendrix and his lengthy 1971 exchange with John Lennon and Yoko Ono. But this set effectively conveys the tenor of a time when rock music was experiencing growing pains, questioning its own future, and learning how to co-exist with the straight world. And Cavett was there to help these artists do it. •
By Lisa Sorg