The Boston band can't decide what it hates more: trendy political punk or the current administration
The Unseen aren't saying anything new. In fact, it's all been said before: Our president is the embodiment of evil; corporate avarice is killing the world; we're going to hell in an oil- and blood-soaked hand basket. Punk rock might be essential, it might even be the only musical genre willing to take on the establishment, but it's also become a lot like a broken record these days: Bush is Satan, Bush is Satan, Bush is Satan.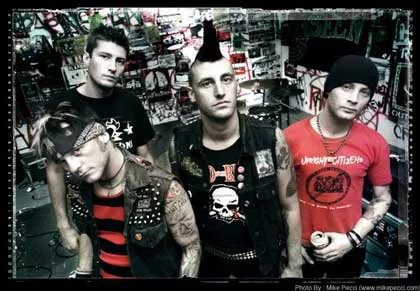 The Unseen: Suburban Boston kids who turned their boredom into action.
"I think bands like Green Day certainly helped to push that, with that 'American Idiot' song," Mark Unseen, the Boston-based band's lead singer says. The recent punk resurgence, the legitimization of a genre in which Unseen has spent the last 12 years struggling to make a living, comes with its drawbacks, too.
"For a while there, it was everywhere," he continues. "Every band had a T-shirt with an anti-Bush slogan and it just seemed like a trendy thing to do at the time. In a way, it's good that people are taking awareness of what's going on and that they want to say something they really believe in. It just seemed that there were so many bands that hadn't been involved in politics before were suddenly bashing Bush. It was like the cool clichéd thing to do."
Okay, so yeah, there were a lot of pop-punk wannabes who waved their skateboards in the air in protest. Sure, some of them did it to capitalize on the social atmosphere and a swelling movement made up of Billy Joe Armstrong disciples (after all, who really thinks Good Charlotte can explain a pluralistic democracy or that A Simple Plan actually possesses a collective IQ great enough to comprehend the political import of one of Billy Joe's bowel movements). But punk rock, whatever the case, got cool again.
"I think without Bush maybe it wouldn't have been so big," Unseen says. "Look back when Reagan was president. There were so many bands pissed off about him. Hell, there's a band called Reagan Youth. So I think when you get a really bad president, then that does help start more punk bands."
The Unseen got their start in Hingham, Massachusetts in 1994. The four members grew up in the same innocuous suburban landscape and, bored out of their minds, took their love of acts like the Misfits, Bad Religion, and the Clash and formed a punk rock band of their own.
"In the suburbs, there wasn't much going on and there weren't many people into the music we were into, so we just sort of grouped together," Unseen says. "We couldn't think of a name so we were looking through dictionaries and any sort of books that looked interesting, like old horror-movie books, because we couldn't think of anything. We were just going through a book and saw the name the Unseen. I honestly don't remember what book it was, but we were like, 'Wow, let's go with that.'"


The Unseen
with
The Casualties,
Smoke or Fire,
and
Anti-Flag

8pm
Fri, Mar 31
$12

White Rabbit
2410 N. St. Mary's
737-2221



Their mix of punk, hardcore, vocal-chord-shredding screams, and bright Mohawks caught the attention of A-F Records, the label run by Anti-Flag, and in 1998 and 1999, the Unseen released the politically charged Lower Class Crucifixion and So This Is Freedom. A few people paid attention, but not many, probably because the Unseen didn't really start taking themselves seriously until four years ago. Luckily, their change of work ethic coincided with the start of a global war.
Their Hellcat Records debut, State of Discontent, is more of their loud, raucous punk, still politically motivated at points, but at others uncharacteristically personal. Perhaps they sought to pull away from the punk trendiness they detested, but the fact is that they're at their best when going off about politics. Sure, it's all been said and done before. But the Unseen were doing it before it was cool.
Still, the Unseen didn't envision the title State of Discontent as purely political. "A lot of people see the name and think, 'Wow, that's a really political name.' That's not what I originally meant it to be, because I'm the one who came up with it. I thought it was cool because it could have two meanings — it could also mean a person, just not happy with their life — but with the artwork I think that kind of got lost."
That artwork depicts an eagle that looks to be falling from flight, a fan of bullets pointing out of its wingspan. However, despite what Unseen and the band intended, that's all political. But isn't punk about rebelling against what's expected of you? If that's true, then the Unseen are being punk by trying not to sound exactly like all the (trendy) government bashers even though, deep down, that's what they've always been. •
By Cole Haddon