4th 25 offers a hip-hop diary of a harrowing year in Iraq
Hip-hop is one of the few outlets in pop culture where you can still tell the unvarnished truth. Many of its most famous performers cowardly decline to take advantage of this opportunity, but for a group of American soldiers deployed in Iraq, hip-hop became something more crucial than mere escapist entertainment: the chance to leave behind an aural diary of their perilous time in a war zone.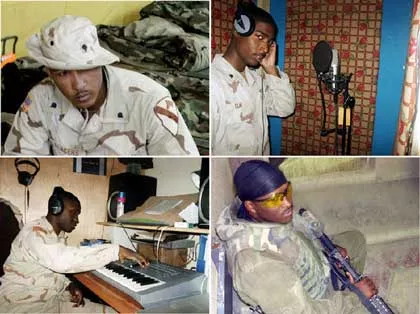 4th 25, clockwise from top left: Neal Saunders, Ronin Clay, Terrance Staves, Edward Gregory
On March 12, 2004, Sergeant Neal "Big Neal" Saunders, Sergeant Ronin Clay, Sergeant Edward Gregory, Staff Sergeant Terrance Staves, Specialist Michael Davis, and Specialist Michael Thomas were deployed from Fort Hood in Killeen to Iraq for a year-long tour of duty. Ranging in ages from 20 to 30, the men shared an affinity for hip-hop, and as the families of the 1st Cavalry Division's Taskforce 112 gathered in a gymnasium to say their tearful goodbyes, Saunders found inspiration.
Already a promoter of hip-hop and R&B with aspirations to break into the music industry, Saunders had enlisted in the military prior to the 9/11 attacks, in an attempt to bring financial stability to his life. After four years of service, he found himself in Sadr City, Iraq at Camp War Eagle and decided he could no longer put his music career on hold.
Under the name 4th 25, aka Fourth Quarter, Saunders and his mates recorded a CD titled Live from Iraq, during their stint 6,000 miles away from home. With the approval of their commanding officers, the group poured more than $25,000 into building a makeshift studio where they could voice their mounting frustrations though music and rhymes.
Staves recalls an incident that led him to the vocal booth. Under orders from his superiors, he drove directly into an ambush to recover a shoddy military vehicle. "It was supposed to be bulletproof, but it was garbage and the door was hanging down dragging on the ground," recalls Staves. "They're like 'Pick up your door!' and I'm like, 'Man, there's a dude in the alley with an AK-47 and an RPG! I am not worried about this door!'
"The RPG hit the Bradley right in front of us and blew it up, and it was just the power and the anger and everything that was in us that came out in song. Everything that I've been through in Iraq was fuel to the fire in recording the album. It was my outlet to let out that anger and that stress that I had up in me."
"As a rap record it's above average,

but as a document of what's really going

on in this media environment, I think

it's incredibly important."
– Jeff Chang
Live from Iraq is a 15-track war report that reveals the type of rage, fear, anxiety, and preoccupation with death not seen in hip-hop since the grander works of artists such as Tupac Shakur and Houston's Scarface. You can hear it in the haunting pro-soldier cuts "24 Hours," "I Ride," and "Testament of a Soldier," all of which vividly capture 4th 25's anger with Iraqis, their commanding officers, and Americans back home sleeping on their freedoms.
Sonically, Live from Iraq is a dirty South hip-hop record not unlike many that have recently surfaced from the Lone Star State. The album utilizes sparse production often comprised of Terminator-like synths or Vietnam-era guitar riffs to surprisingly strong effect. Although there are clear misses like "Pussy" and "Dirty," the LP has sold more than 3,000 copies and succeeds through the authenticity and occasional levity of the lyrics displayed. Reared in the shackles of the drug trade, hip-hop has long carried a fascination with gun talk and war anthems, but never has the rhetoric sounded this real.
For Saunders, one of the biggest gripes is the current military operation's inability to "let soldiers be soldiers." Saunders adds: "I don't think I was ever trained for any type of peacekeeping operation. What we train to do is we take ammunition and we put holes through things. That's just what soldiers do."
Saunders also addresses the issue through his measured flow on "Behind the Screens," with the following incendiary rhyme: "Got us out here like slaves fresh off the ship/Where you can see us pick your cotton and get our ass whipped/Cuz right now that's what's happening and you ain't doing shit/Tie my hands to my ankles telling me stop Michael Vick/It ain't happening."
It's this kind of unabashed candor that binds Saunders and multi-platinum Kanye West, according to Jeff Chang, author of the American Book Award-winning Can't Stop Won't Stop: A History of the Hip-Hop Generation.
"As a rap record it's above average, but as a document of what's really going on in this media environment, I think it's incredibly important," Chang says. "There's essentially been a low hum around the war within mainstream media and it's only through something like Live from Iraq that people are given a real solid picture of what's actually happening on a day to day basis. I think it's exactly what folks need to know about what's happening to an entire generation that are out there fighting this ill-advised war for us. It's just an amazing thing." •
By M. Solis