Page 2 of 2
Japanese
Fujiya Japanese Garden Servers in traditional attire, a long list of sushi rolls to choose from, and a collection of Japanese bites (get the katsudon) have made this a favorite in the city since 1972. 9030 Wurzbach Road, (210) 615-7553, fujiyajapanesegarden.com.
Godai Sushi Bar and Restaurant Fusion sushi with a Western flair is the vibe at Godai. Classic sushi rolls, sashimi and yakisoba are all on the menu. Don't miss wine specials during Spurs games and always take a look at the specials board. 11203 West Ave., (210) 348-6781 godaisushi.com.
Kai Japanese & Asian Cuisine Colorful plates with matching taste, this authentic Japanese restaurant serves affordable lunch specials and bento boxes. Try the shrimp tempura and a sake-rita. 2535 NW Loop 410, (210) 340-8888, kaisushisa.com.

Kimura San Anto's first noodle house came by way of chef Michael Sohocki, which means authentic as can be ramen, seasonal sides in a bar setting. 152 E. Pecan St., Suite 102, (210) 444-0702, kimura.com.

Koi Kawa Japanese Restaurant A bright dining space near the San Antonio river is the setting for creative sushi, tasty sashimi and warm katsu don. Noteworthy menu items include the green tea and tempura ice cream. 4051 Broadway, (210) 805-8111.

Nama Ramen If you are extra hungry or with a group, the okonomiyaki fries are a crowd favorite. Topped with kewpie mayo, okonomiyaki sauce and bonito furikake, they're truly a must-have. The ramen and sushi (the latter features weekly specials) are popular so get there early or risk waiting for a table to open at this intimate spot. 6565 Babcock Road, (210) 641-2888, namaramen.com.

Niki's Tokyo Inn Don't let the outside fool you. Inside is masterful sushi, fresh and simple. Some even say it's the most authentic Japanese food in town. Sit at the sushi bar and watch your sushi being delicately formed. Western-style and Japanese-style seating are also available. Don't miss the tempura dinners or ramen. 819 W. Hildebrand Ave., (210) 736-5471.

Osaka Japanese Steak & Sushi The bright red sign begs a visit to the Broadway or Bandera location. Warm kitchen dinners vary in flavor and price providing diners with options and sashimi is served fresh. Customizable sushi bento boxes make a great lunch or try a kitchen bento for something fresh-fried. Multiple locations, osakasteaknsushi.com.

Rock San Thai + Sushi Bar Rock San brings something different to the San Antonio sushi scene with "appethaizers," Thai dishes and a very local USAA roll. Try the Prince of Thais with pan-seared salmon and asparagus or fish tacos with minced snapper. 5238 DeZavala, Suite 124, (210) 561-0011, rocksanrestaurant.com.

Sumo Steakhouse & Sushi Bar Dinner and a show is done well here with a variety of dinner options, house butchered beef, a pleasing sushi menu at reasonable prices and stellar cocktails. Try the fruity fuji mai tai, sumo margarita or Zen cooler. 8342 I-10 W., (210) 541-8100, sumosanantonio.com.

Sushihana Appetizers are as simple as edamame or as elegant as seared scallops, but sushi is the real standout here. Take in the careful attention to detail and presentation from the sushi chefs, and try assorted nigiri or a specialty roll. Don't forget to check out the sake list. 1810 NW Military Hwy., (210) 340-7808, sushihanasan.com.
Sushi Zushi With four locations around the city and a usual winner during our annual Best Of San Antonio readers poll, Sushi Zushi is a San Antonio favorite. Texas flavors influence this menu with the spicy LIR roll and spicy tuna roll. The warm katsu curry comforts the sushi averse. Pair it with a strawberry gingertini or blackberry smash from the bar. Multiple locations, sushizushi.com.
Tenko Ramen Quealy Watson flew the coop and opened up his own ramen shop inside the just-unveiled Bottling Department Food Hall. The karaage is an early hit, as is the chicken katsu atop a bowl of tonkotsu. Slurp! 312 Pearl Pkwy., Building 6, tenkoramen.com.
Uni'ko Sushi Uni'Ko is a modern Japanese restaurant betraying Mexican influences and featuring elaborate rolls and presentation. 17830 La Cantera Terrace, Suite 1101, (210) 239-6610.
Yellowfish Sushi With two locations and another one on the way, SA has made it perfectly clear they love Japamex. Temaki rolls are tacos, and yes, you can enjoy a spicy sushirrito here. Multiple locations, yellowfishsushi.com.

Yummi Sushi Nigiri, sashimi, and a list of special rolls like the Black Tiger, with shrimp tempura, cucumber, eel and spicy mayo keep diners happy. Multiple locations, yummisushisa.com.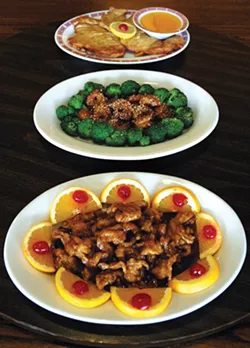 Courtsey of ilsong garden

Korean
Arirang Korean Restaurant Get ready to try some Korean snacks, or pan chan, at this spot — there's at least 50 items on the bilingual menu and traditional soju, a rice-based distilled liquor, on offer. We're a fan of the pa jeon, green onion pancakes stuffed with seafood, and anything with octopus, but there's also plenty of kimchi and Korean barbecue. 2154 Austin Hwy,, (210) 650-3845, arirangkoreanrestaurant.net.
Ilsong Garden This café introduced many San Antonians to Korean cuisine and has been rewarded with the top spot in the Best Korean category of our annual Best of San Antonio readers poll for many years. Homemade kimchi and the superior bulgogi continue to entice diners. 6905 Blanco Road, (210) 366-4508, ilsonggarden.com.
Kiku Garden Go interactive with Kiku Garden's unique cook-it-yourself Korean BBQ experience. Start off with a platter of bulgogi and wang kalbi and let the good times roll. 4527 Goldfield, (210) 662-6699, kiku.com.

Thai
Bangkok 54 This SA sibling of a Washington, D.C. establishment serves unusual and pleasing Thai variations. Try the soft-shell crab with basil and very capable favorites like yum talay and Massaman curry. 2515 Nacogdoches Road, (210) 822-5454, bangkok54restaurant.com.
Jasmin Thai Begin your meal with spring or summer rolls, then move on to Jasmin's specialties: green papaya salad with dried shrimp and a bowl of noodle soup. Finish off with a plate of sticky rice with mango. 4065 Medical Drive, (210) 615-6622, jasminthai.org.
Mon Thai Bistro and Sushi Mon Thai offers sushi and Thai cuisine, including spicy drunken noodles and signature dishes like Devil's Chicken and Angel Shrimp (get it?), but don't overlook the sushi. Polish it off with fried bananas or tempura ice cream. 4901 Broadway, (210) 822-3253, monsthai.com.
Sarika's Thai and Sushi The Pad King or the Pad Thai are safe bets, but don't be afraid to try the sirashi bowls or curries. The sushi ain't bad either. 9620 Huebner, Ste 109, (210) 877-0888.
Thai Chili Curries, fish and noodle dishes in over 30 authentic varieties make this Thai spot, with locations off Thousand Oaks and Stone Oak, the ultimate in healthy pan-Asian cooking. Try the Phad Prik Khing, or Tod Mun Pla. Multiple locations, thaichili.net.
Thai Dee Always a contender of Best Thai in our Best of San Antonio readers poll, Thai Dee serves up what we once described as "ridiculously good, huge dishes at rock-bottom prices." Check the specials for truly authentic dishes and remember to BYOB. 5307 Blanco Road, (210) 342-3622, thaideesa.com.
Thai Pikul Restaurant A Medical Center favorite, Thai Pikul scores with the homemade curries and Koanom Jeeb dumplings. The spice-heat runs 1-5; go with 4 unless you plan to add condiments, such as chile-laced fish sauce. 5136 Fredericksburg Road, (210) 524-9440, thaipikul.com.

Thai Spice Don't go hungry at the Forum. The soup, generously endowed with rough dumplings of ground chicken, is unusually good — especially if you sneak in a little chili-spiked fish sauce when the waitresses, all clad in traditional garb, aren't looking. 8327 Agora Pkwy., (210) 658-1665, thaispicesa.com.

Tong's Thai Restaurant Eclectic, upscale tiki atmosphere welcomes you to this Alamo Heights fave. Tong's Thai offers several vegetarian dishes, a critically acclaimed lemongrass curry, a large beer and wine selection, and a funky bubble tea room. 1146 Austin Hwy., (210) 829-7345, tongsthai.com. 

Yaya's Thai Restaurant and Sushi Bar This eatery has branches off Potranco, McCullough and Callaghan. The Thai pantheon stands out by virtue of its Panang curry with New York strip, the veggie-packed pad woon sen and fresh, well-seasoned apps like the lemongrass-packed fish cakes and the crisp, carefully fried spring rolls. Multiple locations, yayasthai.com.

liz warburton
Pho Ha Long
Vietnamese
4 Star Vietnamese and Chinese Known for their large portion sizes, 4 Star's kitchen serves up heaping helpings of fragrant pho and lemon chicken. The restaurant isn't afraid to cross borders, as evidenced by Chinese and Thai dishes — particularly their popular pad Thai option. Multiple locations, pho4star.com.
Berni Vietnamese Service is speedy, and servings are massive at this spotless Vietnamese joint off Wurzbach that ends your meal with a warm bowl of tapioca. 8742 Wurzbach Road, (210) 485-5982.
French Sandwiches Tucked away in the same shopping center that houses India Palace is French Sandwiches with its hearty, leafy French Vietnamese sandwiches and excellent soups and salads. Don't miss the grilled pork sandwich or the French onion soup. 8448 Fredericksburg, (210) 692-7019.

Heavenly Pho Big appetites should go for the No. 1 with beef noodle soup with eye round steak, brisket, rare flank, tendon, tripe and meatball. Settle in for a bit of cloud 9. 19178 Blanco Road, Suite 305, (210) 545-3553, heavenlypho.com.
Lien Hung Don't expect much out of the atmosphere but try the roasted meatballs, the No. 8 pho with wonton dumplings, shrimp, pork and more, and indulge your adventurous side with frog legs in lemongrass with garlic and chili. Don't forget to bring cash! 280 Remount, (210) 599-7075.
Pho Cong Ly Adventurers who dare rub lips with a little "soft tendon" in their bath of noodle soup (found under "fortifying combos" on the menu) will be rewarded with a tongue tingle worth remembering. But there are also "safe" dishes to choose from, so there's something for every palate. 300 W. Bitters Road, (210) 499-5572.
Pho Ha Long It seems that Pho Ha Long's found a secret formula for keeping Alamo City slurpers happy. We're particularly partial to the No. 10 with round eye steak, lean flank and chewy tendon, but if you're looking for a spicy variation, dining companions recommend the No. 45 bún bò huê with spicy beef soup. Wake up with one of their Vietnamese coffees. 6424 NW Loop 410, (210) 521-4507.

Pho Kim Long Get the giggles out of the way before you head to Pho Kim Long. The joint carries pho favorites in massive bowls, vermicelli bun and Vietnamese sandwiches on soft bollilos. The lunch game is on-pointe. 4230 McCullough Ave., (210) 829-8021

Viet Nam Restaurant Albeit a name change in recent years, Viet Nam went back to the original moniker and continues to offer clay pots and banh xeo for the purist, and decadent spring rolls and richly accessorized pho for mainstream Asian dabblers. 3244 Broadway, (210) 822-7461.
Suck It The Restaurant Vietnamese, Japanese, Chinese, and a dash of puro San Anto make up this Medical Center eatery that wows guests with over-the-top teas. 7220 Louis Pasteur Drive, Suite 125, (210) 560-2113, Facebook.com/suckittherestaurant.
Viva Pho Vietnamese Cuisine and Teabo Lounge In the way of pho, Viva presents 10 variations of the much-loved comfort food. Hearty portions of the civilly priced soups come with filet mignon, brisket, tendon, tripe, meatballs, flank steak, or eye round, plus a few combinations of these. 2114 NW Military Hwy., (210) 525-8388, vivapho.com.