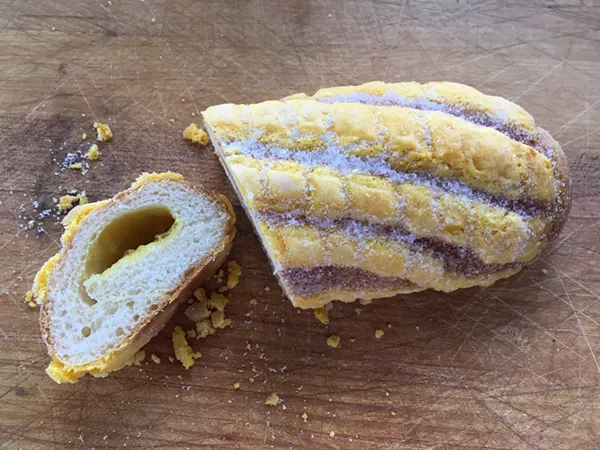 La Michoacana Meat Market
is a Mexican-owned chain of specialty markets that operates principally in Texas cities with large Latin populations. There are nine in San Antonio alone. There's probably one near you.
The branch I usually head for is at 1224 N. Flores St. To the right upon entering it's the pan dulce that immediately grab one's attention. The selection isn't huge, but you'll find all the usual suspects (colorful conchas, camote-stuffed empanadas … all at friendly prices). New to me were an empanada filled with leche quemada and a bread in the shape of a mazorca, or ear of corn, that was filled with something sweet and yellow (maybe corn, maybe not). With the Day of the Dead looming large, the standard crossed-bones loaves were already available, wrapped in cellophane.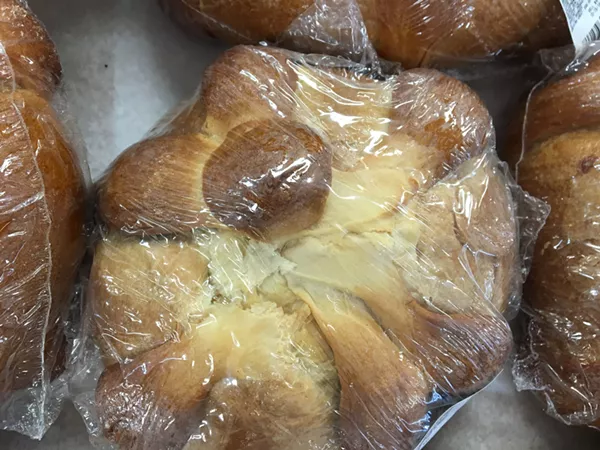 The taqueria also has its special allure. But I'm more often on the prowl for a dried chile (pasillas are sometimes difficult to find elsewhere) or maybe a packet of ground, dried shrimp. And then I just get lost in the looking. Cola de Caballo (horsetail) is supposed to be good for hair, nails and bones; damiana is alleged to have sexual potency benefits, to which I can't attest — but I do know that it also flavors a liqueur from Baja California … Just FYI.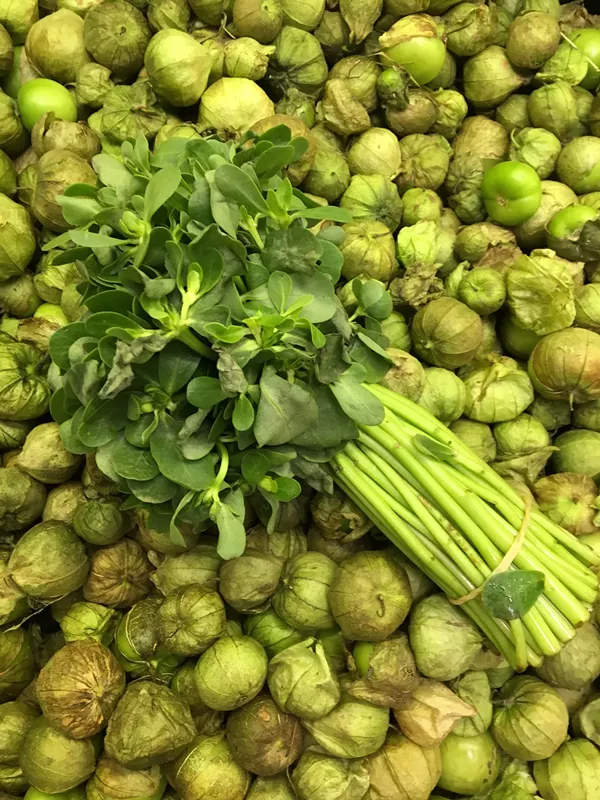 La Mich's produce department is both a revelation and a cause for disappointment. The revelation comes when one finds fresh and fleshy verdolagas (purslane), classic for pork dishes. For those times when you need fresh banana leaves for wrapping Oaxacan tamales — or any of a number of things destined for the grill (fish, for example.) For plátanos machos in varying degrees of ripeness. And for succulent red and green tunas. But the issue with some of the more conventional produce is that it's just not as pretty as the museum-quality stuff we're used to elsewhere. Still, the price is always right. Might as well pick up some guacamole ingredients while here.
The interior aisles are a kaleidoscopic mix of things foreign and familiar. Who knew there were so many different flavors of canned, refried beans? Same goes for bottled hot sauces. Pickled vegetables, here called ensalada, I could eat straight out of the jar. Michelada mixes could be done without, but I tried Doña Chela because of its ingredient list (chiles first) and used it with Alamo's pilsner. Bastante bueno.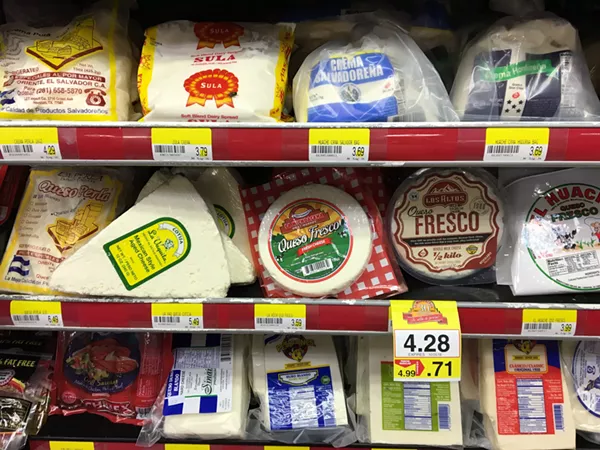 And I especially like the lactose department with its assortment of Latin cheeses and creams. Pick up some of La Michoacana's own queso fresco and perhaps a packet of Honduran or Salvadoran sour crema. Then direct yourself to the meat market that takes up the entire rear of the store. A lot of what's there is familiar cuts by different names. There's a large selection of pre-marinated fajita meat. But we have something else in mind. To the left, head straight for the chicharron grande, about the size of a pillow case. Next, we suggest the cecina — thinly sliced sheets of beef that have been salted, dried a little and coated with a chile molido.
Here's what we're going to do:
The chicharron will be will be snapped into pieces to serve as a base for your favorite guacamole. (Mine is a recipe a friend and I developed for Boudro's years ago.) Some packets of habas or garbanzos with chile-limon could also be put into play.
The cecina we will cook simply in a frying pan with a little oil. Yes, it may be a tad chewy; it's a trade-out for the taste. A big smear of one of the refried beans, say the chipotle, wouldn't hurt here — maybe drizzled with crema Hondureña. Next, take some platanos machos — just beginning to yellow, peel, cut into rounds about 1-inch thick, fry in neutral oil until beginning to yield, remove, smack with the bottom of a bottle to flatten and return to the oil to fry to golden brown. Drain and salt.
(If this seems like too much work, pork tamales from the steamer near the door are only $1.29 each and are quite good.)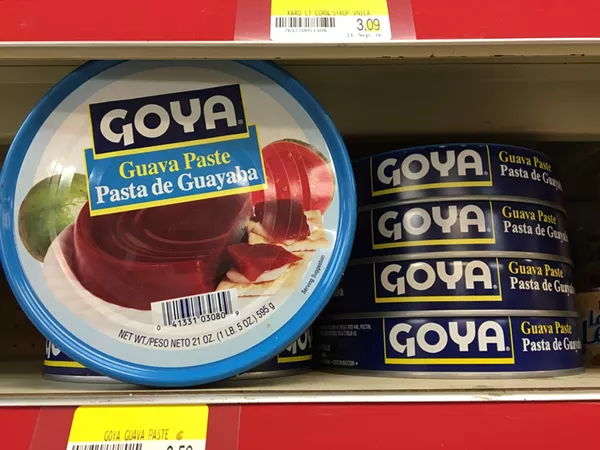 Dessert? Let's use some tinned guava paste sliced and paired with slices of the queso fresco. A couple of micheladas and we're done here. Oh, and if you need to atone for something, you might as well pick up an assortment of votive candles for whatever pecado most needs expiating.