A new mobile app for iOS devices brings navigation features, schedules and event reminders right into the hands Síclovía lovers and newbies alike.
Síclovía, which organizers expect to attract more than 50,000 participants, will shut down 3.25 miles along Broadway Street from Lion's Field to Alamo Plaza, and part of McCullough Avenue and Nolan Street, ending in at Dignowity Hill from 10 a.m. to 3 p.m. on Sept. 27.
While Apple users are in luck this year, an app for Android devices won't be available until 2016.
"We are so proud of how far Síclovía has come in promoting healthy lifestyles to our community," YMCA of Greater San Antonio CEO Sandy Morander said in a press release. "Each Siclovia we try to add a new component to make the event more fun and accessible for our guests."
Síclovía is a YMCA of Greater San Antonio event.
"Our goal with the Síclovía app is to create an easy and social way for participants to locate activities along the route, making sure that they don't miss their favorite exercise class or a water stop, and help them connect with their neighbors," Morander said.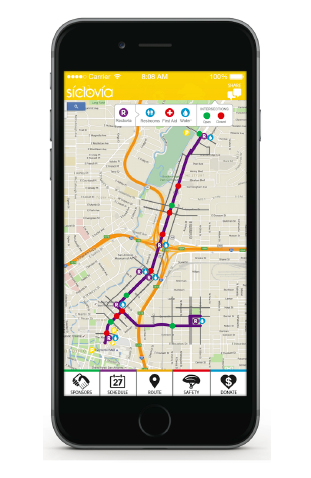 Here's how the app can be used:
• A map with geolocating to help navigate along the route.
• Schedules of fitness classes, cooking demos, and other activities.
• Alarms and reminders of events so participants don't miss their favorite Síclovía activity
• "Síclovía" will be available for download at the Apple App Store for iOS devices
While the event is a fantastic way to promote healthy lifestyles through physical activities like running and biking in temporary car-free zones, huge crowds are expected.
So safety must come first, District 1 councilman Roberto C. Treviño said.
"Síclovía is car-free, but pedestrians and cyclists must put safety first," Treviño said in a press release. "We can all can ensure a safe, fun event by using the app to learn the rules of the road."
Enter the Síclovía Safety Pledge, a feature that allows participants to pledge to follow the rules of the road, promoting a safe event, and get chances to when prizes, including helmets, lights and even a bicycle.
There will also be a Síclovía 5K Run/Walk at 8 a.m. September 27.