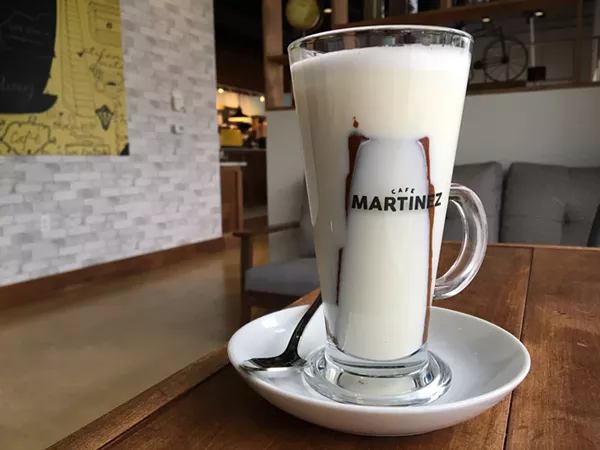 Jessica Elizarraras
A Submarino from Cafe Martinez.
A new kind of coffee shop opened in the city's Medical Center area as of February 24. Operator-partner Pablo Czarnik and wife Basia opened a location of Argentina's
Cafe Martinez
to the Alamo City, and have two more shops in the works.
Czarnik's background is in management — he ran Chicago's Hard Rock Cafe before relocating to the Riverwalk location in 2010. After 11 years with the company, the opportunity to help expand Cafe Martinez's brand into the U.S. came along and he took it. Cafe Martinez first began as a independent shop in 1933 in Buenos Aires, and the family-owned business now includes more than 100 locations.
At Cafe Martinez off Louis Pasteur, the 2,000-square-foot space is chic and airy and features plenty of bar and table seating along with a living room space with mid-century modern furnishings. What's Brewing, a San Antonio coffee roaster, roasts Cafe Martinez's line of six coffees, organic, mocha, Brazil, Martinez Blend, Colombian, and decaf.
Along with the usual espresso menu, Cafe Martinez is serving cold brew, chocolate mint cold brew, and a line of Argentine hot drinks, including tazòn de campo (a full shot with 12-ounces of coffee), mate cocido (a traditional mate infusion), and a creamy submarino (bittersweet Spanish chocolate and steamed milk guests blend at their table).
Jessica Elizarraras
The Grand Tano with mortadella, salami cotto, soppressata, provolone, garlic mayo, pepperoncini in a hoagie roll.
No, Cafe Martinez doesn't serve tacos, but it does serve a full breakfast menu of granola with fruit, fruit cups, toast, croissants, focaccia, muffins; and a line of sweets including cake of the day, cheesecake, apple crumbles, Danishes, sweet bars, cinnamon rolls, cookies and macarons. On the savory side, Czarnik is bringing in local Fat Tummy empanadas, and offering salads, wraps and sandwiches made using bread from Sol y Luna and ingredients via Gaucho Gourmet with prices ranging from $7.50 to $11.
Beer and wine are on the way, and Czarnik is hoping to use Texas brews along with some Argentine labels.
Cafe Martinez is open 6 a.m. to 9 p.m Monday through Saturday and and 8 a.m. to 9 p.m. Sunday.
7302 Louis Pasteur Drive.