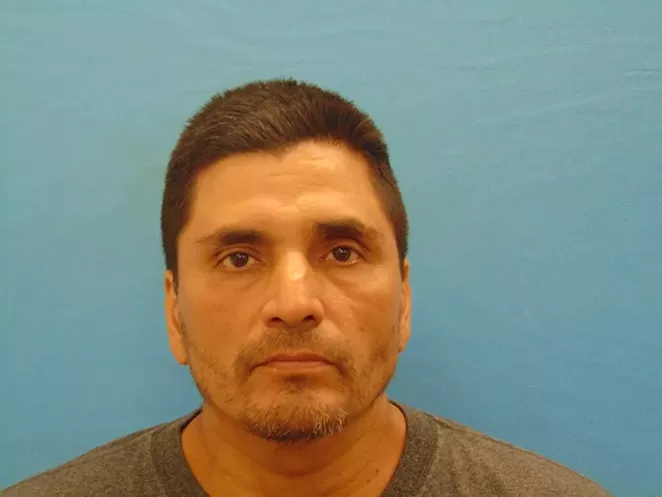 Via New Braunfels Police Department Facebook page
The face of this suspect launched a thousand puns.
The pun squad at the New Braunfels Police Department must be pulling overtime this week.
Case in point: this morning's
Facebook post
about the apprehension of a "brisket thief" who beat $1,000 worth of beef from a local H-E-B. According to the post, officers "grabbed this case by the horns" when they "corralled" 47-year-old suspect Rene Lozano yesterday and charged him with the bad deed.
But, wait, they're not done yet. (Ready?)
"As you may have
herd
," the post goes on, Texans take their barbecue seriously, which means the case "rubbed people the wrong way" and left... (Can you guess where this is going?) ...a "bad taste in their mouth." (Yes. Yes, you can.)
If you haven't been scared off by this point, you have to admire the pun-per-word density of the next passage. The Schlitterbahn Five-Oh manage to pour on the wordplay thicker than Kraft BBQ sauce.
"Fortunately, after marinating over the issue, the suspect decided to return to the H-E-B Plus on FM 306, and he spilled the beans, even though he knew that this was a tender subject and that he would be branded a thief."
See, what'd we tell you? More puns than a goddamned Terry Pratchett novel. Maybe even more than a Henny Youngman routine.
The department's post concludes by
patting
officers on the back for a "job well done" (points for subtlety there) and adds that officers are "
udderly
impressed" (sorry, but that's a reach) with the community's help in "smoking out" (OK, you mostly redeemed yourself) the Brisket Bandit.