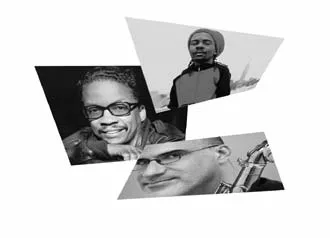 Clockwise from top: Roy Hargrove, Michael Brecker, and Herbie Hancock first united in 2001 to pay homage to Miles Davis and John Coltrane.


Hancock, Brecker, and Hargrove delight in bending the stylistic boundaries of jazz
Jazz is the most stylistically diverse music with a one-word moniker. Some folks cringe at the very term, refusing to accept that a single word could represent the vastness of creative improvised music. (Percussion legend Max Roach has promised to title his memoirs Jazz Is A Four-Letter Word.)
Twenty-first century jazz has many faces, and the best of it employs a postmodern approach and lures fans of disparate styles; the most successful jazz performers offer a range of sounds that don't stagnate in straight-ahead swing, Latin, smooth grooves, or what-have-you. In this culture of short-attention spans, one must hold audience attention with stylistic variety and a willingness to meet the listener halfway. Bending of boundaries and blurring of borders is the name of the game.
Along those lines, the Carver/Trinity Jazz Collaborative concert will feature the most profound and prominent proponents of musical pastiche within the world of this four-lettered genre: Herbie Hancock, Michael Brecker, and Roy Hargrove with Directions in Music.
Though the quintet, with Terri Lynn Carrington playing drums and bassist Scott Colley, was formed in 2001 to celebrate the 75th anniversary of the births of Miles Davis and John Coltrane, this is no nostalgia band rehashing the golden age of acoustic straight-ahead jazz. Directions in Music captures the explorative spirit of Miles and 'Trane more than their respective styles or repertoire, and the current tour - dubbed "In Our Time" - expands the original concept to include works by other major composers, such as Wayne Shorter, Jaco Pastorius, Stevie Wonder, and the late Ray Charles.
Notice, this group isn't called "Directions in Jazz." While Hancock, Brecker, and Hargrove have proven themselves many times over in the straight-ahead context, each has delved well outside the bull's-eye of mainstream jazz into the fringes of stylistic fusion. While there will be plenty of hard-swinging at the concert Friday, you can bet there will also be a smattering of raucous rock beats, low-down slap-yo-momma funk, spacey cosmic grooves and all-out avant-garde ballasts presented without the proverbial skipping of a beat. What else could we expect from this cast of characters?
Herbie Hancock has one of the most impressively varied and successful careers of any living musician. From his emergence as Blue Note pianist of choice to his stay with the Miles Davis band of the mid- to late-1960s (still the most influential jazz quintet of all time), to the incredibly self-indulgent yet oh-so-tasty VSOP concerts, Hancock has few peers in the no-nonsense acoustic jazz context. At the same time, his best-selling 1974 crossover funk classic Headhunters, his 1983 MTV video "Rockit," and his indirect pop hit via US3's 1994 sampling of "Cantaloupe Island" prove that Hancock not only can stretch the limits of the jazz realm, he creates popular hits doing it.
Directions In Music:
Herbie Hancock, Michael Brecker, and Roy Hargrove

8pm
Fri, March 11
$20-40
Laurie Auditorium
(Trinity University)
715 Stadium Drive
224-9600 (Ticketmaster)

By the same token, Michael Brecker has won 11 Grammy awards for his jazz performances, but he's been at the helm of hardcore jazz-rock fusion since the 1970s; he's worked with everyone from Paul Simon to Steely Dan to Frank Zappa. His trailblazing use of electronics remains the standard for wind instruments, and it's likely he'll pull out the EWI (electronic wind instrument) at some point during the show, complete with sequencers and loops.
Given Brecker and Hancock's wide-ranging careers, trumpeter Roy Hargrove might've seemed like the odd man out when Directions in Music started in 2001. A young lion of the 1990s, Hargrove generally stayed close to the mainstream cloth until 2003, when his new project, the RH Factor released Hardgroove (get it?) on Verve. This one is looking like instant nouveau soul/jazz fusion classic, with guests appearances by D'Angelo, Erykah Badu, Common, Questlove, and Q-Tip, among others. Lest you scoff, believe me, it really works. Following in the footsteps of his bandmates in Directions in Music, Hargrove managed to make a record that appeals to two different sets of fans. Maybe that's why Hardgroove has sold more than 100,000 units to date (that's a lot for a jazz record, folks).
Given this triumvirate of daredevil musicianship, Directions in Music is a supremely versatile and adventurous band. The show surely will be thrilling, and should challenge the audience's conception of jazz. Most likely, a few unsuspecting audience members of weak sonic constitution will get up and leave.
If, like Max Roach, you think "jazz" is a four-letter word, then you should clear your calendar to make room for what will likely be the wildest show of the year. And for those of you jazz aficionados who have friends who aren't, this is pure conversion material. •
Aaron Prado hosts "Jazz for the People" and "Lunch Feature" on KRTU 91.7-FM