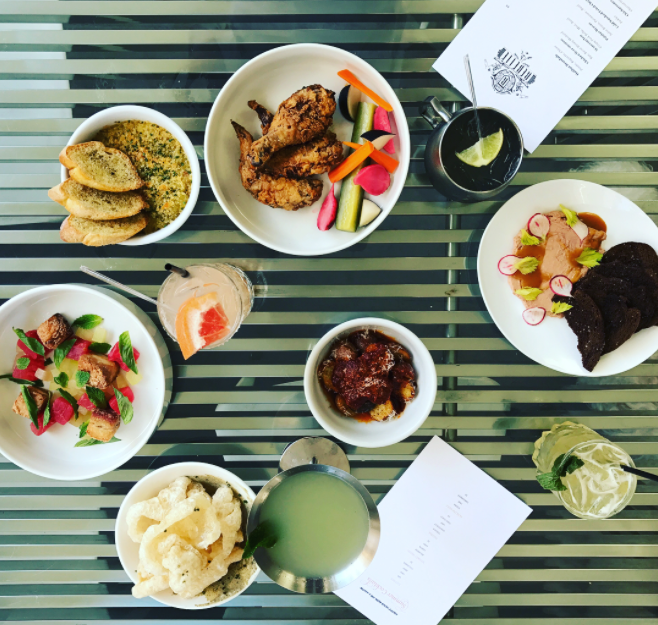 Chef Stefan Bowers and the St. Anthony Hotel released a new happy hour menu this past week. Thursday was the first day that the happy hour menu went into motion, the menu features both food and classic cocktail specials that will rotate out frequently. Gone is the old happy hour of two dollars off a house cocktails, and the day of classic for $6 bucks is, hopefully, here to stay.
The menu released this past week features a variety of classic cocktails including Moscow Mules, Eastsides, Palomas and Whiskey Smashes; all priced alike at $6. The drinks are perfectly crafted for the summer, essentially featuring a variety of base spirits that are built upon in a refreshing way that allows the consumer to cool off, while still getting a buzz. The Eastside, which features gin, and the Paloma, featuring tequila, were both popular options during my visit.
The menu also includes food; currently there are six options to choose from on the food side, each being enough to satisfy someone who has a mild hunger. While everything on the menu is great the chicken liver mousse and the watermelon salad is a must. The salad, perfect for summer, is served with a crispy pork belly and mint that is the perfect contrast to the sweet fruit. ThemMousse is served with lightly buttered rye crisps and a honey mustard sauce that adds a sweet tang to the salty dish.
Erin Winch
Chicken liver Mousse
The happy hour menu is now available Monday through Friday from 5PM to 6:30 p.m. at both Rebelle and Haunt inside of the hotel. Make sure you go with a couple of friends so you can essentially order everything off the menu and spend less than $20. Throw in the fact that you get free valet (just make sure that you still tip your driver) and the deal can't be beat!
300 E. Travis St., (210) 227-4392.

<!———————StartFragment———————>Erin Winch writes about boozin' in the Alamo City on her blog Drinking In SA. Follow her on instgram at @drinking.in.sa for more.