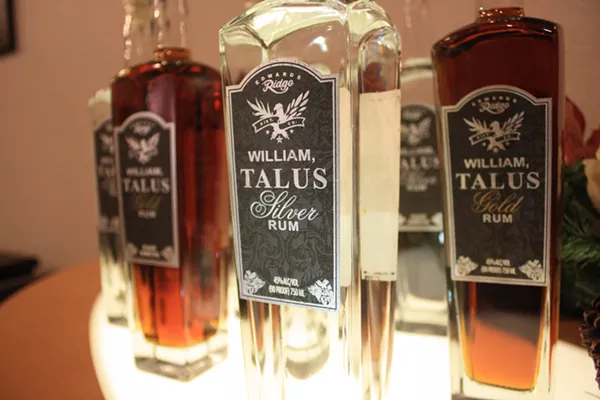 "At first, the city wanted to lump us into the 'refinery' category [for permitting purposes]," says Luis Gonzalez of Edwards Ridge, the distillery he and three partners opened in October. And that was just one among many regulatory twists and turns of the three and a half year gestation process they had thought might take, oh, a year and a half to bring to term. "Every city entity got involved," says Gonzalez, adding that the line demarcating the Aquifer Recharge Zone runs right down the middle of the street outside their door. Yup, even more regulation.


Edwards Ridge's debut spirit is a silver rum, called William, Talus (the comma is important; more on that later). But it all started with a desire to fill a marketing slot with bourbon, then in short supply around the country. "Nathan [Brown, another on the partner roster that also includes Joe Neely and Jonathan Reading] came to me and asked 'What do you know about bourbon?' nearly four years ago," recalls Gonzalez — who freely admits that the answer would have been "not much" on the part of both — neither of which had had distilling experience.

But bourbon takes a couple of years in barrel, at least, before it's ready for release, and it was only logical to have a product to get the name out (and the cash coming back in) in the meantime. Vodka? Fortunately, they decided there was already enough of that on the market. White lightning? Despite the fact that this unaged whiskey could be a bourbon precursor, Gonzales says he doesn't much like the stuff. So they settled on rum (which they didn't know much about, either) — with the stipulation that "we're throwing it away until it tastes good!" An eBay search turned up a $500, six-gallon pot still, and they were off and cooking.
Gonzalez and Brown, the more hands-on of the partners, soon had a product they didn't have to dump. And in addition to expertise, they had acquired a couple of fermentation tanks, both named "Bob"; "Chef", a cook tank; and "Billy", a cedar-clad, 250-gallon still purchased from Hillbilly Stills, a Kentucky outfit specializing in modern-day moonshine equipment. At the time, it was the largest still Hillbilly had produced, and it gave rise to the rum's name: William, as an upgrading of Billy, and Talus, loosely referring to slope or hill.
If the name occasions a little head-scratching at first, the rum itself is immediately appealing. Standing behind the bar that fronts the operation, Gonzalez pours me a sample (he prefers it straight, over ice), and aromas of dried pear, citrus and grass reveal themselves in order. For me, there's more dried fruit and a pretty floral component on the palate, but whatever you might detect, these are qualities that far exceed any Lil' Abner expectations. Some of the same silver, based on Grandma's Molasses and Domino's brown sugar (the yeast component is "a trade secret"), is currently quick-aging in 15-and 30-gallon charred American oak barrels and should be ready mid-December, just before Edwards Ridge's grand opening on New Year's Eve. It already smells intriguing.
Gonzalez says they have a rum recipe using blackstrap molasses, that they're playing with an overproof variety, and, despite the fact that bourbon is no longer in quite such short supply, "we're still going to do whiskey, a bourbon … and maybe even beer at some point." In the meantime, the silver can be purchased at some local retailers (check Alamo City Liquor) and at the distillery for $34.99. Drinks at the bar run from $5 to $7 and include a straightforward rum and coke and a play on the popular Moscow Mule.
This stuff doesn't need to be disguised, though, so here's what I suggest at home — a daiquiri based on a recipe by the late Sasha Petraske, early inspiration behind Bohanan's Bar and the San Antonio Cocktail Conference.
Daiquiri
7/8 to 1 ounce fresh lime juice
¾ ounces 1:1 sugar to water simple syrup (stirred to dissolve)
2 ounces silver rum
Directions
Shake vigorously with a large ice cube, strain into chilled coupe.
This was a bellwether drink for Petraske, and it's white rum's highest and best use. IMHO, of course.
Edward's Ridge Distillery
16104 University Oak, (210) 802-7864
edwardsridge.com
3pm-midnight Thu-Fri, 3pm-1am Sat