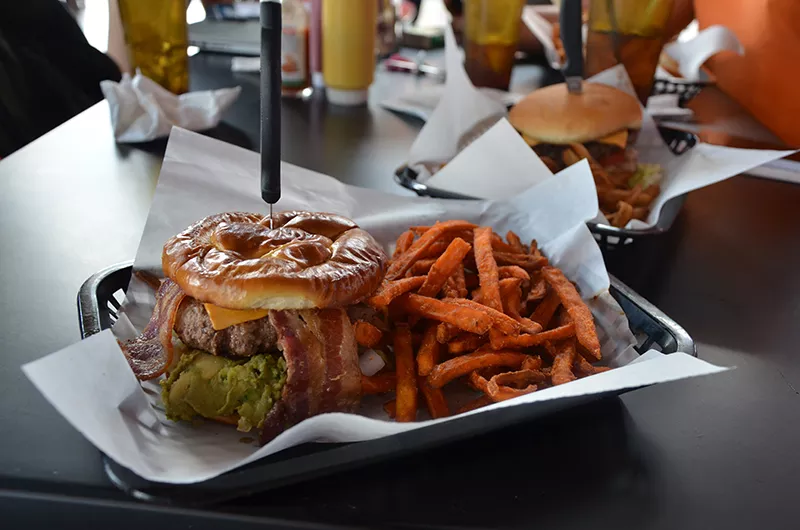 Jessica Elizarraras
Don't worry, y'all — the burgers are still tight.
Not every restaurant is afforded the luxury of relocating twice while managing to retain a loyal customer base.
Since opening in the late 1940s, Luther's Café has seen its fair share of owners and now locations after the original was bulldozed in 2012 to make room for San Antonio College's growing housing. The gay-friendly burger haven then spent two years inside the corner space adjacent to Sparky's, also owned by Texas Heat Investments, and has finally landed at 1503 N. Main Ave. on the first floor of the Tobin Lofts.
But unlike the second location, which always seemed temporary, Luther's new digs are homier and much more inviting. The airiness of the space, all 5,000 square feet of it, hearkens to its original location as a replica of the awning now doubles as the centerpiece in the corner dining room. A large bar commands attention as well, but we were busy taking in the newness of the space that immediately felt cozy. The all-glass exterior walls with ready-to-roll up garage doors are also a nice nod to Luther's past.
One mainstay that has remained intact — aside from the neon beer, liquor and Pride signage that lingered from both previous iterations — is chef David Mendelson. Already with the company for more than four years, Mendelson has used his Culinary Institute of America-Hyde Park training to help keep Luther's competitive.
You'll find the menu very familiar — the same signature burgers, salads and home-cooked fare as before. But chef Mendelson gets to play around with flavors in the daily specials, turning them into unique items. Our visit featured bean- and quinoa-filled burgers, grilled chicken with Greek tzatziki, a watermelon salad and a seafood-loaded cake.
But it's hard to pass on those damn burgers. The Route 66, still as good as ever, beckoned me, while my office lunch partners took on the tuna melt and a brisket burger. The former was a reserved and standard sandwich filled just right and enveloped between Texas toast, while the latter was a structural marvel that featured a thick brisket patty, bacon, cheese and guacamole in a pretzel bun. Don't worry, they opted for sweet potato fries to help balance the caloric load.
The patio kicked back into full gear last weekend with folks taking advantage of the open-air bar (frozen drinks, 20 beers on tap and just as many available in bottles). The dozen or so TVs (good for games, but better for Ru Paul's Drag Race viewing parties) helped round out the joint, which has seen so many changes given the different locations yet has never strayed from its foundation. Keeps us feeling good in the gayborhood.
Luther's Café
1503 N. Main Ave., (210) 223-7727, lutherscafe.com