Department for Culture & Creative Development
Sam Houston could have a new home in two years.
A newly approved public art installation may line Texas luminaries from the Alamo through the heart of Downtown for San Antonio's Tricentennial.
The San Antonio Arts Commission's Public Art Committee approved on Tuesday the Alamo Sculpture Trail, which would include 14 bronze sculptures, placed between the Alamo and the Briscoe Western Art Museum (210 W. Market St.). The sculptures will depict "historical and heroic Texans," according to the Department for Culture & Creative Development.
The sculptures will include the six statues donated to the City of San Antonio by Sea World in 2001. They currently reside in the Henry B. Gonzalez Convention Center, and include: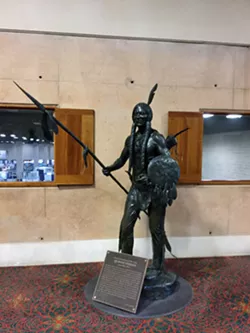 Department for Culture & Creative Development
Statue of Quanah Parker
-
William Barret Travis
-
Sam Houston
-
Stephen F. Austin
-
Jose Antonio Navarro
-
Charles Goodnight
-
Quanah Parker
The other eight sculptures have yet to be built. Who they'll depict is up to City officials and Jack Guenther, a board member with the Briscoe Museum and Western art patron.
Guenther proposed the original concept for the trail and will raise the money for the eight new sculptures. Each one will likely cost between $125,000 and $150,000. The artists for the new pieces have not yet been selected.
Placement and installation of the sculptures would have to be coordinated with the forthcoming Alamo Master Plan, the new vision for Alamo Plaza currently being designed by Preservation Design Partnership and other groups. Once the money is raised and all plans are finalized, the San Antonio Arts Commission would have to grant final approval.
The goal is to complete the project by 2018 as part of the city's Tricentennial celebration.