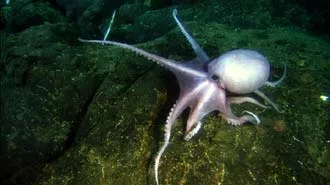 Director James Cameron takes viewers on a 3D IMAX ride into the ocean's depths in Aliens of the Deep.

A ride into the deep, then the question 'Are we there yet?'
Aliens of the Deep
Dir. James Cameron
In the nearly eight years that have passed since his Titanic sailed upon the waters of melodrama, James Cameron has kept a relatively low profile, creating the short-lived TV series Dark Angel and producing and directing Ghosts of the Deep, a documentary exploring the sunken wreckage of (surprise) the Titanic. Aliens of the Deep is a sequel of sorts to Ghosts and a return to ground previously covered in 1989's The Abyss, but this time Cameron is interested in the natural majesty of the ocean rather than tragic temples of human folly.
Two teams, one of marine biologists and one of NASA researchers, accompany Cameron on a voyage to the Mid-Ocean Ridge to observe how living things thrive in a toxic environment devoid of sunlight, and to explore how similar environments on distant extraterrestrial bodies might foster a form of extraterrestrial life. As they dive, the crew encounters creatures that resemble Spyrograph drawings more than anything found in an aquarium. Cameron rightly states, while observing a cluster of tubeworms, "If these weren't real, we couldn't have imagined them." Alongside the stunning under-sea photography, Aliens of the Deep employs elegant CGI sequences that posit how technology will be employed to explore Jupiter's moon Europa and what might be found lurking under the ice.
Despite its priceless cinematography, the film feels like nothing more than an expensive 3D vacation video. Since Aliens is a Disney production and marketed towards a younger audience, the science is necessarily light, emphasizing the "what" over the "why" or "how." In fact, much of the film's brief 45-minute runtime is focused on the researchers reactions in the submersibles rather than the far more interesting ocean life just outside the window. But comments from NASA scientists along the lines of "that's da bomb" and "totally awesome" are rarely followed up with explanations of what is on the screen, or why it might warrant "bomb" status.
Though marred by questionable credibility, too-brief length, and an over-abundance of the human element, Aliens of the Deep is worthwhile as a visual experience, treating its audience to a glimpse beyond the boundaries of human experience. — Aaron Block
---
Are We There Yet?
Dir. Brian Levant; writ. Steven Gary Banks, Claudia Grazioso, J. David Stem, David N. Weiss; feat. Ice Cube, Nia Long, Aleshia Allen, Philip Bolden (PG)
Kicks and screams from the backseat of a car were never as annoying as jumping into a pimped-out SUV with Ice Cube for the unfunny road-trip flick Are We There Yet?
Trying to impress Suzanne Kingston (Long), a soon-to-be-divorced mother who works on his block, Nick Persons (Cube), owner of a sports memorablia store and a self-proclaimed child-hater, agrees to take her kids to Vancouver when their father bails out of the responsibility. After a series of mishaps prevents them from catching train or plane, the threesome hit the road for a misadventure minus a reasonable script.
The 350-mile trip is no easy task, however, since the children, Lindsey (Allen) and Kevin (Bolden), think Nick accepts the mission only to get into their mother's pants. Still believing their seperated parents are going to get back together, the devil children feel it is their job to protect their mother from the next "sucker who puts the moves on her."
With four screenwriters working on this project, Are We There Yet? becomes a worthless collection of slapstick scenes and lame jokes. A central gag, which involves a computer-generated bobblehead of the late Satchel Paige, a popular baseball player from the '20s and '30s, is far from impressive and stupidly written into the story to explicate Nick's conscience.
The witless comedy is far too tortorous for anyone who can color inside the lines and those who decide to bear witness will realize why some parents still practice corporal punishment after watching these troublesome kids wreck cars, jump onto trains, and infuriate animals in the forest. It is a tedious cross-country drive that finds itself stuck between a stale story and half-baked humor. Rather than asking Are We There Yet? the audience will wonder, When will this be over? — Kiko Martinez