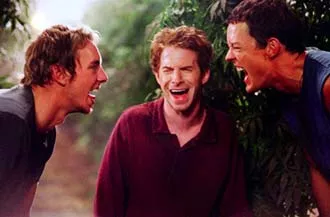 Three 30-something friends try to recapture their lost youth, and a lost treasure, in a funny but toothless homage to Deliverance.

New reviews and special screenings
New reviews
Without a Paddle
Dir. Steven Brill; writ. Jay Leggett and Mitch Rouse; feat. Anthony Starr, Dax Shepard, Matthew Lillard, Seth Green, Nadine Bernecker, Danielle Cormack, David Stott, Bonnie Somerville, Burt Reynolds (PG-13)
A plot consisting of three 30-something guys going on a treasure hunt could be a hard one to get off the ground, and Without a Paddle almost comes off as just plain stupid, but it is saved by a never-ending stream of hilarious and slightly dirty comedy. Ad materials proclaim its ties to the cult classic Deliverance, and Paddle even features Burt Reynolds as an old coot, but like some of the first films' antagonists, this contemporary take has no teeth. The leads perform well under the circumstances, managing to convey some individuality, and easily topping their nemeses, a pair of Neanderthal hillbillies whose one-note portrayals leave something to be desired. An exceptionally fine moral is hidden by much of the fun, but occasionally makes itself heard before again disappearing in a deluge of laughs. This is a true teenage movie, minus the hot young guys and cutesy girls, which comes as an enormous relief. MW
Open Water
Writ. & dir. Chris Kentis; feat. Blanchard Ryan, Daniel Travis (R)
"This can't be happening!" screams Daniel Kintner (Travis), as he realizes that he and his wife, Susan (Ryan), are adrift in the treacherous sea. "Based on a true story," Open Water recreates the harrowing experience of a young couple who, scuba diving in the Caribbean, are left behind by the boat that brought them. They contend with nausea, dehydration, hunger, fear, and the fault lines of a fragile marriage. Solitude in shark-infested waters might concentrate the philosophical mind, but writer-director Chris Kentis plays it for creeps. — Steven G. Kellman
---
Special screenings
Mexican Bus Ride
Dir. Luis Buñuel; writ. Manuel Altolaguirre; feat. Luis Aceves Castaneda, Silvia Castro, Roberto Cobo (NR)
Buñuel, in a relaxed, populist mood, presents this story of a young peasant who is forced to leave his bride on their wedding night to travel home to finalize his dying mother's will. He rushes there only to discover his brother neglecting their mother to plot his squandering of the inheritance. On his bus journey he encounters a diverse group of passengers in a picaresque adventure, which is not without its anarchic and surreal overtones. — Nicole Chavez
Mexican Bus Ride screens at 4pm Sunday, August 15, and 7pm Wednesday, August 18 at the Instituto de Mexico, 600 Hemisfair Park. Admission is free.
I Vitelloni
Dir. Federico Fellini; writ. Fellini, Ennio Flaiano; feat. Franco Interlenghi, Alberto Sordi, Franco Fabrizi, Leopoldo Trieste, Riccardo Fellini (NR)
Made immediately before Italian director Federico Fellini had his international breakthrough with La Strada and almost a decade before he became a star with La Dolce Vita , I Vitelloni draws on the filmmaker's youth in the small town of Rimini. It centers on five young friends - dreamers, aspiring artists, and womanizers - who chafe at the approaching responsibilities of adulthood. Made over the protests of producers who thought its casting and subject were too uncommercial, the film became a hit in Italy and France, and that success made La Strada possible. The latter film's lead, Anthony Quinn, repeatedly refused to be in the film until Ingrid Bergman and Roberto Rossellini showed him I Vitelloni, which he immediately declared "a masterpiece." — John DeFore
I Vitelloni screens at 7:30pm, August 17 as part of Texas Public Radio's "Cinema Tuesdays" series, at the Bijou at Crossroads Theater. Admission is $10 members / $12 non-members. 614-8977 or tpr.org for reservations.
Night of the Living Dead (1968)
Dir. George A. Romero; writ. John A. Russo and Romero; feat. Duane Jones, Judith O'Dea, Karl Hardman, Marilyn Eastman (NR)
A classic thriller, often dubbed the first zombie movie, in which a young lady visiting a graveyard seeks refuge in a nearby farmhouse. She is joined by various other passerby as they attempt to hide from the strange creatures attacking them from outside. The primary inspiration for M. Night Shyamalan's hit film Signs (2002). Check out the original in this genre. — Nicole Chavez
Night of the Living Dead screens at approximately 9pm, August 12 at the Slab across the street from La Tuna, 100 Probandt. Admission is free. More information, call 212-9373.
Scream for Friday the 13th
For far too long, San Antonio residents have been subjected to the I-35 traffic en route to Austin to enjoy the dining and movie-going experience at the Alamo Drafthouse. Now San Antonians can enjoy the Alamo Drafthouse without the major trek: Located near Westlake Cinemas at Loop 410 and Highway 151, the local Alamo Drafthouse is hosting a free outdoor screening of Friday the 13th, Part 4 - auspiciously schedule on what else? Friday, August 13.
The movie will be projected onto the Drafthouse's outdoor 40-foot screen; the screening includes vintage horror trailers and will begin at approximately 8:45, when night falls. Bring a lawn chair or blanket. Food and drink will be available.
The Alamo Drafthouse is located at 1255 SW Loop 410. For more information, call 677-8500.