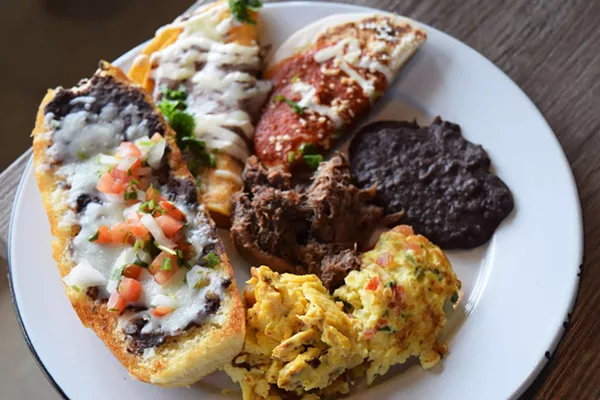 Where'd all these brunches come from? We'll blame the new crisp fall weather we're enjoying on the plethora of brunches available across town. Here's a quick run-through of what's new within the last few weeks:
Michin Grill Kitchen & Tequila Bar //
The Stone Oak Mexican food outpost recently launched a new all-you-can-eat brunch Sunday from 9 a.m. to 3 p.m. For $20 you can enjoy a spread of bacon and eggs, chorizo, and a chilaquiles bar. Add some protein with barbacoa, carnitas, sincronizadas, chicharron in salsa verde and molletes. Lighter appetites can enjoy yogurt parfaits, a honey lime fruit salad and fresh juices (carrot, orange, pineapple). $20 per person, which includes brunch, fresh-squeezed juices, aguas frescas and coffee. For just $5 more, you can also enjoy two mimosas. Children 6-11 years dine for $8 each, while children 5 years and under eat free.
427 N. 1604 W., Suite 202, (210) 277-7222.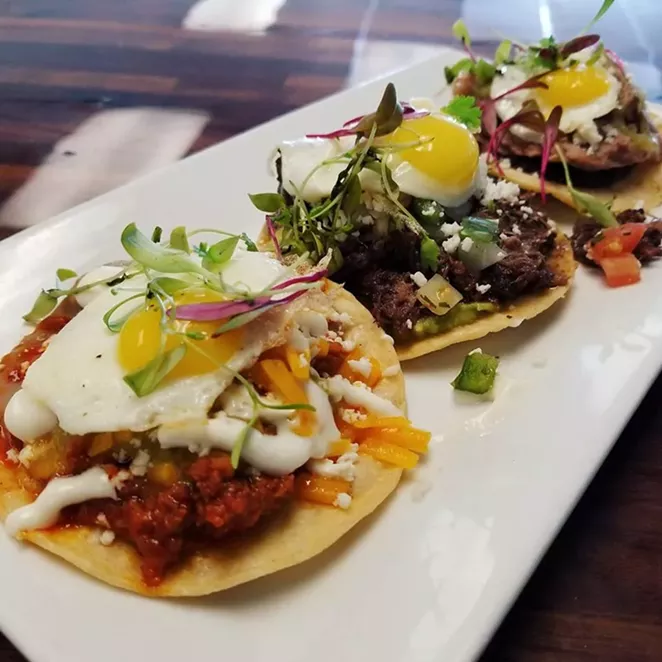 Facebook/Sangriaontheburg
Sangria on the Burg //
The Lord's day means you should be able to score pancakes at the ready. Based off their Saturday success, Sangria on the Burg launched Sunday brunch from 10 a.m. to 4 p.m., and we're into it. This means enjoying a mimosa flight on the patio, curing your hangover with a smoked ribeye hash, or having it your way with a chalupa three-ways dish of barbacoa, pork carnitas and chorizo with itty bitty quail eggs.
5115 Fredericksburg Road, (210) 265-3763.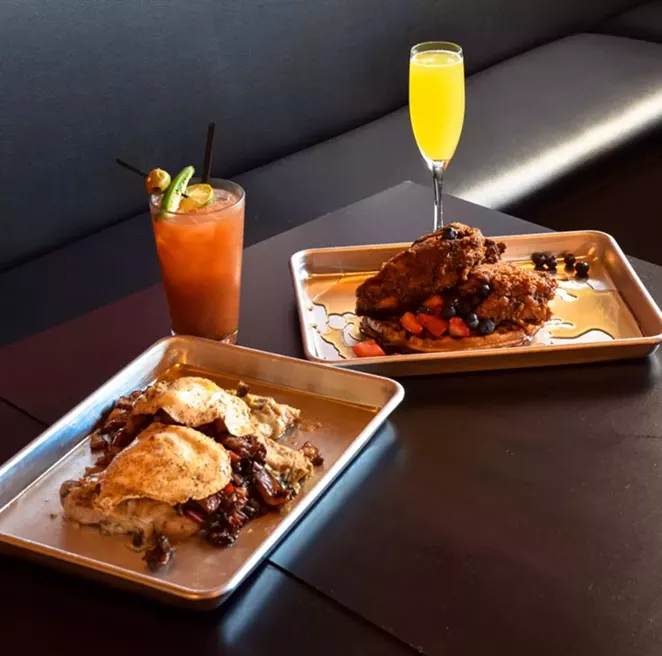 Facebook/Tucker's Kozy Korner
Tucker's Kozy Korner //
Though Attaboy and Chris Cullum are no longer affiliated with Tucker's, the brunch must go on. Enter a menu designed by chef Jeff White and you'll find a sizable list of hearty dishes to cure whatever ails you. Visit Sunday from 11 a.m. to 3 p.m and try the smothered pork chops, which guarantee a post-brunch coma; or keep things light with a peanut butter-topped slice of brioche paired with eggs your way.
1338 E. Houston St., (210) 320-2192.
The Rustic //
Somehow, in the midst of the middle America shopping mecca that is The Rim/La Cantera area, The Rustic opened and they're giving off serious Hill Country vibes. The massive patio (perfect for frosé, add the popsicle, trust us), and the comfort food menu make the space agreeable to most. Stop in on on Saturday and Sunday for Jam and Toast brunch from 10 a.m. to 2 p.m. where $16.95 per person gets you family-style servings of cheese and fruit, smoked cheddar grits, country baked eggs, baby French toast (challah!) and daily donuts. Sharing is strongly encouraged especially when it comes to pitchers of house-made bloody marys ($20), Ruby Redhound ($20) made with Deed Eddy Ruby Red or carafes of Mariposa Mimosas ($9.95) available in rosé or Champagne.
17619 La Cantera Pkwy., Suite 204, (210) 245-7500.
Pharm Table //
Brunch doesn't have to be all bacon grease and sugary syrups. Instead Elizabeth Johnson and co. at Pharm Table are packing nutrient-rich bowls to create a hearty brunch you can do before or after yoga. Held Saturday and Sunday from 11 a.m. to 3 p.m., the brunch still features sweet potato waffles for those with a sweet tooth.
106 Circle Auditorium, (210) 802-1860.